Raise money
Return your sponsorship
If you have already set up a Cancer Research UK Giving Page, we will receive the money you raise automatically. If you have raised money using the sponsorship form in your pack, you can pay in the money you raised by phone using your debit/credit card – call us on 0300 123 6624 or send us a cheque made payable to "Cancer Research UK" to:
Shine Night Walk
Cancer Research UK
PO Box 1561
Oxford
OX4 9GZ
If you are a UK taxpayer, the value of your donation can increase by at least 25% under the Gift Aid scheme – at no additional cost to you!
Set up your Giving Page
Setting up and sharing a Giving Page is the quickest and easiest way to start your fundraising
It's quick to set up and simple to use
You can fundraise on your own or as part of a group
Your friends and family can sponsor you easily online 
You can keep track of donations
£26or £1 per mile of the full marathon, buys nutrients for cells to grow them in the lab, allowing scientists to find out more than ever before about cancer.
£260the amount we ask each of you to raise, covers the cost of a trial for a day to test new combinations of drugs, to improve treatments for more dads, sons, brothers and grandfathers with prostate cancer.
£550buys a pH meter to create the ideal environment for sensitive experiments which could hold clues to finding new ways to beat cancer, sooner.
£120kwhen we all come together, every £120,000 we raise will cover the cost of a trial for a year to find new ways to treat breast cancer more effectively by testing the benefits of hormone therapy before surgery.
Choose a cancer type to beat
You can choose the area of research you would like to raise money for when you enter.
Bowel cancer
Over the past forty years we've seen dramatic progress in tackling bowel cancer and half of people diagnosed will now survive for at least 10 years. But we can't stop there. Sadly, bowel cancer still claims around 43 lives each day.
Brain cancer
Each year in the UK, over 9,400 people are diagnosed with tumours that start in the brain or elsewhere in the central nervous system. 

 
Breast cancer
With almost 140 women diagnosed every day, breast cancer is the most common cancer in the UK. And, although it is rare, around 350 men are also diagnosed with breast cancer each year.



 
Cervical cancer
It's the most common cancer in women under 35 and around 970 women in the UK lose their lives to cervical cancer each year, so there's still more to do if we're to beat this disease.

 
Children's cancers
Each year, around 1,600 children are diagnosed with cancer in the UK. Thanks to major advances in treatment, around three-quarters of children with cancer are now successfully treated. But the disease claims around 250 lives every year, so our groundbreaking research must continue.
Leukaemia
Five year survival rates for leukaemia have more than tripled in the last forty years. But despite this progress, around 4,600 people still lose their lives to the disease every year.
Lung cancer
Lung cancer is the most common cause of cancer death in the UK. Each year more than 43,500 people are diagnosed with lung cancer in the UK, and the disease claims almost 35,200 lives.
Ovarian cancer
Ovarian cancer is the fifth most common cancer in UK women, with more than 130 women every week being told they have the disease.
Pancreatic cancer
Survival rates remain very low in the UK, often because the disease is diagnosed late and is difficult to treat. We urgently need to find better ways to detect and treat the disease and we are committed to doing this through our research.
Prostate cancer
Prostate cancer is the most common cancer in men in the UK, with around 41,700 cases diagnosed every year, so it's crucial that we continue our work and find new ways to tackle the disease.
Skin cancer
Around 37 people in the UK are told they have malignant melanoma (the most serious form of skin cancer) every day. Sadly, around six people lose their lives to the disease every day in the UK.
Testicular cancer
Around 2,200 men are diagnosed with testicular cancer in the UK every year. But the good news is that more than nine out of ten men with the disease are now cured, partly thanks to a drug called cisplatin, which Cancer Research UK helped to develop.
Get creative with your fundraising
Find hidden treasures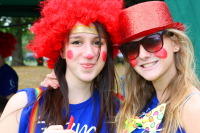 Gather up your unwanted clothes, books and toys to sell them at a car-boot sale. Or arrange a clothes-swap with friends and ask for a donation to take part. 
Put your oven gloves on
Channel your inner Mary Berry and hold a Bake Off or bake sale. Ask for a donation to enter or to vote for a winner. And if baking's not your thing, get crafty making jewellery or gifts to sell.
Hold a themed event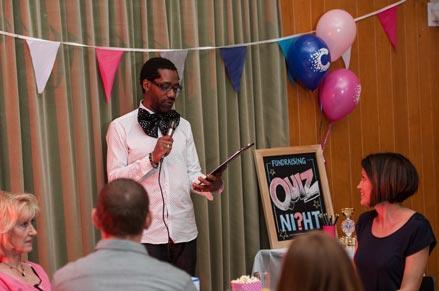 Organise a quiz night, fundraising dinner or themed day at your office and ask everyone to make a donation to take part.