Raise money
Your entry fee can't beat cancer. Only you can.
Did you know that paying your entry fee helps us cover the cost of putting on your event?
But it doesn't stop there - the money raised by you is what helps us saves lives. 
You can choose to fundraise however you like, but the easiest way to raise money is with a Cancer Research UK Giving Page:
It's quick to set up and simple to use
You can fundraise on your own or as part of a group
Your friends and family can sponsor you easily online 
You can keep track of donations
All you need to do is log in using the email address you used to sign up
Return your sponsorship
If you have already set up a Cancer Research UK Giving Page, we will receive the money you raise automatically. If you have raised money using the sponsorship form in your pack, you can pay in the money you raised by phone using your debit/credit card – call us on 0300 123 6624 or send us a cheque made payable to "Cancer Research UK" to:
Shine Night Walk
Cancer Research UK
PO Box 1561
Oxford
OX4 9GZ
If you are a UK taxpayer, the value of your donation can increase by at least 25% under the Gift Aid scheme – at no additional cost to you!
£26or £1 per mile of the full marathon, buys nutrients for cells to grow them in the lab, allowing scientists to find out more than ever before about cancer.
£260the amount we ask each of you to raise, covers the cost of a trial for a day to test new combinations of drugs, to improve treatments for more dads, sons, brothers and grandfathers with prostate cancer.
£550buys a pH meter to create the ideal environment for sensitive experiments which could hold clues to finding new ways to beat cancer, sooner.
£120kwhen we all come together, every £120,000 we raise will cover the cost of a trial for a year to find new ways to treat breast cancer more effectively by testing the benefits of hormone therapy before surgery.
Get creative with your fundraising
Find hidden treasures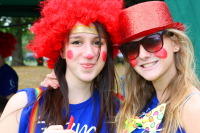 Gather up your unwanted clothes, books and toys to sell them at a car-boot sale. Or arrange a clothes-swap with friends and ask for a donation to take part. 
Put your oven gloves on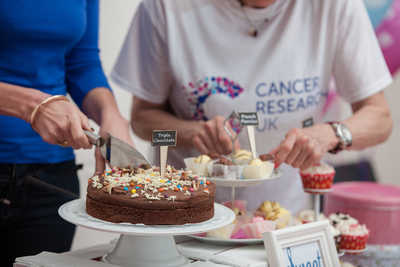 Channel your inner Mary Berry and hold a Bake Off or bake sale. Ask for a donation to enter or to vote for a winner. And if baking's not your thing, get crafty making jewellery or gifts to sell.
Hold a themed event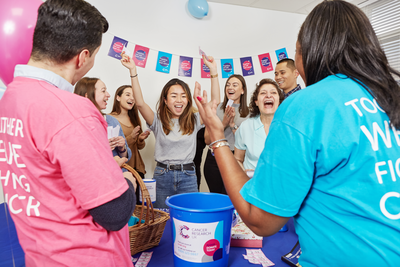 Organise a quiz night, fundraising dinner or themed day at your office and ask everyone to make a donation to take part. 
Sponsorship Form
The easiest way for people to sponsor your Shine Night Walk is with a Cancer Research UK Giving Page. However, if you prefer to raise money in person then you can use the sponsorship form we send you in your pack when you sign up. If you need another you can download one to print.