The We Are Campaign
We are beating cancer, so life's moments can keep happening.
Every two minutes, someone in the UK is diagnosed with cancer, and 1 in 2 of us will get cancer in our lifetime.* For the past 120 years, we've been making discoveries that save lives. In the last 50 years, we've helped double cancer survival in the UK.​
Our new campaign celebrates this progress by shining a light on cancer research and the impact that our work has on people affected by cancer, every day. ​
The individuals that you see in the campaign films are real people. Real Cancer Research UK researchers, passionately striving to develop life-saving treatments, and real patients who have benefitted from our work, and now able to experience those special life moments, big and small.
Read more about our research and those who feature in our campaign below, as well as how you can help our work. We've achieved so much and with your support, can achieve so much more. ​
Together we are beating cancer.
Learn more about our research and the volunteers in the campaign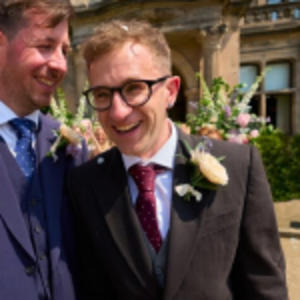 Radiotherapy is a treatment where radiation is used to kill cancer cells and benefits more than 130,000 patients every year in the UK. Our scientists laid the foundations of modern radiotherapy back in the 1920s and 30s and are continuing to find ways to improve radiotherapy today.
Meet Daniel
Daniel was diagnosed with Hodgkin lymphoma when he was 23 years old and had a 2-week course of radiotherapy as part of his treatment. 2022 marked 10 years since Daniel was given the all-clear and as a result, was able to get married to partner Adam and celebrate their first wedding anniversary in 2023. This is thanks to Cancer Research UK making radiotherapy possible.
"Being diagnosed with cancer when I was young was a huge shock, but I'm fortunate that I'm here now to tell the tale and share my life with Adam."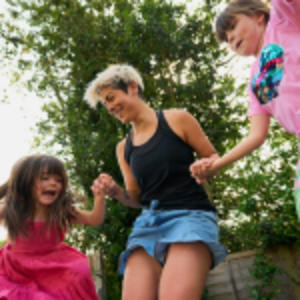 Personalised Breast Cancer Programme (PBCP)
No two people's cancer are the same, which is why we're funding research to make treatments more personalised to each individual. There are up to 11 different subtypes of breast cancer, which respond differently to treatments. The Personalised Breast Cancer Programme reads the DNA of breast cancer tumours like a barcode, helping to improve diagnosis and tailor treatments.
Meet Mei-Ling
Back in 2021 , Mei-Ling was diagnosed with triple negative breast cancer after finding a lump. Her treatment was shaped using outputs from the PBCP, which successfully helped to identify the best course of treatment to give her the best chance of survival.
"I was very happy to be on the PBCP – both as it helped identify the best treatment for me but also because it is helping more people in the future."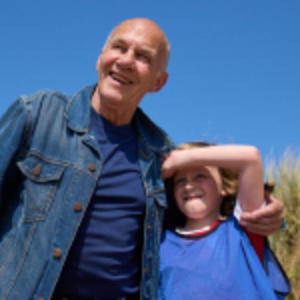 Targeted cancer drugs work by 'targeting' the differences that help a cancer cell to survive and grow.
We funded the TUXEDO trial. Researchers wanted to know whether having cetuximab (a type of targeted cancer treatment) alongside radiotherapy and chemotherapy could reduce the risk of muscle invasive bladder cancer coming back.
Meet Tommy
Tommy was diagnosed with bladder cancer just before his 60th birthday and decided to take part in the TUXEDO clinical trial. The trial involved having chemotherapy every week, along with radiotherapy 5 days a week for 7 weeks.
"I'm so grateful to have been given the opportunity to join a clinical trial. I truly believe it's what's allowed me to see my grandson Tommy grow up. He's my little mate. We do everything together. But if it wasn't for research, I might not have got to see him at all."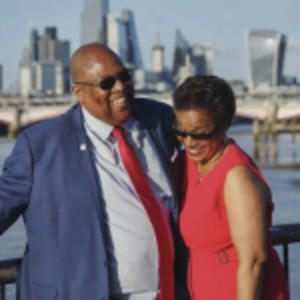 Hormone therapies can block or lower the amount of hormones in the body, to stop or slow down the growth of cancer. But sometimes, cancer can begin to grow again. We helped to fund the STAMPEDE trial, which tested treatments for prostate cancer in combination with hormone therapy.
Meet Alfred
Alfred was diagnosed with advanced prostate cancer in 2012 and took part in the STAMPEDE trial. As part of the trial, Alfred received standard hormone therapy plus a drug called abiraterone. He still takes abiraterone today and is doing well, allowing him to spend quality time with his family and wife Grace.
"If it wasn't for abiraterone, I don't think I'd be here today. CRUK spends money wisely, which is why I think they deserve people's support."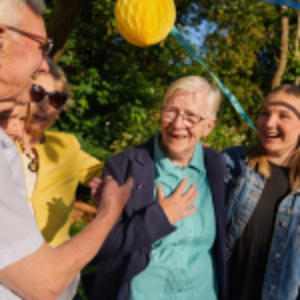 Barrett's oesophagus is a condition where some of the cells in the oesophagus start to change. In a small number of people, this can develop into oesophageal cancer. The typical test for Barrett's oesophagus is endoscopy, which can be both invasive and expensive. We helped to develop a simple, quick and affordable test for Barrett's oesophagus that can be done in a GP surgery. The capsule sponge is a 'sponge on a string' device and is a much kinder and more accurate screening process than what is currently available.
Meet Liz
In 2018, Liz took part in a trial we funded called BEST3, designed to test whether the sponge-on-a-string could help diagnose Barrett's oesophagus in people on medication for long-term heartburn. The samples revealed that not only did Liz have Barrett's oesophagus, but further tests also showed she had cancer. Liz had two endoscopy procedures to remove the cancerous tissue and follow-up treatment to remove traces of Barrett's.
"I shall always be immensely grateful for CRUK's involvement in funding research into the development of the capsule sponge and then supporting the BEST3 trial. Without the BEST3 trial, my cancer would not have been found at such an early stage and the course of my life could have been very different."
Research means #MoreMoments with the people we love.
What's the special moment you would never have experienced, if cancer had had its way?
Click the button below to browse our photo wall and add your moment.
How can you help beat cancer?
About cancer
If you've been diagnosed with cancer, or know someone who has, we provide practical advice on everything from symptoms and screening, to coping after treatment.
Cancer chat
We know it's a worrying time for many people, and you can chat with others affected by cancer on our online forum. Cancer Chat is free to join and available 24 hours a day.
*Ahmad AS et al, British Journal of Cancer, 2015