Volunteer at an Event
Find your perfect role
To find an event volunteering role near you, just click 'search' below and enter your town or postcode.
We need an army of volunteers to help at events!
Each year over 700,000 people join the fight against cancer by taking part in an event and fundraising in aid of Cancer Research UK. Whether they're walking, hiking, cycling, jogging, tackling obstacles or running, they can't cross the finish line without the passion and energy of an amazing team of volunteers, like you! 
Our teams of event volunteers and staff love what they do! No two event days are the same but no matter which event or role you choose, we're sure you'll have lots of fun and meet some fantastic people whilst supporting our cause.
1 in 2 of us will get cancer in our lifetime. We all have a part to play in beating it. Sign up to volunteer at an event today and together we will beat cancer.
Source: Ahmad A.S. et al. Trends in the lifetime risk of developing cancer in Great Britain: Comparison of risk for those born in 1930 to 1960. British Journal of Cancer, 2015
Mike Farley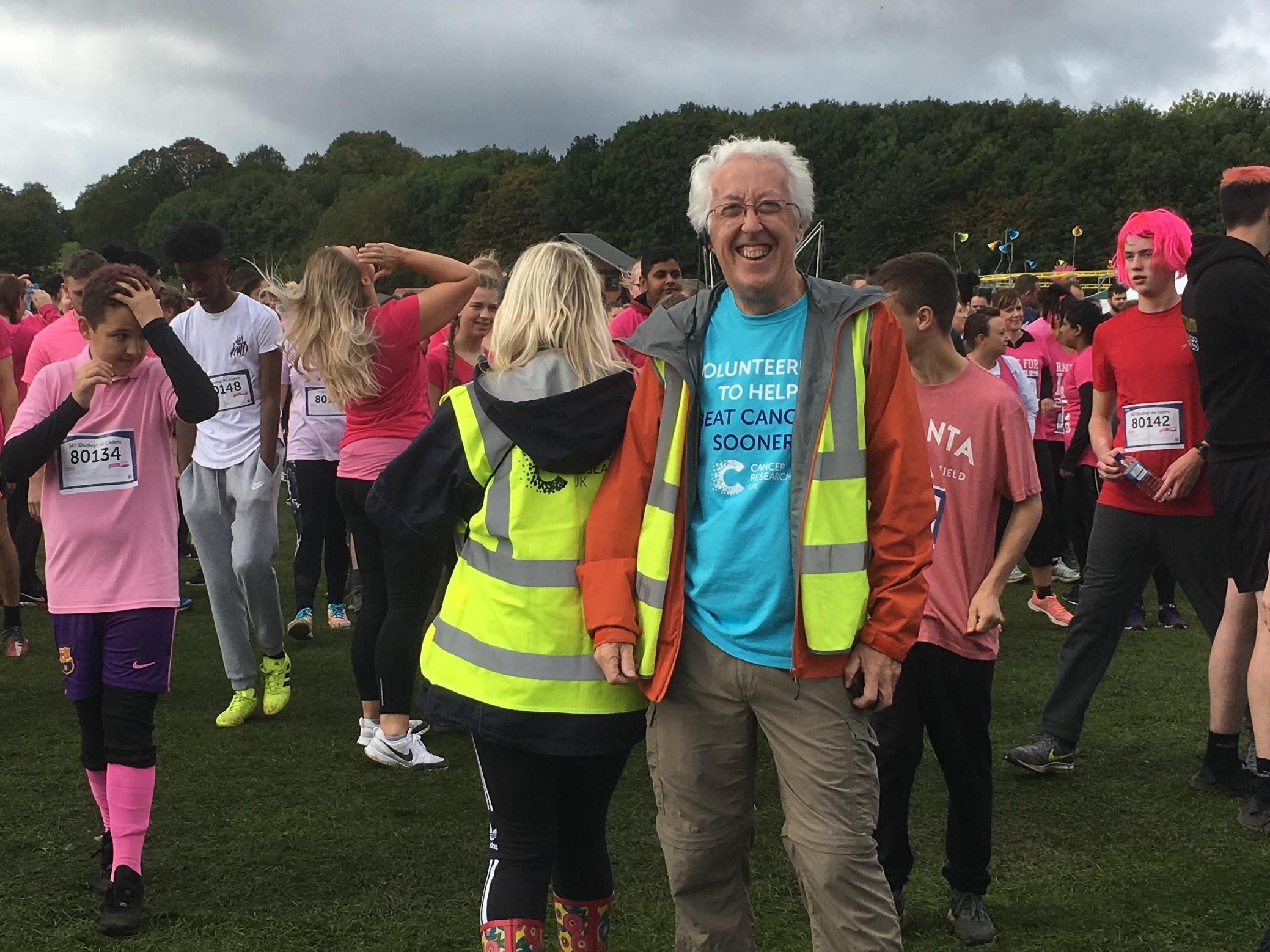 "In 2013 I went through the heartbreak of losing my beautiful wife and soulmate Cazi to breast cancer. Since then, I've been dedicated to supporting Cancer Research UK in its quest to bring forward the day when we can beat this disease."   
Mike was inspired to volunteer after completing several events including the Leicester Shine Walk, the London 2 Brighton Ultra Marathon and 5 London Shine Marathons. In 2019 he volunteered at Shine events across Birmingham, Leicester, York and London, where he took the opportunity to take on various roles including site-set up, zone management and lead walker. "Events couldn't take place without the support of such incredible volunteers. The encouragement they provide throughout the day motivates you to carry on!"  
"I've made some incredible new friends; we all have a shared passion and I know my Cazi would be so proud. I've thoroughly enjoyed the different volunteer roles I've been lucky enough to fulfil, and I am so looking forward to this year's Events season!" 
You need to be 16 or over to register to volunteer online
If you are under 16 you'll need to fill in a paper application form and have it signed by a parent or guardian. You can do this on the day, or request a form prior to the event by emailing volunteering@cancer.org.uk, letting us know your name, age and which event you want to volunteer at. You will also need to be accompanied by a parent or guardian on the day.
Sign-up Process
COVID-19
Cancer Research UK constantly monitors the COVID-19 situation in the UK and based on the most recent lockdown and commentary on when measures may be eased, we have made the difficult decision to postpone Race for Life events taking place in Spring and some events taking place in Summer 2021 until later in the year. 
We know this is disappointing and we are sorry for any inconvenience this news may cause. The safety of our participants, volunteers and staff remain our top priority and we believe that rescheduling will give us the best chance for these Race for Life and sport events to go ahead. 
If you have signed up to volunteer at a Spring event or the relevant Summer events, we will be in touch as soon as we can with an update and to reschedule.