How we spend your money
Get the Annual Report & Accounts
Read about the progress we've made against cancer in the past year thanks to your support, and our objectives and aims for the future.
 
We work tirelessly to bring forward the day when all cancers are cured, but we can only do this thanks to the generosity of our supporters, volunteers and partners. Our annual report sets out everything we've achieved together over the past year, and how we spent the money we received to achieve it. It's available for everyone to download, but if you're looking for a quick breakdown of where your donation goes, this page has got you covered.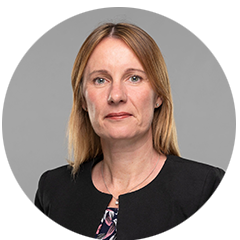 "The strides we made this year, amid unprecedented disruption, demonstrate the strength of our community and our vision. The world-class research that we fund will keep making transformative steps in the prevention, diagnosis and treatment of cancer, and I firmly believe that we will remember this as a tough few years in a much longer history at the forefront of the global fight against cancer".
 
      - Michelle Mitchell, Chief Executive
Our response to COVID-19
Cancer Research UK, like many charities, has been hit hard by COVID-19. In 2020, we had to cancel many of our mass fundraising events, and our 600 shops were forced to close for much of the year. We initially expected to see our income fall by £300m over three years and we took immediate steps to cut costs, furloughing many of our staff and temporarily moving the rest to 80% hours and pay.
In difficult times, we turned to our supporters, and your response was staggering. We ran two appeals to drive urgent cash donation, raising over £8m with a further £20.5m pledged in regular giving. Many face-to-face events became virtual, including Race for Life At Home and A Very 2020 Race for Life, and more than 100,000 of you took part in one of these new virtual fundraising challenges.
Thanks to your dedication to our mission, we have outperformed our targets. We are now predicting a drop in income of only £250m over three years. This is still significant, and we've still had to make cuts to the amount we spend on research and reduce the size of our workforce, but your support has helped us weather one of the most difficult periods in our history.
"There is a lot about the future beyond COVID-19 which is uncertain," says Michelle Mitchell, our chief executive. "But despite the challenges we face, we are as determined as ever. I believe completely in the power and potential of the charity – our brilliant staff, world-leading researchers, dedicated volunteers and supporters – to beat cancer." 
Our income
In 2020/2021, we raised a total of £582m. We couldn't have done this without our amazing supporters, volunteers and campaigners.
This includes:  
£414m from donated income, including £213m from legacies
£48m from trading activities such as our shops
£5m from our portfolio of investments
£98m from royalties and grants, including our share of sales from innovations developed from our research.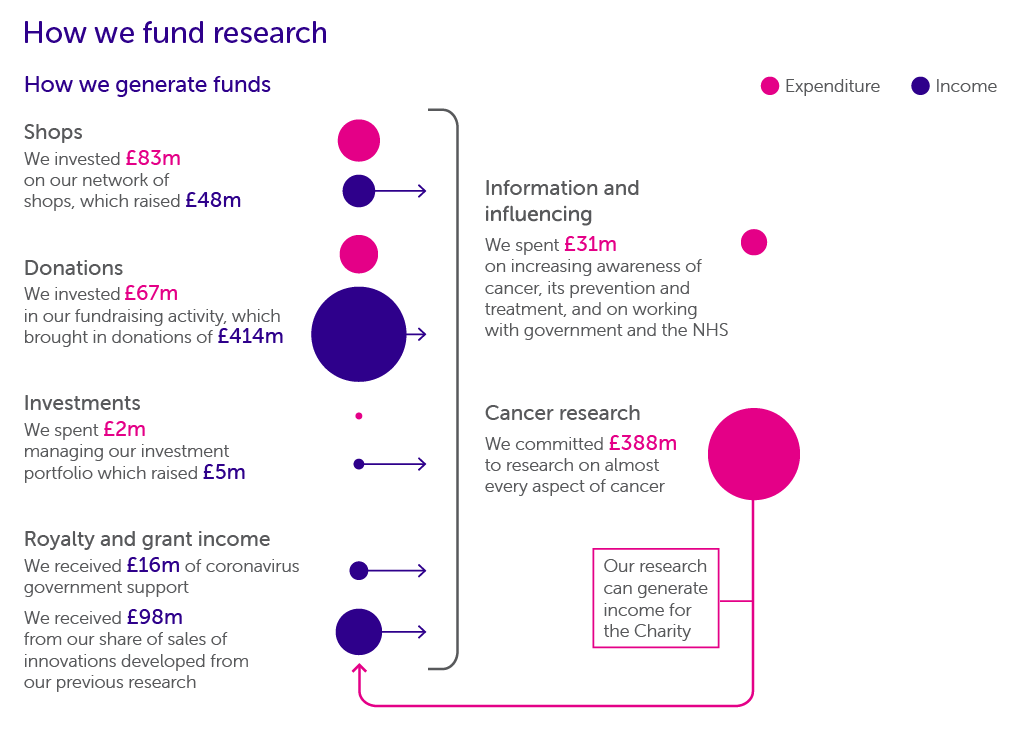 Our expenditure
Every pound is important, so we think very carefully about where we spend our income and what we commit our money to.
We made the difficult decision to reduce our research spend at the start of the pandemic in response to a predicted fall in income. We did this by reducing the number of grants we awarded, postponing some of our funding rounds, and also by postponing the next round of funds on clinical trials which were delayed due to lab closures during the crisis. 
We committed £419m of our income towards our charitable activities.
We committed £388m towards cancer research projects that will run for up to five years.
We spent £31m on information and influencing work
We also invested £152m in raising funds, including: 
£67m raising donated income 
£83m running our shops and other trading activity 
£2m managing our investments.


Pence in the pound
For every pound of income from donations, investments and royalties, 87p was available to beat cancer. The amount available varies from year to year, but we aim to keep it around the 80p mark.
During 2020/21, donations available to beat cancer increased 5% to 86.9p in every £1, mainly due to a one-off increase in legacy income, lower expenditure during the year and the government support we received. We do not expect this to be repeated in future years.
We don't include our trading activities in this calculation, as our shops operate like other retail businesses, raising funds through selling merchandise.

CEO and staff salaries
We know it's important for our supporters to know how we spend your donations, and that we're transparent in all areas of our work. That's why we've shared details of our CEO's salary on our website.
Our CEO, Michelle Mitchell, was paid £215,500 base salary between April 2020 and March 2021.
As the world's leading cancer charity dedicated to saving lives through research, and a leading medical research organisation, it's essential that we attract and retain the best staff so we can achieve our vision of beating cancer.  The salaries we pay reflect individual responsibilities and performance, whilst ensuring the best use of our supporters' donations for research.  We employ people who make a real difference and will help us achieve our ambition of seeing 3 in 4 people surviving their cancer by 2034. For a more detailed breakdown of staff pay at Cancer Research UK, please see page 123 of our Annual Report and Accounts.
Supporting documents
We are committed to supporting high-quality cancer research that will have the greatest impact for patients and help save more lives. The host institution list is an analysis of grant costs by host institution which forms part of our audited accounts.
The Annual Report and Accounts is an accessible, tagged PDF. You can also view it in single page view which is more suitable for screen readers and easier to navigate.
Teams of experts collaborate with pharmaceutical and biotechnology companies, along with the research community, to translate scientific discoveries into cutting-edge therapies. You can find out more on how we partner with pharmaceutical and biotechnology companies here.
Our previous annual reports