Help us with publicity
Help us with publicity
Many people are inspired to join the Shine Night Walk because they have read about real people's cancer experiences in the media.
Are you taking part because you, or a loved one, has been touched by cancer? Would you be willing to be photographed and appear in your local media?
If so, please share your story with us and help raise money for life-saving research.
We will always contact you to involve you in publicity and we will not give any information to the media without your permission.
Read Ian's inspirational story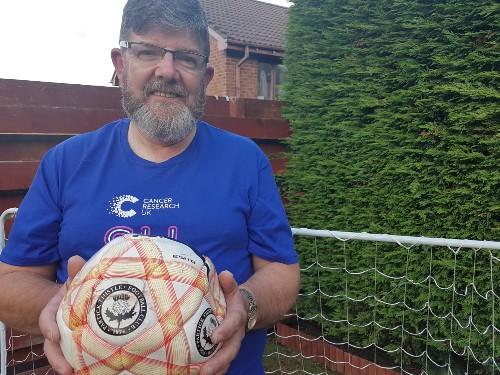 It was a poignant moment when courageous football fan Ian Anderson sounded an air horn to start Cancer Research UK Shine Night Walk.
The dad-of-two was chosen as VIP to launch the 10K walking event in Glasgow in 2018 after completing treatment for bowel cancer. The cancer was diagnosed after Ian received a letter telling him the bowel cancer screening test results he'd taken were abnormal. The bowel screening test is the most effective way of detecting bowel cancer early.
In October 2017, Ian had successful surgery to remove the tumour. He is today in remission from cancer and keen to raise awareness as well as funds for life-saving research.
Ian, 60, said: "It's thanks to research that so many people like me are surviving cancer.
"The Shine Night walk is a sight to behold- the neon, the fairy lights and the energy of all those taking part makes a brilliant atmosphere. I feel lucky that I returned the screening test and cancer was caught early. I'm looking forward to taking part in Shine Night Walk again this September. Unfortunately, I lost my father to cancer in March this year which makes me even more determined to help in any way I can."