Clinician Scientist Fellowship
About this scheme
Key information
Career level
Post doc
Clinician
Health professional
Funding amount
The Fellow's salary and associated running expenses
This Fellowship offers excellent individuals the opportunity to develop a clinical academic research career through a period of postdoctoral training.
Applications are considered from any area of our funding remit, with the exception of clinical trials and drug discovery.
You should have:
obtained a higher degree (MD/PhD) in a cancer-relevant research area.
obtained your CCT and hold consultant status, or
a national training number (NTN or NTN(A)) and at the time of award have clear plans for obtaining your CCT

the support of an appropriate research group and supervisor​
You should not:
have held any previous substantive postdoctoral fellowships
have a tenured academic post at a higher education institute or research institute.
Fellowships must be hosted in a UK University or research institute. We will consider requests to undertake research outside the UK for a period of the fellowship. 
Funding support is provided for:
the candidate's salary at the appropriate specialty registrar or honorary consultant grade. 
associated running expenses and research or technical assistance.  
Additional support
Our fellowships offer a range of benefits beyond funding, including access to networking and training opportunities, flexible working policies and an accelerated route through the Tier 1 visa system.
How to apply to this scheme
Application process
Applications for Clinician Scientist Fellowships are considered twice a year, and the application process has three stages:
Preliminary application: reviewed and shortlisted by the Clinical Careers Committee
Full applications: shortlisted applicants will be invited to submit a full application and attend an interview. Full applications are peer-reviewed by international experts. 
Interview: shortlisted candidates will attend a 40 minute interview carried out by the Clinical Careers Committee.
Timelines
| Preliminary application deadline | Shortlisting | Full application deadline | Interviews |
| --- | --- | --- | --- |
| 22 May 2018 | July 2018 | 21 August 2018 | November 2018 |
|  27 November 2018 | January 2018 | 19 February 2018 | May 2018 |
Before you begin your application
You must read:
All applications must be made through our electronic grants management system (eGMS).
The Clinical Careers Committee will judge your proposal on:
Scientific excellence: whether you have a strong scientific rationale to support the proposed research proposal.
Cancer-relevance: the value of the proposed work in advancing the fundamental understanding of cancer or improving how cancer is diagnosed and/or treated.
Your own track record and potential to produce outstanding results
The strength of your research team and research environment 
Read advice from successful applicants to this scheme:
Cancer Research UK contact details
If you have questions about the eligibility of your proposal for this scheme, or require any assistance with your application, please contact the funding manager.
Dr Zara Goozée
Research Funding Manager
Tel: +44 (0)20 3469 5580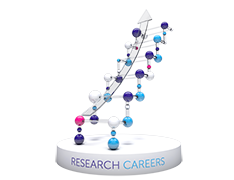 We offer a range of fellowships, bursaries and other support to help outstanding scientists and clinicians develop their independent research careers.
Case studies
Read advice from previous successful applicants to this scheme
These grants are fantastic. They allow people like me to try out research and then, if they want to become academic leaders, they can develop their interests and skills further.
— Dr James O'Connor, Clinician Scientist Fellow
Related guidance to download