Advanced Clinician Scientist Fellow - Dr Michelle Lockley
Dr Michelle Lockley is a Cancer Research UK Advanced Clinician Scientist Fellow at Queen Mary University of London, and Honorary Consultant in Medical Oncology at University College London Hospital.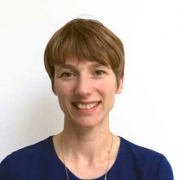 Research Overview
My research uses oncolytic adenoviruses to treat metastatic ovarian cancer. We increasingly recognise that these viruses work, at least in part, by making the woman's own immune system kill the cancer. My recent work is aimed at managing this immune response and inflammation, in order to make the viruses work as well as possible without causing too many side effects.
We have also recently found in the laboratory that our viruses work best in ovarian cancer that is resistant to chemotherapy. This excited me as there are hardly any effective treatments for women in this situation, so I now have a growing interest in understanding chemotherapy resistance so that we can find ways to treat it better.
Finally, I am very focused on making the best use of patient samples kindly donated by the women I treat, and I run the Barts Gynae Tissue Bank.
What inspired you to pursue a career in clinical academia?
My excitement really took off during my intercalated BSc and I think it's great that more medical schools are offering these programmes so that medical students get a chance to find out about research at an early career stage. After my PhD, it was obvious that I would be a clinical academic and the more I do, the more that idea is reinforced – I enjoy it more and more!
In addition to the money, the personal support has been invaluable. After my first four years I really felt that I had learnt how to lead a lab team.
What do you wish you'd known about the application and interview process when you were applying for your first Fellowship position?
It is essential to understand the process – how grants are reviewed and scored and what happens at the interview. I am lucky in that I work within a great Institute, which has always been supportive. We have other clinician scientists and several high profile scientists who sit on grant selection panels, so I had a lot of guidance.
What do you find is most difficult aspect of applying for a grant?
For me, the ideas come fairly easily but finding time to do them justice is hard. I've got better at being tough about competing commitments.
How do you manage your research and clinical commitments?
I have to be very clear about managing my time and almost compartmentalising the clinical and academic parts of my week.
What has funding from Cancer Research UK helped you achieve?
CRUK funding has set me off on a great footing. In addition to the money, the personal support – like the mentorship programme – has been invaluable, and it has helped me a lot with scientific independence. After my first four years I really felt that I had learnt how to lead a lab team, write a paper, obtain grant income etc.
What are you most proud of in your career?
Obtaining my CRUK Advanced Clinician Scientist Fellowship felt like an amazing achievement. Publishing my first piece of original research as corresponding author was also pretty special.
I am always challenged, there is always something new to do
What has surprised you about a career as a clinical academic?
The most pleasant surprise is that it is constantly changing. I am always challenged, there is always something new to do and as I forge more collaborations and my research team grows it just gets more interesting. One aspect that I particularly value is the freedom and flexibility we can have in our careers – I really recommend it!
What do you hope to be doing in 10 years' time?
Running CRUK? (Just kidding!) I will definitely be involved in research as well as patient care. Ten years feels like long time...
What do you look for in a role model and why?
I'm lucky in that I'm surrounded by inspirational people so I look to different people for different things. The qualities they possess and which I most admire include: ambition, rigour, open-mindedness and fantastic team management skills.  
Find out more
If Michelle's story has inspired you, find out more about eligibility for this funding scheme and how to make an application.
Funding opportunities like this