Clinician Scientist Fellow - Dr Ultan McDermott
Dr Ultan McDermott is a CRUK Clinician Scientist Fellow and a Group Leader at the Wellcome Trust Sanger Institute. He is a practising medical oncologist at Addenbrooke's Hospital in Cambridge.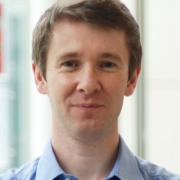 Research Overview
I use our understanding of the architecture of cancer genomes to try and understand the mechanisms that underpin drug sensitivity and resistance in cancer.
What do you wish you'd known about the application and interview process when you were applying for your first Fellowship position?
Probably the importance of being able to 'pitch' the idea at the right level and the need to practise the interview with a mock panel of interviewers – the real panel will be composed of clinician scientists with a diverse range of interests.
There is wonderful sense of achievement in submitting a well-crafted proposal!
What do you find is most difficult aspect of applying for a grant?
Getting started! Most researchers I know would rather be doing the experiments or analysing the data than writing about it. Formulating an investigation plan is well worth the effort – it often highlights inconsistencies in the experimental approach that were not obvious at its inception. There is wonderful sense of achievement in submitting a well-crafted proposal!
What inspired you to pursue a career in clinical academia?
I had an extremely motivating PI when I was doing my PhD who was very inspirational and actively encouraged me to look to do further research, and so I ended up doing four years as a postdoctoral researcher in Boston.
Additionally, I had long been frustrated by the lack of response to many of our treatments in our cancer patients, and when we occasionally did see a dramatic response there was no clear avenue to investigate why. All of these led me to think about how we could better predict for drug response and resistance in our patient populations.
How do you manage your research and clinical commitments?
I spend one full day at Addenbrooke's hospital and the remainder of my time is spent leading a research group, largely focusing on mechanisms of drug resistance and sensitivity in cancer. Together with colleagues, I have also been involved in founding a clinical next-generation sequencing company as a spin-off from the Sanger Institute. We want to undertake large-scale NGS of clinical trial samples in order to build models that predictive for outcome in a number of different cancer types.
Creating protected time to think about the science can be a big challenge, but personally I have found that ensuring that my clinical, research and translational work are all complementary is the best way to manage my time, as it all contributes to the overall research program.
Funding from CRUK has allowed me time to develop as both a clinician and a scientist
What has funding from Cancer Research UK helped you achieve?
Funding from CRUK allowed me to secure a group leader position at the Sanger Institute which exposed me to a world of cancer genomics, informatics and high-throughput cancer line drug screens, which have been formative in defining my career path.
It has allowed me time to develop as both a clinician and a scientist by providing financial support to enable me to continue my research while also working as an oncologist under an honorary consultant contract. Such a contract has allowed me the freedom to create a balance of clinical and research activity.
What do you hope to be doing in 5 years' time?
In 5 years' time I'd like to have helped develop a system to systematically define the drug resistance landscape for pre-clinical and clinical therapeutics. We know cancers evolve with treatment, and I can imagine a future where we track that evolution with plasma cancer DNA sequencing and actually change our management of a patient based on the results.
Who is your role model and why?
The current director of the Sanger Institute, Mike Stratton, has always embodied for me the ideal combination of intellectual vigour, curiosity and leadership and has avoided the hubris which I see too often in senior scientists in academia.
Find out more
If Ultan's story has inspired you, find out more about eligibility for this funding scheme and how to make an application.
Funding opportunities like this