A trial looking at CT scans before surgery for breast cancer (MISO BC)
Please note - this trial is no longer recruiting patients. We hope to add results when they are available.
This trial is looking to see if CT scans of the armpit can show if breast cancer has spread into the lymph nodes or not.
Surgeons usually treat breast cancer with surgery to remove it.
Sometimes the cancer has spread to the lymph nodes

in the armpit (axilla) when it is diagnosed. To find out if the cancer has spread surgeons take samples (biopsies

) from the lymph nodes. These biopsies are often taken during breast cancer surgery.
It can take up to a week to find out if the lymph node biopsies contain cancer or not. If the lymph nodes do contain cancer, then you may have another operation to remove them. This is called an axillary lymph node dissection (or axillary clearance).
The aim of this study is to see if a CT scan of the armpit can show cancer in lymph nodes before surgery. If cancer in the lymph nodes can be detected by CT scan then surgeons will be able to remove them at the same time as your breast cancer. Surgeons hope this will mean that more people will be able to have a single operation for breast cancer.
Who can enter
You may be able to enter this trial if you
Have cancer that started in the breast (primary breast cancer)
Are able to have surgery to your armpit
Have had an ultrasound scan ,  mammography , fine needle aspiration, core biopsy or an excision biopsy to diagnose your breast cancer
Are at least18 years old
You cannot enter this trial if you
Have any other serious medical condition that could affect you taking part in this trial
Have an allergy to iodine
Have already had surgery or radiotherapy to the affected armpit for cancer
Need kidney dialysis
Have allergies that are a cause for concern
Are having chemotherapy for cancer other than
breast cancer
Have taken part in this trial before
Are pregnant
Trial design
This is a randomised trial. The people taking part are put in to groups by computer. Neither you nor your doctor will be able to decide which group you are in.
Group 1 will have a CT scan of the armpit before surgery for breast cancer
Group 2 will not have a CT scan before surgery
A researcher will phone you 2 weeks after your operation. They will ask about any side effects you have had and how you have been feeling. This is called a quality of life study.
Hospital visits
If you are in group 1, you have an extra hospital visit to have a CT scan before your surgery. You will have to go to University Hospital North Durham for this scan. The researchers can offer some help towards the cost of this visit.
The time you spend in hospital when you have surgery will be the same if you are taking part in the trial or not.  
Side effects
You may have a bruise and slight itching where you have the dye injection for your CT scan.
The most common side effects of breast cancer surgery are
There is more information about breast cancer surgery on CancerHelp UK.
How to join a clinical trial
Please note: In order to join a trial you will need to discuss it with your doctor, unless otherwise specified.
Please note - unless we state otherwise in the summary, you need to talk to your doctor about joining a trial.
Supported by
County Durham and Darlington NHS Foundation Trust
Durham clinical trials unit
Durham University
NIHR Research for Patient Benefit (RfPB) Programme
National Institute for Health Research Cancer Research Network (NCRN)
CRUK internal database number:
Please note - unless we state otherwise in the summary, you need to talk to your doctor about joining a trial.
Caroline took part in a clinical trial for breast cancer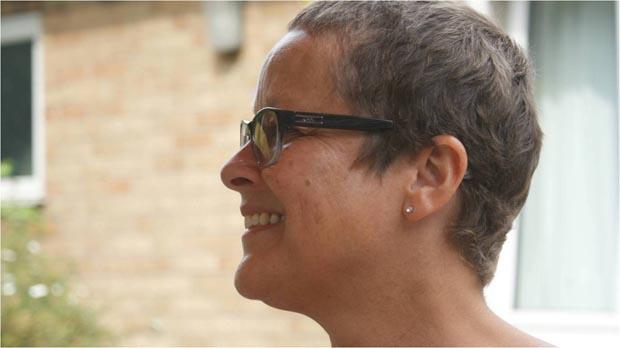 "I had treatment last year and I want to give something back."