A trial of olaparib with chemotherapy for advanced ovarian cancer
Coronavirus (COVID-19)
We know that this is an especially worrying time for people with cancer and their family and friends. We have separate information about coronavirus and cancer. Please read that information alongside this page. We will update that information as guidance changes.
Please note - this trial is no longer recruiting patients. We hope to add results when they are available.
This trial is looking at having a drug called olaparib at the same time as chemotherapy. It is for women with the most common type of ovarian cancer (serous type epithelial ovarian cancer) that has come back after treatment.
Doctors usually treat cancer of the ovary with surgery, often followed by chemotherapy. Chemotherapy for ovarian cancer usually contains a platinum drug

such as carboplatin.
If ovarian cancer comes back after chemotherapy, you may have more chemotherapy. If your cancer responded to a platinum drug the first time you had treatment, you may have a platinum drug again. This trial is for women who have ovarian cancer that responded to a platinum drug before. Some of the women taking part will also have a drug called olaparib.
Olaparib (also known as AZD2281) is a type of biological therapy called a PARP inhibitor.
Every cell contains DNA. This is the genetic information that controls how cells behave. If DNA becomes damaged (as in cancer cells), a protein called PARP-1 helps to repair it. Olaparib stops PARP-1 from working. If PARP-1 doesn't work, cancer cells can't repair themselves and they die.
The aims of the trial are to
See if a combination of olaparib and chemotherapy works better than chemotherapy alone for women with advanced ovarian cancer
Learn more about the side effects of having olaparib and chemotherapy together
Who can enter
You can enter this trial if you
Have ovarian, primary peritoneal or fallopian tube cancer that is at least partly serous type
Have cancer that didn't start to grow again for at least 6 months after your last chemotherapy with a platinum drug
Have at least one area of cancer that doctors can see and measure on a scan
Have satisfactory blood test results
Are well enough to be up and about for at least half the day (performance status 0, 1 or 2)
Have been through the menopause and haven't had periods for at least a year, or you have had your ovaries or womb removed
Are at least 18 years old
You cannot enter this trial if you
Have cancer that has spread to your brain and is causing symptoms despite treatment
Have already had more than 3 different types of chemotherapy
Have had chemotherapy or radiotherapy in the last 2 weeks, apart from radiotherapy to treat symptoms
Have started taking drugs called bisphosphonates in the last 4 weeks
Have had major surgery in the last 2 weeks, or have not recovered from earlier surgery
Have not recovered from the side effects of other treatment, unless they are very mild
Have had an experimental drug as part of another clinical trial in the last 2 weeks
Have had another cancer in the last 5 years apart from non melanoma skin cancer or carcinoma in situ of the cervix that has been treated, ductal carcinoma in situ (DCIS) or womb cancer that was stage 1 and grade 1
Have already had a PARP inhibitor drug
Have had an allergic reaction to carboplatin or another platinum drug
Are known to be sensitive to paclitaxel or olaparib, or anything in them
Are taking certain drugs that can affect how an enzyme called CYP3A4 works (your doctor will advise you about this)
Have fits (seizures) that cannot be controlled with medication
Have another serious medical condition that cannot be controlled with medication
Are known to be HIV, hepatitis B or hepatitis C positive or have low immunity
Cannot swallow or absorb tablets for any reason
Are breastfeeding
Trial design
This phase 2 trial will recruit about 150 women in a number of different countries. It is a randomised trial. You will be put into 1 of 2 treatment groups by a computer. Neither you nor your doctor can decide which group you are in.
If you are in group A, you have carboplatin and paclitaxel chemotherapy through a drip into a vein. This takes about 4 hours. You have this treatment every 3 weeks and each 3 week period is called a cycle of treatment. You have 6 cycles all together. You also take 4 olaparib capsules twice a day on the first 10 days of each treatment cycle.
After finishing 6 cycles of chemotherapy, you may carry on taking olaparib until your cancer starts to grow again.
If you are in group B, you have chemotherapy in the same way, but you have a higher dose of carboplatin. You don't take olaparib capsules, and you finish treatment as part of the trial after the 6 cycles of chemotherapy.
Hospital visits
You will see the doctors and have some tests before you start treatment. The tests include
During the first 2 cycles of treatment, you go to hospital once a week. On the first day you see the doctors, have blood tests and chemotherapy. On the other days you just have a physical examination and blood tests.
For the next 4 cycles of treatment, you go to hospital on the first day only. You see the doctors, have blood tests and the chemotherapy. You have a CT or MRI scan at the end of cycle 3.
At the end of the last cycle of chemotherapy, you see the trial doctors, have more blood tests and an ECG. If you are in group A, you can carry on taking olaparib after you finish chemotherapy, as long as you have had more than 4 cycles of treatment. People in group A will have weekly visits for the first three weeks after they stop chemotherapy.
Everybody will see the trial doctors again 6 weeks later, and have another scan. You then have follow up appointments every 6 weeks, with scans every 3 months until your cancer starts to grow again. After this, the trial team will contact you every 3 months.
Side effects
The side effects of carboplatin, paclitaxel and olaparib include
A drop in blood cells causing an increased risk of infection, tiredness, shortness of breath and bruising or bleeding problems
Tiredness (fatigue)
Inflammation of the lungs
There is more information about other possible side effects of carboplatin and paclitaxel on CancerHelp UK.
How to join a clinical trial
Please note: In order to join a trial you will need to discuss it with your doctor, unless otherwise specified.
Please note - unless we state otherwise in the summary, you need to talk to your doctor about joining a trial.
Supported by
AstraZeneca
Experimental Cancer Medicine Centre (ECMC)
Questions about cancer? Contact our information nurses
CRUK internal database number:
Please note - unless we state otherwise in the summary, you need to talk to your doctor about joining a trial.
Cara took part in a clinical trial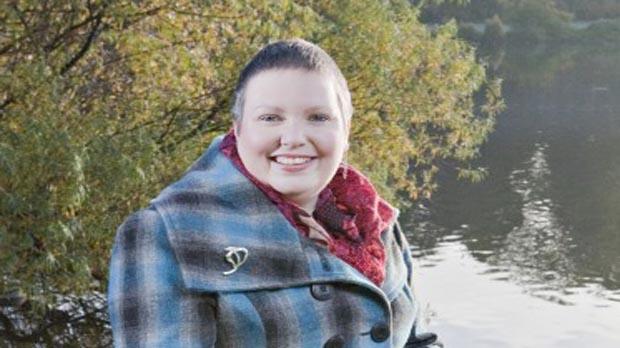 "I am glad that taking part in a trial might help others on their own cancer journey."