A trial comparing giving carfilzomib once a week with giving it twice a week for myeloma (ARROW)
Please note - this trial is no longer recruiting patients. We hope to add results when they are available.
This trial is open to people with myeloma that has come back after treatment (relapsed) or stopped responding to treatment (refractory). 
More about this trial
Carfilzomib is a type of biological therapy called a proteasome inhibitor. It works by stopping the breakdown of abnormal proteins in the cancer cell. This causes the cancer cell to die. 
We know from research that carfilzomib can help people with myeloma. Currently doctors give carfilzomib twice in one week. In this trial half the people will get carfilzomib twice a week and the other half will get it once a week. 
The aim of the trial is to find out if having carfilzomib once a week is just as good as having it twice a week.
Who can enter
The following bullet points list the entry conditions for this trial. Talk to your doctor or the trial team if you are unsure about any of these. They will be able to advise you. 
You may be able to join this trial if all of the following apply
You have myeloma that has come back after treatment or didn't respond to treatment 
You have had at least 2 and no more than 3 previous treatments for your myeloma 
Your myeloma had responded well enough (a partial response ) to at least one of the treatments
You have had a type of treatment that changes how the immune system responds to myeloma (an immunmodulator)
You have already had treatment with another proteasome inhibitor  
Your doctor was able to measure the M protein in a blood sample or urine sample  within the past 21 days
You are well enough to carry out all your normal activities, apart from heavy physical work (performance status of 0 or 1) 
Your heart works well enough 
You have satisfactory blood test results
You are willing to use reliable contraception during treatment and for at least 1 month afterwards if there is any chance you or your partner could become pregnant
You are at least 18 years old
You cannot join this trial if any of these apply. You
Have Waldenström macroglobulinemia
Have myeloma with the immunoglobulin M (IIgM)
Have a myelodysplastic syndrome
Have a syndrome called POEMS that affects your nerves and many body organs 
Have had another cancer in the past 5 years apart from some early cancers  that were successfully treated
Have or had amyloidosis
Have had chemotherapy in the past 28 days
Have had treatment that stimulates the immune system (immunotherapy) in the past 21 days
Have had a total dose of more than 160mg dexamethasone or 1000mg (1 gram) prednisolone  within the 14 days before been randomised for this trial
Have had radiotherapy to a small area in the past 7 days 
Have had radiotherapy to a large area in the past 21 days 
Have already had carfilzomib or a similar drug called oprozomib
Are allergic to carfilzomib or any of its ingredients
Have certain heart problems
Have had an infection in the past 2 weeks that needed to be treated with antibiotics
Have fluid between the sheets of skin covering the lungs (pleural effusion) that needed to be drained within 2 weeks of been randomised for this trial
Have fluid in the abdomen (ascites) that needed to be drained within the 2 weeks of been randomised into this trial
Have ongoing problems with graft versus host disease (GVHD) after a bone marrow transplant from a donor 
Have high blood pressure or diabetes that isn't controlled by medication
Have moderate to severe damage to the nerves (neuropathy) caused by other treatments within 2 weeks of been randomised into this trial
Have a liver disease called cirrhosis 
Have HIV, hepatitis B or hepatitis C
Have taken an experimental drug or used a device as part of another clinical trial in the past month
Have had major surgery in the past month
Have any other medical condition or mental health problem that the trial team think could affect you taking part in the trial 
Are pregnant or breastfeeding
Trial design
This is an international phase 3 trial. The researchers need 460 people worldwide to join. Everyone will have carfilzomib and a steroid called dexamethasone.
It is a randomised trial. The people taking part are put into 2 treatment groups by a computer. Neither you nor your doctor will be able to decide which group you are in.  
People in one group have carfilzomib once a week and dexamethasone
People in the other group have carfilzomib twice a week and dexamethasone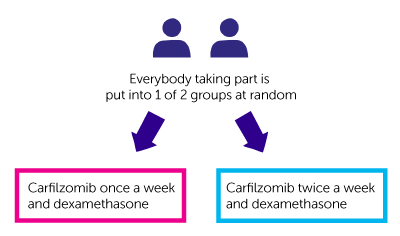 You have carfilzomib as a drip into a vein every 3 weeks and then you have a week off. Each 4 week period is called a cycle of treatment. 
You have dexamethasone as a drip into a vein or as a tablet once a week for 4 weeks. You have this for 9 cycles of treatment. From cycle 10 you have dexamethasone once a week for 3 weeks. 
You continue having treatment as long as it is helping you and the side effects aren't too bad.
The researchers will ask your permission to take some extra blood samples. They will use these to find out what happens to carfilzomib in the body and how it affects the body. You don't have to agree to this if you don't want to. You can still take part in the trial. 
The trial team will ask you to fill out a questionnaire
before you start treatment
every 8 weeks during treatment
at the end of treatment 
then every 12 weeks afterwards 
The questionnaire will ask about side effects and how you've been feeling. This is called a quality of life study.
Hospital visits
You see the doctor to have some tests before taking part. These include 
A physical examination
Blood tests
Heart scan (ECG )
Heart trace (ECHO or MUGA )
During treatment you see the doctor regularly for a physical examination and blood tests. 
You see the doctor at the end of treatment to see how you are. You then see the doctor every 3 months. Or a member of the trial team will phone you to see how you are. 
Side effects
The most common side effects of carfilzomib are 
A drop in blood cells causing an increased risk of infection, bruising and bleeding
Shortness of breath
Cough
Blurred vision, cataracts
Tummy (stomach) pain
Indigestion
Toothache
Tiredness (fatigue)
High temperature (fever)
Feeling hot
Swelling of hands, feet or ankles
Weakness
Pain 
Pain, swelling, irritation or discomfort of the vein at the drip site
Loss of appetite
Back or joint pain
Pain in the arms, legs, hands or feet
Headache
Dizziness
Difficulty sleeping
Change to the amount of potassium, sugar and creatinine in your blood
High blood pressure
We have information about the side effects of dexamethasone. 
The trial team will talk to you about the side effects of carfilzomib and dexamethasone before you agree to take part.
How to join a clinical trial
Please note: In order to join a trial you will need to discuss it with your doctor, unless otherwise specified.
Please note - unless we state otherwise in the summary, you need to talk to your doctor about joining a trial.
Supported by
Experimental Cancer Medicine Centre (ECMC)
NIHR Clinical Research Network: Cancer
Onyx Pharma
CRUK internal database number:
Please note - unless we state otherwise in the summary, you need to talk to your doctor about joining a trial.
Around 1 in 5 people take part in clinical trials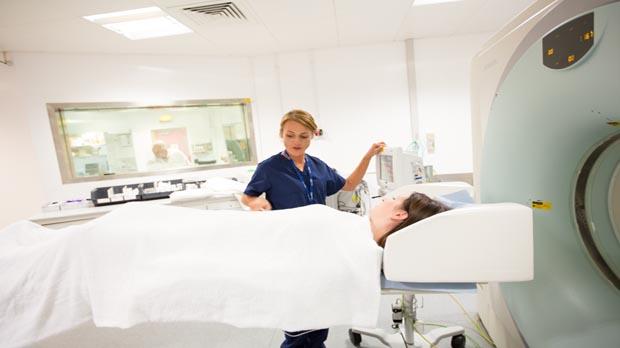 Around 1 in 5 people diagnosed with cancer in the UK take part in a clinical trial.