A trial comparing everolimus with sunitinib for kidney cancer that has spread (ASPEN)
This trial was for people with an uncommon type of renal cell cancer called non clear cell kidney cancer. Cancer Research UK supported this trial.
More about this trial
When this trial was done, there wasn't a standard treatment for non clear cell kidney cancer that had spread to another part of the body. Early research showed that either sunitinib or everolimus might be a useful treatment.
Sunitinib and everolimus are both types of biological therapies

called cancer growth blockers. They block signals that cancer cells use to divide and grow but work in slightly different ways. 
In this trial, researchers wanted to find out which treatment worked better for this group of people.
The aims of this trial were to
find out if sunitinib or everolimus worked better for non clear cell renal cancer
learn more about the side effects
Summary of results
The trial team found that sunitinb worked better than everolimus for people with non clear cell renal cell cancer. 
This was a randomised trial. 108 people took part. They were put into 1 of 2 treatment groups. 
51 had sunitinib
57 had everolimus
The researchers looked at the average length of time people lived without signs of their cancer getting worse. This is called progression free survival. On average it was
just over 8 months (8.3 months) in the people who had sunitinib
just under 6 months (5.6 months) in the people who had everolimus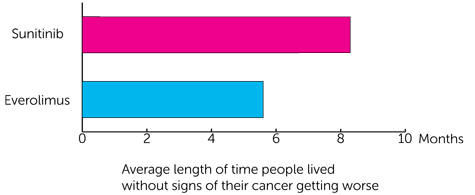 The more serious side effects of both drugs included
high blood pressure
infection
diarrhoea
inflammation of the lungs (pneumonitis)
a sore mouth (stomatitis)
redness or soreness on the palms of the hands or soles of the feet (hand foot syndrome)
These were more common in the people who had had sunitinib.
The trial team concluded that sunitinib improved progression free survival in this group of patients.
We have based this summary on information from the research team. The information they sent us has been reviewed by independent specialists (peer reviewed

) and published in a medical journal. The figures we quote above were provided by the trial team who did the research. We have not analysed the data ourselves
How to join a clinical trial
Please note: In order to join a trial you will need to discuss it with your doctor, unless otherwise specified.
Please note - unless we state otherwise in the summary, you need to talk to your doctor about joining a trial.
Chief Investigator
Dr Andy Armstrong
Professor Rob Jones
Supported by
Cancer Research UK
Experimental Cancer Medicine Centre (ECMC)
NIHR Clinical Research Network: Cancer
Other information
This is Cancer Research UK trial number CRUKE/10/015.
CRUK internal database number:
Please note - unless we state otherwise in the summary, you need to talk to your doctor about joining a trial.
Charlie took part in a trial to try new treatments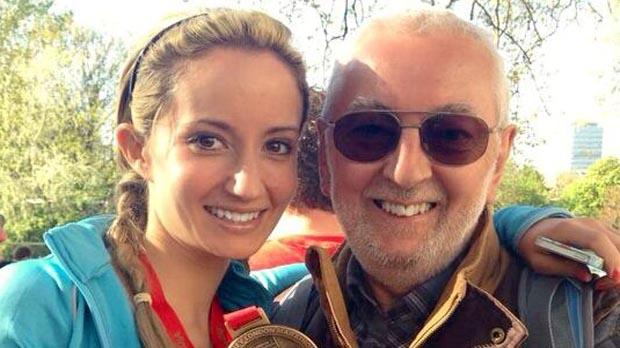 "I think it's really important that people keep signing up to these type of trials to push research forward."