A trial comparing 2 ways of giving dabrafenib with trametinib for advanced melanoma (INTERIM)
Please note - this trial is no longer recruiting patients. We hope to add results when they are available.
This trial is for people with melanoma that has an abnormal BRAF gene and their melanoma can't be removed by surgery or has spread to another part of the body. 
More about this trial
Doctors use the combination of dabrafenib and trametinib to treat advanced melanoma that has the BRAFV600 gene change (mutation).
Unfortunately melanoma can build up a resistance to this drug combination over time the longer you have treatment. This means that the drug combination may not work as well in keeping the melanoma under control. This usually starts to happen about a year after starting.
You take dabrafenib and trametinib as tablets every day.
We know from research with similar drugs that having regular breaks from taking the drugs can lengthen the time it takes for the cancer to become resistant to the treatment.
Researchers think that this could be the same for dabrafenib and trametinib.  
They also think that not taking both drugs every day could reduce the side effects of treatment.
In this trial half the people will take dabrafenib and trametinib every day (continuous schedule). And the other half will have regular breaks (intermittent schedule).
The aims of this trial are to find how:
willing people are to take part
well people take their drugs as prescribed
well the intermittent schedule works for advanced melanoma
the continuous schedule and the intermittent schedule affect quality of life
bad the side effects are for each schedule   
Who can enter
The following bullet points list the entry conditions for this trial. Talk to your doctor or the trial team if you are unsure about any of these. They will be able to advise you.
You may be able to join this trial if all the following apply:
you have stage 3 melanoma that has the BRAFV600 gene change and can't be removed by surgery or have melanoma that has spread to another part of the body (stage 4)
there is a sample of tissue available from when you were diagnosed
you have a melanoma secondary cancer  that can be measured. If you had radiotherapy to treat your melanoma there must be a melanoma secondary cancer that wasn't treated and can be measured
you are planned to start dabrafenib with trametinib
you are up and about for more than half the day and can look after yourself but can't work (performance status 0, 1 or 2)
you have satisfactory blood test results
you are willing to use reliable and adequate contraception during treatment and for 4 months after your last dose if there is any chance you or your partner could become pregnant
you are at least 18 years old
You cannot join this trial if any of these apply. You:
have already had drugs similar to dabrafenib or trametinib for melanoma that has spread
are currently having treatment that stimulates the immune system to fight cancer (immunotherapy)
are having another experimental drug as part of a clinical trial
are taking other medication that can affect how dabrafenib and trametinib works
have had heart problems such as a heart attack, ischemia, congestive heart failure or angina in the past 6 months
have an infection that needs treatment
have a liver disease such as cirrhosis, hepatitis B or hepatitis C
have any other medical or mental health problem that the trial doctor thinks could affect you taking part
are allergic to dabrafenib, trametinib or any of their ingredients
are pregnant or breastfeeding
Trial design
This is a phase 2 trial. The team need 100 people to join.
It is a randomised trial. Everyone taking part is put into 1 of 2 groups by a computer. Neither you or your doctor can choose which group you are in.
You have dabrafenib and trametinib all the time (continuous schedule)
You have breaks from taking dabrafenib and trametinib (intermittent schedule)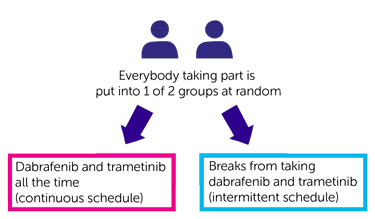 You take dabrafenib twice a day and trametinib once a day. You take both tablets on an empty stomach, that is at least 1 hour before or 2 hours after a meal.
You take the tablets in 4 week periods. Each 4 week period is a cycle of treatment.
Continuous schedule
You take both tablets every day.
Intermittent schedule
You take dabrafenib for 3 weeks of each cycle.
You take trametinib for 2 weeks of each cycle.
On week 3 you have only dabrafenib. On week 4 you have no tablets.
You continue with your treatment as long as it is helping and the side effects aren't too bad.
You have a patient diary to write down the date, time and dose of dabrafenib and trametinib you take. The nurse, doctor or pharmacist will tell you how to fill in the diary. You need to take this to all your clinic appointments for the doctor to see. 
Questionnaires
You fill in 2 short questionnaires:
before you start treatment
at 8 weeks
then every 12 weeks
at the end of treatment
then if your melanoma comes back
The questions ask about how you feel and any side effects you might have. This is a quality of life questionnaire.
Skin problems are a common side effect of dabrafenib and trametinib. Researchers want to find out more about this side effect. You fill in a questionnaire about the condition of your skin:
before you start treatment
and any time you report a new skin problem during and after treatment
This is a Patient Skin Toxicity Questionnaire.
They will also ask you to fill in 2 short patient experience surveys:
when you decide to join the trial or not
6 months after being put into your treatment group if you decided to join the trial
The questions are about why you decided to join the trial or not. And your experiences of taking part in the trial.
The research team might also ask you to take part in an interview. This is to find out about your views and experience of the trial. You don't have to agree to take part in the interview if they ask you.
Samples
The team will ask for some extra blood samples. When it is possible, they will take these with your regular blood samples.
They will ask for a piece of the cancer tissue from when you were diagnosed and for another small piece if you have surgery or a biopsy during the trial.
They will use these samples to find out more about melanoma and about treatment for it. 
To watch a video about the INTERIM trial. 
Hospital visits
You see the doctor for some tests before you take part in the trial. These tests include:
During treatment you see the doctor every:
2 weeks for 8 weeks
then 4 weeks for a year
then every 8 weeks
You have a physical examination and blood tests done each time.
You have a heart scan (ECHO):
in the first 2 weeks of treatment if not done before starting treatment
during your 2nd cycle of treatment (8 weeks)
then every 3 months
You have a CT and, or MRI scan:
at 6 weeks
then every 8 weeks
At the end of treatment you see the doctor for a physical examination and blood tests.
After treatment if your melanoma hasn't grown, you see the doctor every 4 to 8 weeks. You have the scans again every 8 weeks.
You see the doctor every 3 months if your melanoma starts to regrow. Your doctor will talk to you about other treatments that might be available. 
Side effects
The most common side effects of having dabrafenib with trametinib include:
infection of the bladder
inflammation of the throat and nose
headache and dizziness
high blood pressure
an increased risk of bleeding
cough
stomach ache
skin problems such as dry, itchy skin, a rash, redness of skin, thickening of the skin or broken skin
redness, swelling and pain in the palms of your hands or soles of your feet
a low grade skin cancer (papilloma)
pain in the joints, muscles, hands or feet
tiredness and lack of energy (fatigue)
chills
swelling of hands or feet
high temperature (fever)
muscle spasms
shortness of breath
Dabrafenib and trametinib may make your skin more sensitive to sun. It is important to take extra precautions:
covering up when you go out in the sun
staying in the shade during the hottest part of the day (between 11am and 3 pm)
using high protection factor sunscreen which protects against both UVA and UVB rays
Your doctor will talk to you about the side effects of the treatment before you agree to join the trial. And when you should contact them as rarely some can be serious if you don't have treatment straight away.
How to join a clinical trial
Please note: In order to join a trial you will need to discuss it with your doctor, unless otherwise specified.
Please note - unless we state otherwise in the summary, you need to talk to your doctor about joining a trial.
Supported by
Cambridge University Hospitals NHS Foundation Trust
NIHR Research for Patient Benefit (RfPB) Programme
Cancer Research UK
University of Oxford
Oxford University NHS Foundation Trust
CRUK internal database number:
Please note - unless we state otherwise in the summary, you need to talk to your doctor about joining a trial.
Cara took part in a clinical trial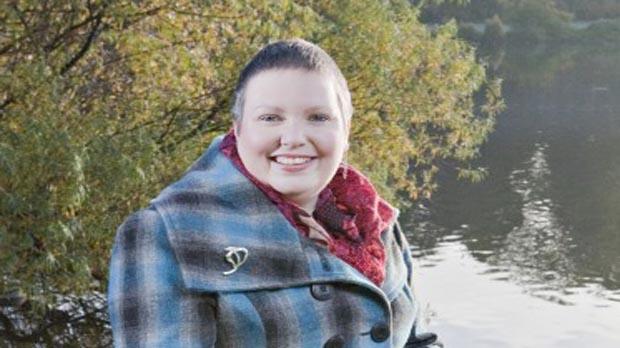 "I am glad that taking part in a trial might help others on their own cancer journey."