A study looking at whether changing the dose of radiotherapy improves swallowing in people with head and neck cancer (DARS)
Please note - this trial is no longer recruiting patients. We hope to add results when they are available.
This study is for people who are having intensity modulated radiotherapy (IMRT) which can affect the muscles that control swallowing.
Cancer Research UK supports this study.
More about this trial
Radiotherapy is a treatment for head and neck cancer. It kills the cancer cells but can cause side effects. 
One of the side effects of radiotherapy to the throat is difficulty swallowing (dysphagia). This is because the treatment may cause damage to the healthy tissue. How difficult swallowing becomes depends on which part of your neck is being treated and the dose of your treatment. 
IMRT is a specialised type of radiotherapy. Shaped beams of radiation target the cancer and avoid the surrounding healthy tissue.  This reduces the side effects people have. But doctors want to see if they can make this treatment better. 
In this study everyone has the same number of IMRT treatments. But half have a modified type of IMRT (called dysphagia optimised IMRT or Do-IMRT). This is to reduce the radiation dose to the muscles that control swallowing. 
The aim of the study is to compare the people having the Do-IMRT with those having standard IMRT treatment. This is to find out if modifying the IMRT will improve swallowing after treatment.
Who can enter
The following bullet points list the entry conditions for this study. Talk to your doctor or the study team if you are unsure about any of these. They will be able to advise you. 
You may be able to join this study if all of the following apply. You:
Have head and neck cancer and are due to have radiotherapy which involves the muscles that control swallowing

Are due to have chemotherapy at the same time as your radiotherapy (chemoradiotherapy). If for some reason you are not able to have chemotherapy you might still be able to take part in the study, your doctor can advise you

Have satisfactory blood test results

Are well enough to carry out all your normal activities, apart from heavy physical work

Are able to complete the questionnaires that are part of the study

Are aged 18 or older
You cannot join this study if any of these apply. You have:
Head and neck cancer that has spread elsewhere in the body

Cancer spread to certain lymph nodes  in your throat, your doctor can check this

A cancer that is close to the side of your neck (a lateral tumour) which can be treated with simple radiotherapy

Problems with swallowing not linked to your head and neck cancer

Had radiotherapy to your head and neck area

Had major head and neck surgery

Had a hole in your neck to help you breathe (a tracheostomy)

Had any other cancer in the last 2 years

Had any other serious medical condition that the study team think could affect you taking part
Trial design
Doctors need around 100 people to take part in this study. 
It is a randomised study. People taking part are put into 1 of 2 treatment groups by a computer. Neither you nor your doctor can decide which group you are in:  
•    one group has standard IMRT
•    the other group has dysphagia optimised IMRT (Do-IMRT)
After you have been randomised to a treatment group your doctor will know which one you are in. But you and the speech and language therapists

 involved in the study will not.  This is a blind study.  Researchers do this because if you knew what group you were in it might influence the way you answer questions about your treatment. 
Questionnaires and swallowing test
Before you start treatment you will be asked to:
complete 2 questionnaires to give your views on your swallowing and general well being

drink 100mls of water as quickly as you can whilst a research nurse or speech and language therapist gently places their fingers on your throat, this is a water swallowing test

answer some questions about your diet such as the types of food you have been eating and whether you find any foods difficult to eat
You have all 3 tests again after you finish your radiotherapy at:
3 months

6 months

12 months

18 months 

2 years
Where possible these tests will take place at the same time as any routine follow up. 
Tissue sample
Your doctors will ask if they can use a sample of tissue that was removed when your cancer was diagnosed. They would like to use this sample for future research including possible research into genes

 and cancer. 
You do not need to agree to the tissue sample donation. You can still take part in the study. 
Videofluoroscopy
A small number of hospitals taking part in the DARS study will also be taking part in the DARS videofluoroscopy sub study. 
Videofluoroscopy is an x-ray that looks closely at the swallowing process. If your hospital is taking part you might be asked if would like to take part. 
If you take part in this sub study you need to sit in front of an x-ray machine. You then swallow different kinds of food and drink. The speech and language therapist add a contrast to the food and drink so they can be seen clearly on the x-ray. This might make them taste odd but it is not harmful. 
The research team look at what happens when you eat and drink. They also record the test using video. 
The actual x-ray only takes a few minutes but getting you in the right position can take longer. So the test could last between 10 to 25 minutes. 
If you agree to have this test you have it:
before you start treatment

12 and 24 months after you finish your treatment
Hospital visits
You see the doctors and have some tests before starting treatment. The tests include:
Some people might have an MRI scan. 
All of these tests are part of your routine care and help the doctors know more about your cancer.
Before you start treatment your radiotherapy is planned. You also have a radiotherapy mask made. 
You have the radiotherapy:
as an outpatient at the hospital

as 30 sessions over 6 weeks

Monday to Friday with a rest at the weekend 
You have chemotherapy twice during radiotherapy unless you have any health issues that mean you can't have this treatment. 
You have the chemotherapy (either cisplatin or carboplatin) on day 1 of your radiotherapy treatment and then again on day 29. 
You see the study doctors and nurses weekly during your radiotherapy. 
When you finish your radiotherapy you see the study doctors or nurses:
every week for 4 weeks

at 8 weeks

at 3, 6, 12, 18 and 24 months 

once a year for the next 3 years
You have a CT or MRI scan about 3 months after completing radiotherapy. This is to see how well the treatment has worked. You might have these scans again during your follow up.
Side effects
The most common side effects of radiotherapy to the neck area are:
tiredness

sore, red skin in the area being treated

weight loss

sore throat and mouth

pain on swallowing 

difficulty swallowing

dry mouth

loss of taste

hoarse voice
We have more information on the side effects of radiotherapy to the head and neck.
How to join a clinical trial
Please note: In order to join a trial you will need to discuss it with your doctor, unless otherwise specified.
Please note - unless we state otherwise in the summary, you need to talk to your doctor about joining a trial.
Chief Investigator
Professor Christopher Nutting
Supported by
Cancer Research UK
Institute of Cancer Research (ICR)
NIHR Clinical Research Network: Cancer
The Royal Marsden NHS Foundation Trust
Cancer Trials Ireland
Other information
This is Cancer Research UK trial number CRUK/14/014.
If you have questions about the trial please contact our cancer information nurses
Freephone 0808 800 4040
CRUK internal database number:
Please note - unless we state otherwise in the summary, you need to talk to your doctor about joining a trial.
Charlie took part in a trial to try new treatments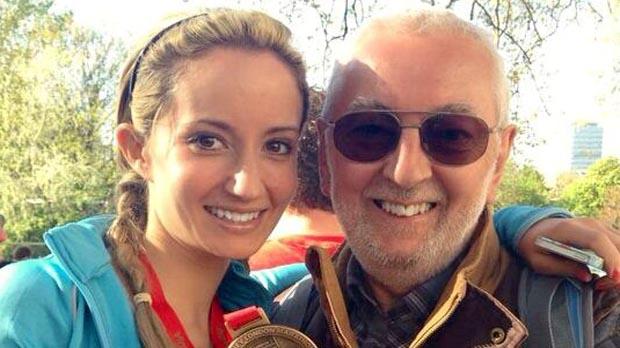 "I think it's really important that people keep signing up to these type of trials to push research forward."