A study looking at a way to report side effects of treatment online from home (eRAPID Radiotherapy)
Please note - this trial is no longer recruiting patients. We hope to add results when they are available.
Cancer type:
Bowel (colorectal) cancer
Womb (uterine or endometrial) cancer
This study is looking at using a computer based system for people to report treatment side effects on line. Radiotherapy and the combination of chemotherapy with radiotherapy (chemoradiotherapy

) can have side effects. 
Researchers want to find out how useful people having these treatments and health professionals find the on line system. They want to see if there are benefits to using this system compared with the care people would usually receive.
Who can enter
The following bullet points list the entry conditions for this study. Talk to your doctor or the study team if you are unsure about any of these. They will be able to advise you. 
You may be able to join this study if you are going to the St James' University Hospital, Leeds or The Christie Hospital, Manchester and are in one of the following situations.
You are having radiotherapy for prostate cancer. Or you are having chemoradiotherapy for one of the following:
And all of the following apply you:
Are able to read and understand English
Have internet access at home
Are at least 18 years old
You cannot join this study if any of these apply. You
Are taking part in another clinical trial which includes frequent quality of life study studies
Have problems with your memory or concentration, or have a mental health problem
Trial design
This pilot study is taking place at St James Hospital in Leeds and The Christie Hospital in Manchester. 
The researchers need 168 people to take part. The study is randomised. Everyone taking part is put into 1 of 2 groups by a computer. Neither you nor your doctor will be able to decide which group you are in. 
Half the people have usual care during the time they have their treatment.
The other half will have training on how to use the eRAPID symptom questionnaire. They fill this in routinely from home during treatment. This is in addition to usual care.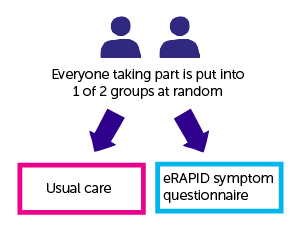 If you are in the group using the eRapid system a researcher shows you how to complete the online questionnaires. They'll give you details of how you log in and a booklet that explains how to use it. 
They ask you to log in at least once a week during your treatment. You can do this at home. A friend or relative can help you to use the system, but the researchers would like you to answer the questionnaire yourself. 
It might also be possible to use the system at the hospital before you have an appointment. Your doctor will be able to look at your answers and can go through the information either when they see you in clinic or by telephone.
Everyone completes some other questionnaires at certain times during the study. These questionnaires cover your views of your health and treatment, and your quality of life. 
The researchers are also interested in the financial impact of cancer and so the questionnaires cover this too.
The study team also look at your medical notes so they can see how often you had to contact either the hospital or your GP during the time you had treatment.
At the end of the study you might be asked to take part in an interview or fill in a feedback form. The team want to know what you thought about:
the research
taking part
the eRAPID system
The interview takes place in a private room at the hospital. It will be audio taped and take about 30 minutes. 
You can't be identified on the tape or feedback form. Both are anonymised.
You don't have to agree to be interviewed or fill in the feedback form. You can still take part in the study. 
Hospital visits
There are no extra hospital visits if you agree to take part in the study.
For people who agreed to be interviewed the team try to arrange this on a day you come to the hospital for a clinic appointment.
Side effects
There are no side effects associated with this study.
How to join a clinical trial
Please note: In order to join a trial you will need to discuss it with your doctor, unless otherwise specified.
Please note - unless we state otherwise in the summary, you need to talk to your doctor about joining a trial.
Chief Investigator
Professor Galina Velikova
Supported by
NIHR Programme Grants for Applied Research (PGfAR)
University of Leeds
CRUK internal database number:
Please note - unless we state otherwise in the summary, you need to talk to your doctor about joining a trial.
Cara took part in a clinical trial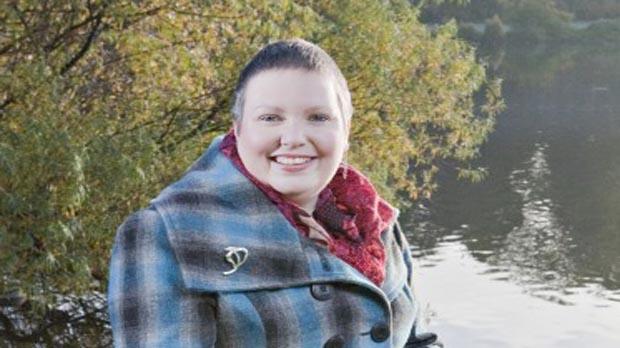 "I am glad that taking part in a trial might help others on their own cancer journey."