A trial of adding pembrolizumab to chemotherapy before surgery for non small cell lung cancer (KEYNOTE-671)
Cancer type:
Non small cell lung cancer
This trial is for people whose lung cancer can be completely removed with an operation.
More about this trial
The usual treatment for non small cell lung cancer (NSCLC) is surgery and chemotherapy. You might have cisplatin with either gemcitabine or pemetrexed. But sometimes the cancer can come back. 
So, researchers are looking for ways to improve treatment. In this trial, they are looking at a drug called pembrolizumab. Pembrolizumab is a type of immunotherapy. It stimulates the body's immune system

to fight cancer cells. 
Researchers think adding pembrolizumab will improve treatment. But they aren't sure so want to find out more. In this trial, some people have chemotherapy and pembrolizumab. And some have chemotherapy and a dummy drug (placebo

). Everyone has surgery. 
The main aims of the trial are to:
find out if adding pembrolizumab to chemotherapy works better than chemotherapy on its own
find out if having pembrolizumab after surgery works better than no further treatment 
learn more about the side effects
Who can enter
The following bullet points list the entry conditions for this trial. Talk to your doctor or the trial team if you are unsure about any of these. They will be able to advise you. 
Who can take part
You may be able to join this trial if all of the following apply. 
You have non small cell lung cancer (NSCLC) that is stage 2A or 2B, or stage 3A or 3B
You are suitable to have an operation to remove the cancer
There are some tissue samples available for the trial team to do some tests on 
You are able to do anything apart from heavy physical work (performance status 0 or 1)
You have satisfactory blood test results
You are willing to use reliable contraception during treatment and for up to 6 months afterwards if you or your partner could become pregnant
You are at least 18 years old 
Who can't take part
You cannot join this trial if any of these apply. 
Cancer related
You:
have a tumour at the very top part of the lung, a large cell neuroendocrine tumour of the lung or you have a sarcoma of the lung 
have had an immunotherapy such as pembrolizumab in the past
have already had cancer treatment for non small cell lung cancer 
are taking part in another clinical trial or you have used an experimental device within 4 weeks of the first dose of treatment in this trial
have had another cancer that is getting worse or needed treatment in the last 5 years apart from basal cell skin cancer , squamous cell skin cancer, bladder cancer, CIS  of the cervix or breast that has been successfully treated
have had radiotherapy within 2 weeks of starting treatment in this trial
 Medical conditions 
You:
have a condition called pneumonitis or interstitial lung disease that needs treatment with drugs called steroids
have a problem with your immune system and you are taking more than 10mg of steroids each day
have had any other drugs that damp down the immune system within 7 days of starting trial treatment
have an infection that needs treatment 
have an active autoimmune disease  and you took steroids in the last 2 years unless it was for type 1 diabetes, thyroid problems or adrenal gland problems
have had a transplant with somebody else's cells or an organ transplant 
have HIV
have hepatitis B or an active hepatitis C infection
have tuberculosis (TB)
have any other medical problem or mental health condition that the trial team think would affect you taking part
Other
You: 
have a severe allergy to pembrolizumab or anything it contains
have a severe allergy to any of the chemotherapy drugs used in the trial 
have a problem with drugs or alcohol
had a live vaccination  30 days before starting pembrolizumab
are pregnant or breastfeeding 
Trial design
This is an international phase 3 trial. Researchers hope that around 786 people will take part including about 30 from the UK. 
 
It is a randomised trial. You are put into 1 of 2 treatment groups by a computer. You have 1 of the following:
chemotherapy and pembrolizumab before surgery, and pembrolizumab after surgery (group A)
chemotherapy and a dummy drug before surgery, and a dummy drug after surgery (group B)
Neither you nor your doctor can decide which group you are in. Nor will you or your doctor know which group you are in. 
Treatment
You have treatment as follows. In group A you have: 
chemotherapy and pembrolizumab 
surgery
pembrolizumab
In group B you have:
chemotherapy and a dummy drug 
surgery
dummy drug
You have all your treatment as a drip into the bloodstream.
Everyone has treatment in cycles. Each cycle is 3 weeks. The first day of each cycle is called day 1. 
Before surgery, you have:
pembrolizumab or the dummy drug on day 1 
cisplatin on day 1 and day 8,
gemcitabine or pemextred on day 1 and day 8 
You have up to 4 cycles. This takes up to 12 weeks in total. 
Everyone then goes on to have their surgery as planned. This happens between week 13 and 20. The trial team can tell you more about this. 
Some people might need to have radiotherapy. Your doctor will recommend this if they think there might be some cancer cells left after surgery. Or if you can't have surgery for any reason. But the trial team can tell you more if this applies. 
After surgery, you have pembrolizumab or the dummy drug. You have this once, every 3 weeks. This takes about 1 year in total.
You stop treatment if the cancer gets worse. Your doctor will discuss other treatment options with you.
Blood tests 
You have extra blood tests as part of this trial. 
 
Doctors are looking at:
certain proteins (biomarkers ) that can tell how well the treatment works
pieces of DNA (genes )
Tumour samples 
You also need to give extra tissue samples (biopsies). You might give these before you can join the trial or when you finish treatment. 
Hospital visits
You see a doctor and have some tests before you can take part. These include:
Some people might have a PET scan. 
You have your treatment in the hospital outpatient department. So, you shouldn't need to stay overnight. Most visits take between 2 and 5 hours. 
The trial team will tell you more about surgery for lung cancer. You have a hospital stay to recover after surgery and the team can tell you how long you can expect to be in hospital for. 
Before surgery, you have a check up once a week. After surgery, you have a check up every 3 weeks. 
Follow up
When you finish treatment, you have a follow up appointment one month later. 
The trial team will phone you every 3 months to see how you are getting on if you stop treatment because your cancer gets worse. 
You have regular check ups and scans until your cancer gets worse. You have these every: 
16 weeks in the 2nd and 3rd year
6 months in 4th and 5th year 
Side effects
The trial team monitor you during treatment and afterwards. Contact your advice line or tell your doctor or nurse if any side effects are bad or not getting better. 
 
Pembrolizumab can affect the immune system. It may cause inflammation in different parts of the body which can cause serious side effects. They could happen during treatment, or some months after treatment has finished. Rarely, these side effects could be life threatening.
If you have any of these side effects, you should tell the doctor or nurse as soon as possible. You should tell them, that you are on, or have been on, an immunotherapy. 
The most common side effects of pembrolizumab are:
cough
joint pain 
fever
back pain 
tummy (abdominal) pain
loss of skin colour (pigment)
low levels of thyroid hormones causing tiredness or weight gain
We have information about the side effects of:
How to join a clinical trial
Please note: In order to join a trial you will need to discuss it with your doctor, unless otherwise specified.
Please note - unless we state otherwise in the summary, you need to talk to your doctor about joining a trial.
Questions about cancer? Contact our information nurses
CRUK internal database number:
Please note - unless we state otherwise in the summary, you need to talk to your doctor about joining a trial.
Cara took part in a clinical trial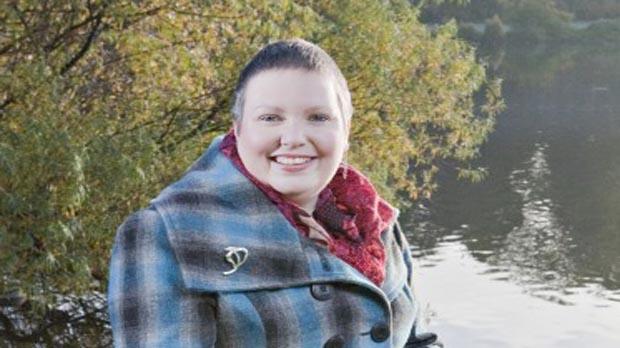 "I am glad that taking part in a trial might help others on their own cancer journey."