A study looking at a new type of MRI scan to predict if, where and when glioblastoma might come back (PRaM-GBM)
Cancer type:
Brain (and spinal cord) tumours
This study is for people with a type of brain tumour called glioblastoma

. The researchers are looking at a special MRI scan called DTI-MRI. The study team would like to see if this type of scan can help to predict if, where and when glioblastoma comes back after treatment.
Cancer Research UK supports this study.
More about this trial
Glioblastoma belongs to a group of brain tumours called gliomas. Doctors sometimes call glioblastoma a grade 4 astrocytoma.
The treatment for glioblastoma is usually surgery to remove as much of the tumour as possible. After surgery, you normally have radiotherapy and chemotherapy.
As part of your treatment for glioblastoma you have MRI scans to take pictures of your brain. These pictures help your doctors to look at:
the size of the tumour
where the tumour is
how well the treatment is going
Diffusion tensor imaging (DTI) is a special type of MRI scan. The researchers hope that it shows brain tissue

 in more detail. 
The main aim of the study is to see if using DTI-MRI scans helps doctors predict if, when and where glioblastoma comes back during and after treatment.
Who can enter
The following bullet points list the entry conditions for this study. Talk to your doctor or the study team if you are unsure about any of these. They will be able to advise you. 
Who can take part
You may be able to join this study if all of the following apply. You: 
have a diagnosis of high grade glioma
are able to have surgery and your surgeon thinks that more than 90% of the tumour can be removed
are going to have radiotherapy and chemotherapy after surgery – this combination is called the Stupp Regime
can't carry out heavy physical work, but can do anything else (WHO performance status of 0 or 1)
are at least 16 years old
Who can't take part
You cannot join this study if any of these apply. You:
are taking part in another trial involving treatment for your tumour
are not able to have an MRI scan for any reason, for example you have metal implants such as a pacemaker , surgical clips, pins or plates or cochlear implants (for deafness), you have a fear of being in closed spaces or your kidney's don't work very well
are known to be sensitive to the injection given during an MRI scan (known as contrast medium ) 
Trial design
The researchers would like 120 people to take part.
Everyone who takes part has a DTI-MRI scan:
before surgery
before starting radiotherapy – this should be within 6 weeks
You have treatment and any follow up appointments as usual. Your doctor will tell you exactly what to expect.
You have other MRI or CT scans throughout your treatment as usual. Your doctor will let you know when these are likely to be.
The study ends when have your follow up scan, 2 years after joining. You can no longer take part if your cancer comes back during this time. Your doctor will let you know the new treatment plan if this happens. 
Once you have finished taking part in the study, but while the study is still ongoing, the researchers would like to continue to collect information about your health. This would be from your hospital medical notes.
Samples for research
The study team will ask your permission to store a sample of tissue they remove when you have surgery. Scientists might use this in the future for research into brain tumours.
You do not have to agree to give these samples for research. You can still take part in the study and your care will not be affected
Hospital visits
Depending on your local hospital you either:
do not have any extra visits to the clinic or hospital for this study
have one extra visit to the hospital for the DTI-MRI scan before you start radiotherapy
The other DTI-MRI scans replace the usual scan you would have at that time. Each DTI-MRI scan usually takes under an hour.
Side effects
An MRI scan is very safe and doesn't use radiation. 
Having a DTI-MRI takes slightly longer than a standard MRI scan. So, you will need to lie in the scanning machine for a little longer. 
How to join a clinical trial
Please note: In order to join a trial you will need to discuss it with your doctor, unless otherwise specified.
Please note - unless we state otherwise in the summary, you need to talk to your doctor about joining a trial.
Supported by
Cancer Research UK
University of Cambridge
Cambridge University Hospitals
Other information
This is Cancer Research UK trial number CRUK/A19732
CRUK internal database number:
Please note - unless we state otherwise in the summary, you need to talk to your doctor about joining a trial.
Rhys was only four years old when he was diagnosed with a brain tumour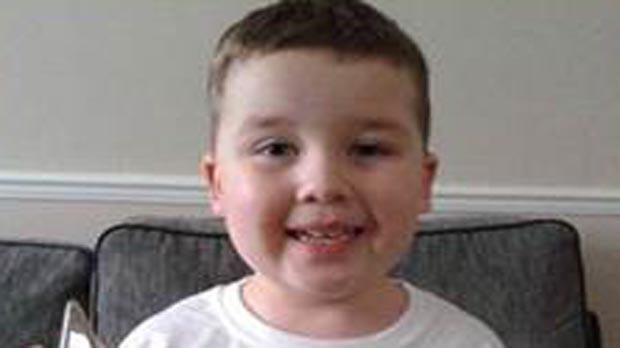 "He went through six operations and was placed on a clinical trial so he could try new treatments."