RHS Hampton Court Palace Garden Festival
Legacy Show Garden
The Cancer Research UK Legacy Garden will feature at the RHS Hampton Court Palace Garden Festival in the future.
The garden is based on the symbol of infinity. It tells the story of how our supporters and researchers pledge to beat cancer for future generations.
It signifies how leaving a gift in a Will is for future generations. 
The Legacy Garden tells the story of the important role of gift in Wills
The garden layout is in a figure of 8, which is a symbol of infinity. The structure of the garden draws on this idea of something everlasting that never ends. It tells the story of scientific discoveries and progress and how every breakthrough inspires the next. The garden features...
Meadow style planting
The planting scheme of pink, purple and blue will reflect the colours of Cancer Research UK. Accented with shades of yellow to enhance the meadow style of planting. Plants with cancer-treating properties such as Yew Hedging used in chemotherapy drugs will feature in the garden.
Wood boardwalk
A curved wooden boardwalk leads you through colourful and vibrant planting. The wooden board will be carved with personal messages from Cancer Research UK legacy pledgers and researchers. They are the collective force that will help beat cancer for future generations. The boardwalk connects both halves of the garden and leads to stone steps.
Stone steps and specimen tree
At the bottom of the stone steps is a timber bench. A place to sit beneath the shade of a specimen tree, listen to the water and view the beautiful planting.
Serpentine water feature
A serpentine water feature is the focus of the space. It connects the two halves of the garden together. The beginning and end of the water feature are out of view to give a sense that the water is never-ending and everlasting.
It represents how a pledge to leave a gift in your Will is a commitment to help fund vital research. Gifts in Wills fund over a third of our research. They are vital to bringing forward the day when everyone survives cancer.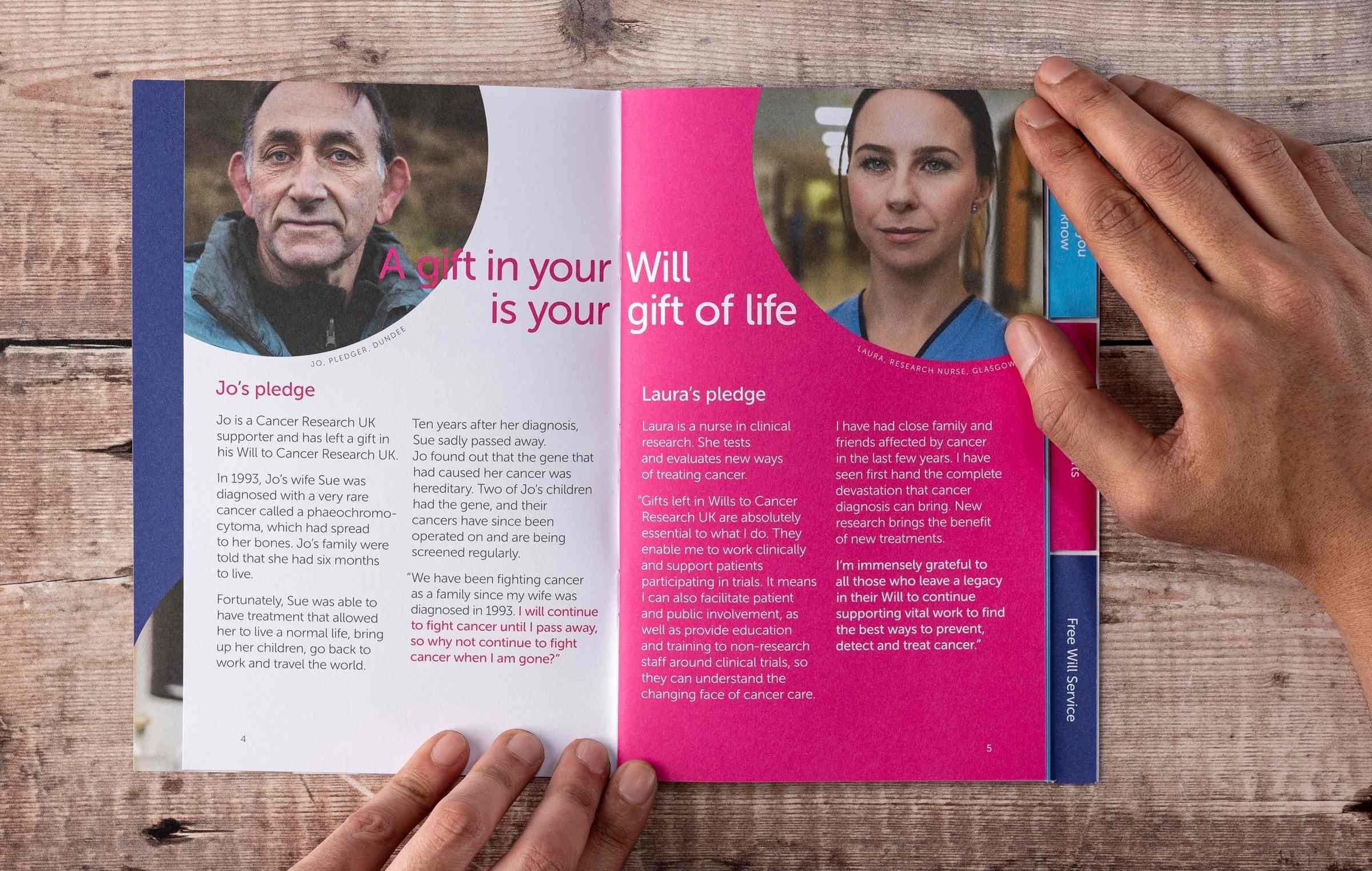 1 in 2 people will get cancer in their lifetime*. Our research saves lives. We've come a long way, but we can not rest while people still suffer. That's why we're committed to ensuring 3 in 4 people in the UK diagnosed with cancer will survive for 10 years or more by 2034 and, beyond that, even more.
Gifts in Wills account for over a third of our life-saving research. Without them we simply would not be able to undertake all the vital research we do which could one day beat cancer.
Make a pledge right now to leave a share of your Will and together we will beat cancer for future generations. 
To find out more get your free gifts in Wills guide or get in touch with your local Community Legacy Manager 
*(born after 1960)