Senior Cancer Research Fellowship
About this scheme
Key information
Career level
Established independent researcher
Funding period
6 years, or part-time equivalent
Funding amount
Salaries and running expenses for you and a team of 4
Supports group leaders to further develop their own research programme and build their reputation as a world-leader in their cancer research field.
Applications are considered from any area of our funding remit, with the exception of clinical trials and drug discovery.
You should:
Have space and facilities to run an independent research group
Have a PhD or MD and extensive post-doctoral research experience
Be able to demonstrate that you meet the range of skills and experience as outlined in the 'transition to scientific leadership' career stage in our Fellowships Competency Framework
You should not:
Have a core-funded Group Leader position at one of our Institutes*
There are also some other locations that are not eligible; please contact us before starting your application to see whether your host institution is covered.
If your salary is fully funded by your host institution, you may be eligible for our Programme Foundation Award. If you are uncertain which is the right scheme for you, please contact us to discuss the best application route.
Career breaks, flexible working, changes in discipline and other personal circumstances will be taken into consideration when assessing your record of outputs, research achievements and career progression.
*You may apply to hold a Fellowship at a CRUK Institute provided that you are not in receipt of core funding concurrently to the Fellowship.
Funding support is provided for up to six years, or equivalent duration for part-time working.
We're very supportive of part-time working and for a Senior Cancer Research Fellowship we expect at least 0.5 FTE or 80% of your working hours, whichever is greater, to be spent on academic research. Find out more about how we support part-time working and extended leave in our flexible working policies.
Funding will cover:
Salaries for you, two postdoctoral researchers, a technician and a PhD student
Associated running expenses
Equipment costs up to £50,000
Relocation costs up to £1,000 if you wish to take up your fellowship at a new host institution (see application guidelines for more details).
A salary supplement for the Fellow of £10,500 per annum (not applicable to clinicians who have obtained their CCT)
Additional support
Our fellowships offer a range of benefits beyond funding, including access to networking and training opportunities, flexible working policies and an accelerated route through the Tier 1 visa system.
How to apply to this scheme
Application Process
Applications for this scheme are considered twice a year, and the application process has three stages.
Preliminary Application: reviewed and shortlisted by the Research Careers Committee*.

Full application: If shortlisted, you will be invited to submit a full application. This will be assessed by an Expert Review Panel and will include an interview.

Committee Review: The Research Careers Committee meet to review the funding recommendations of the Expert Review Panels and make the final funding decision.
How to Apply
We are currently migrating to a new grants management system. It will be available for you to complete an Outline application in mid-October. Ahead of time, you can prepare your research proposal - details can be found in the Preliminary application guidelines, and complete a Skills and Experience form. If you intend to apply to the scheme please let the office know by emailing fellowships@cancer.org.uk and we can alert you to when the new system is available.
Timelines
| Preliminary application deadline | Full application deadline | Interviews | Committee review |
| --- | --- | --- | --- |
| 5th November 2020 | 26th January 2021 | March 2021 | May 2021 |
*The Research Careers Committee is a new CRUK Committee that will replace the New Investigator Committee and the Clinical Careers Committee. The Research Careers Committee will cover both remits and review all associated schemes. If you would like more detail on Committee composition, please email fellowships@cancer.org.uk.
Before you begin your application
Please read the following documents:
If you have questions about the eligibility of your proposal for this scheme, or require any assistance with your application, please contact the relevant contact below.
The Research Careers Committee will judge your application on:
Scientific quality and originality: your proposal must have a strong scientific rationale.
Cancer relevance: value of the proposed work in advancing the fundamental understanding of cancer or improving how cancer is diagnosed and/or treated.
Your track record and potential to produce outstanding results.
Suitability and strength of your research environment and collaborators: access to resources and facilities required for the fulfillment of the Senior Cancer Research Fellowship.
The Committee will also consider how closely your research aligns with the priorities laid out in our Research Strategy, including earlier detection and harder-to-treat cancers (brain, lung, oesophageal and pancreatic cancers).
Applications are assessed by international, Expert Review Panels and funding decisions are made by the Research Careers Committee.
Cancer Research UK contact details
Please contact your Research Grants Manager if you have questions about your eligibility for this scheme or require any assistance with your application or active award
For Cambridge, Manchester, Scotland, The North of England (incl Newcastle), Wales
Dr Flora Scott, Research Grants Manager: fellowships@cancer.org.uk
For London, Oxford, Southampton, Birmingham, Northern Ireland, The South
Dr Victoria Walker, Research Grants Manager: fellowships@cancer.org.uk
Please contact your Research Programme Manager if you would like to hear more about the support we offer e.g. CRUK Fellow meetings, activities and training, and to share any potential challenges you might face
For London, Oxford, Southampton, Birmingham, Northern Ireland, The South
Dr Marjolein (Lein) Schaap, Research Programme Manager: fellowships@cancer.ok.uk
For Cambridge, Manchester, Scotland, The North of England (incl Newcastle), Wales
Dr Lorenzo de la Rica, Research Programme Manager: fellowships@cancer.ok.uk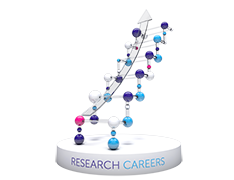 We offer a range of fellowships, bursaries and other support to help outstanding scientists and clinicians develop their independent research careers.
Sergio tells us why he chose a CRUK Career Development Fellowship, and the opportunities he has had since moving to the UK to build innovative collaborations with clinical impact.
The average success rate, from preliminary application to award, for fellowships and career support awards through our New Investigator Committee is 8%.
Related guidance to download