Clinical Trial Fellowship Award
About this scheme
Key information
Career level
Clinician
Early career researcher
Funding amount
up to £50,000 per year (match funded by host institution)
This Fellowship supports clinicians with an interest in clinical trials and who would benefit from further training within a Clinical Trial Unit (CTU) setting.
The intention of this award is for you to gain clinical trial experience, with the ultimate objective of leading high impact, practice changing cancer clinical trials in the future as a Chief Investigator.
Applications must be made by you, the fellow in collaboration with a UKCRC registered CTU.
As the fellow, you should be the Lead Applicant on the proposal. You must:
be clinically trained,
have completed your Foundation Programme,
be within your specialty and run-through training period*,
be eligible to complete your training and practise medicine in the UK,
have the range of skills and experience outlined in the 'Develop Independence' career stage in our Fellowships Competency Framework.
*if you're planning to complete your clinical training (CCT) and acquire a consultant position during the fellowship, please explain how you will ensure that you will complete the fellowship post-CCT, including evidence of protected time to spend on the fellowship.
The Joint Lead Applicant should be a senior member of staff at a CRUK Clinical Trial Unit or other suitably experienced CTU, who has agreed to host the fellow for the duration of the award.
The next full application deadline will be 14th September 2022, with interviews scheduled for October 2022.
We will provide funding up to a maximum of £50,000 per year for up to three years, to cover 50% of:
Your salary
Running expenses
Equipment
We expect your host institution (or another funding partner) to provide funding for the remaining 50% of the award and we will require confirmation of this matched funding at the time of application.
Please see the Clinical Trial Fellowships Guidelines (PDF) for further information.
We're very supportive of part-time working and for a Clinical Trial Fellowship Award we expect at least 0.5 FTE or 80% of your working hours, whichever is greater, to be spent on academic research. Find out more about how we support part-time working and extended leave in our flexible working policies.
Our fellowships offer a range of benefits beyond funding, including access to networking and training opportunities.
How to apply to this scheme
Application process overview
Clinical Trial Fellowship Award applications are considered once a year and involve four steps:
Contact the CRUK Office (fellowships@cancer.org.uk) to discuss your eligibility and the suitability of your proposal. Please provide:

Your CV;
A short summary (max 1 page) of your proposed programme including how you will gain experience in different aspects of clinical trials and how you will be collaborating with the CTU; 
Your motivation for completing the fellowship at this point in your career; 
How you will manage taking time out of your speciality training period (and when you will CCT), including how much time you intend to spend on the fellowship vs any clinical commitments. 

The CRUK Office will provide a direct link to our Grant Management System, Flexi-Grant, which will allow you to submit an application
Interview with the Clinical Trial Fellowship Expert Review Panel
Final funding decision reported to the Research Careers Committee
The next full application deadline will be 14th September 2022, with interviews scheduled for October 2022.
Before you begin your application
You must develop your application with the involvement of an experienced CTU
You must read the Clinical Trial Fellowship Guidelines before starting your application, even if you have applied for funding with us before
You must read the costs guidance to understand what we will and will not fund
All applications must be made online through our online grant management system FlexiGrant, and the application must be approved online by the host institution.
Applications are considered on the basis of:
Whether the duration is sufficient for you to gain suitable clinical trial experience
The suitability of the supervision and training to support you
The quality of clinical trial experience to be gained from the Fellowship
Whether your ambitions are aligned with the proposal and with the aims of the scheme
Whether you have the appropriate skills and experience for your career stage, according to the Competency Framework for Fellowships
Likelihood of successful delivery of the training programme proposed
Alignment with our Research Strategy and Clinical Research Statement of Intent
Appropriate justification of costs
Our priorities are set out in our Clinical Research Statement of Intent.
Applications are assessed by the Clinical Trial Fellowship Expert Review Panel, which forms part of the Research Careers Committee (RCC).
Chair of the Clinical Trial Fellowship Expert Review Panel
Professor Ruth Plummer - Newcastle University
Members of the Clinical Trial Fellowship Expert Review Panel
Dr Natalie Cook - University of Manchester
Professor Kerry Hood - University of Cardiff
Alison Howe - Leadership and supporting skills assessor
Professor Terry Jones - University of Liverpool
Emma Kinloch - NCRI Consumer Lead
Sarah Pearson - University of Oxford
Dr Harriet Walter - University of Leicester
Other members may be co-opted to the Panel if their specific expertise is required.
Cancer Research UK contact details
You must contact the CRUK Office for this scheme to discuss your eligibility and proposal before starting your application. 
Please contact Dr Catherine Cremona, Research Grants Manager at fellowships@cancer.org.uk to discuss your eligibility.
Our pioneering Women of Influence Initiative brings together a unique network of top business women to mentor our most promising young female scientists and clinicians as they move up the career ladder into senior positions.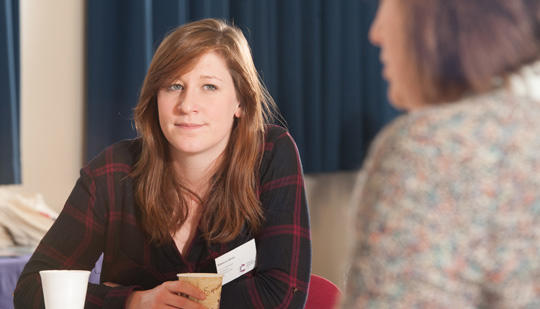 Our Patient and Public Involvement Toolkit for researchers is your resource for planning and carrying out involvement activities.