A trial looking at tivantinib with erlotinib for non small cell lung cancer that has spread (MARQUEE)
Please note - this trial is no longer recruiting patients. We hope to add results when they are available.
Cancer type:
Non small cell lung cancer
This trial is looking at a new drug called tivantinib (also known as ARQ 197) alongside erlotinib for non small cell lung cancer (NSCLC) that has got worse despite having other treatment. It is for people who have types of NSCLC that are described as non squamous, such as adenocarcinoma or large cell carcinoma.
More about this trial
Doctors may treat advanced lung cancer with drugs called tyrosine kinase inhibitors (TKIs). Tyrosine kinases are proteins that cells use to signal to each other to grow. TKIs block tyrosine kinases which can stop cancer cells growing. But sometimes, lung cancer stops responding to a TKI – (the cancer becomes resistant

).
Erlotinib is a TKI that is already used to treat advanced lung cancer. Everybody taking part in this trial will have erlotinib. Some people will also have a new drug called tivantinib.
Tivantinib is also a TKI, but it targets a different protein called cMET. Doctors hope it may help people with non small cell lung cancer.
The aim of the trial is to see if a combination of erlotinib and tivantinib helps people with advanced NSCLC more than erlotinib alone.
Who can enter
You may be able to enter this trial if you
Have non small cell lung cancer that is stage 3B or 4 and is the non squamous type (your doctor can advise you about this)
Have cancer that has got worse since your last treatment and cannot be removed with surgery
Have had 1 or 2 other types of treatment that reaches your whole body (systemic treatment) for advanced lung cancer, one of which must have been chemotherapy with a platinum drug - the researchers will also count chemotherapy after surgery to try to stop the cancer coming back (adjuvant therapy ) if your cancer came back within 6 months of finishing the treatment
Are well enough to carry out all your normal activities, apart from heavy physical work (performance status of 0 or 1)
Have recovered from the side effects of any other cancer treatment apart from hair loss
or damage to your nerves (peripheral neuropathy) if it is mild
Have satisfactory blood test results
Are willing to have a sample of your cancer that was removed in the past and has been stored to be tested, or if an acceptable sample is not available, to have biopsy
Are willing to use reliable contraception during the trial and for 3 months afterwards if there is any chance you or your partner could become pregnant
Are at least 18 years old
You cannot enter this trial if you
Have cancer that has spread to your brain unless this is well controlled with treatment such as steroids, and you have had a scan within the last 4 weeks showing that the cancer in your brain is not getting bigger
Have already had tivantinib or another drug such as erlotinib that targets epidermal growth factor receptors (EGFR) or a drug that blocks cMET
Have had any other treatment that reaches your whole body (systemic treatment) for NSCLC in the last 3 weeks
Have had radiotherapy to treat your cancer in the last 3 weeks or radiotherapy for symptoms in the last 2 weeks
Have had major surgery in the last 3 weeks
Have had a heart attack in the last 6 months or have any other heart problem that is a cause for concern
Have problems with your digestive system , or other problems that could make it difficult for you to swallow or absorb tablets
Have any other medical condition that the trial doctors think could affect your taking part
Have had any other cancer in the last 5 years apart from carcinoma in situ of the cervix, non melanoma skin cancer or prostate cancer if your PSA level was less than 0.2
Are known to be HIV, hepatitis B or hepatitis C positive
Are pregnant or breastfeeding
Trial design
This is an international phase 3 trial that will recruit about 1,000 people. It is a randomised trial. The people taking part are put into treatment groups by a computer. Neither you nor your doctor will be able to decide which group you are in. And neither of you will know which group you are in either. This is called a double blind trial.
People in group 1 have erlotinib and tivantinib
People in group 2 have erlotinib and a dummy drug (placebo )
Erlotinib and tivantinib are tablets that you take every day. You take tivantinib (or the dummy drug) in the morning and the evening with food. You take erlotinib in the morning at least 1 hour before food or at least 2 hours after eating.
You have 4 week cycles of treatment. The length of time you have treatment will depend on how much it helps you. But most people will have between 3 and 6 cycles of treatment, lasting between about 3 and 6 months.
The trial team will ask you to fill out some questionnaires before you start treatment, once every 4 weeks during treatment and when you finish treatment. The questionnaires will ask what you think about your lung cancer, how you are feeling and any side effects you have had. This is called a quality of life study.
The researchers will take some extra blood samples during the trial to learn more about what happens to tivantinib in your body. This is called pharmacokinetics

.  They will also use a blood sample to study your genes. They want to see how genes affect the way people respond to tivantinib and the side effects they have. This is called pharmacogenomics.
Hospital visits
You will see the trial doctors and have some tests before you start treatment. The tests include
The trial team will get a sample of tissue that was removed when you had surgery or a biopsy

. If this tissue has already been tested, these results may be requested and can be used for this study.  If there is not a sample available, they will ask you to have a biopsy at this time.
You go to hospital once a week for the first 4 weeks and once every 2 weeks for the rest of the time you have the trial treatment. You have blood tests at each visit and an ECG at least once in each cycle of treatment. You have a CT or MRI scan in the 3rd cycle of treatment and then every 8 weeks.
When you finish the treatment, you go back to see the trial team a few weeks later. They may ask you to have another biopsy at this time but this is completely voluntary and they will ask you to sign another consent form

. If your last scan was more than 8 weeks ago, you may be asked to have another one. Depending on how much the treatment helped you, the trial team may ask you to have follow up appointments and scans every 12 weeks until your cancer starts to grow again. Or they may phone to see how you are every 12 weeks until the trial has completely finished.
Side effects
As tivantinib is a new drug, there may be side effects we don't know about yet. The side effects that are known include
The most common side effects of erlotinib are skin rash and diarrhoea. If either of these are very bad and cannot be controlled with other medication, the trial doctors can reduce your dose of erlotinib. Or, you may need to stop taking it for a while. There is more information about erlotinib on CancerHelp UK.
How to join a clinical trial
Please note: In order to join a trial you will need to discuss it with your doctor, unless otherwise specified.
Please note - unless we state otherwise in the summary, you need to talk to your doctor about joining a trial.
Supported by
ArQule Inc
Daiichi Sankyo
Experimental Cancer Medicine Centre (ECMC)
CRUK internal database number:
Please note - unless we state otherwise in the summary, you need to talk to your doctor about joining a trial.
Charlie took part in a trial to try new treatments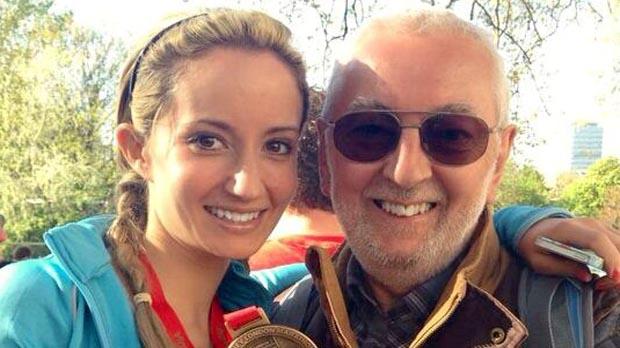 "I think it's really important that people keep signing up to these type of trials to push research forward."