A trial of nab-paclitaxel with CC-486 and durvalumab for advanced non small cell lung cancer
Coronavirus (COVID-19)
We know that this is an especially worrying time for people with cancer and their family and friends. We have separate information about coronavirus and cancer. Please read that information alongside this page. We will update that information as guidance changes.
Please note - this trial is no longer recruiting patients. We hope to add results when they are available.
Cancer type:
Non small cell lung cancer
This trial is for people who have already had treatment for their advanced non small cell lung cancer. 
Advanced non small cell lung cancer (NSCLC) means that it has spread to another part of the body (metastatic) or into the surrounding tissue (locally advanced).
More about this trial
Chemotherapy is the usual treatment for advanced non small cell lung cancer (NSCLC). 2 chemotherapy drugs often used are paclitaxel and carboplatin. Doctors are always looking for ways they can improve treatment.
Nab-paclitaxel is a type of paclitaxel. It has a protein called albumin attached to it. 
CC-486 is a tablet form of the chemotherapy drug azacitidine.
Durvalumab (MEDI4736) is a biological therapy called a monoclonal antibody. It works by targeting a particular protein on the cancer cell. This helps your immune system fight the cancer.
Researchers think giving CC-486 or durvalumab with nab-paclitaxel might benefit people more than nab-paclitaxel only. In this trial they want to compare:
nab-paclitaxel only
nab-paclitaxel and CC-486
nab-paclitaxel and durvalumab
The aims of this trial are to find
how well the combination of CC-486 with nab-paclitaxel and durvalumab with nab paclitaxel works for advanced NSCLC
what the side effects are
how well people cope with this combination of drugs 
Who can enter
The following bullet points list the entry conditions for this trial. Talk to your doctor or the trial team if you are unsure about any of these. They will be able to advise you.
You may be able to join this trial if all of the following apply. You:
Have advanced non small cell lung cancer (NSCLC)  
Have had a scan  such as a CT scan that shows at least 1 area of cancer that can be measured
Have already had 1 course of treatment that included a platinum chemotherapy drug  such as cisplatin or carboplatin for your advanced NSCLC 
Have satisfactory blood test results
Are able to do everything apart from heavy physical work (performance status 0 or 1)
Are willing to use reliable contraception for a month before starting treatment, during treatment and for up to 6 months afterwards if there is any chance you or your partner could become pregnant
Are at least 18 years old
You cannot join this trial if any of these apply. You:
Cancer related
Have NSLC  that is a squamous cell type
Have cancer spread to the brain unless it has been treated, there are no symptoms and have had a scan that shows the spread has been stable for at least 8 weeks after treatment
Have a known change (mutation) in the EGFR protein or the EML4-ALK gene
Medical conditions
Have had another cancer in the past 5 years apart from some successfully treated early cancers
Have moderate to severe nerve damage (peripheral neuropathy )
Develop a blood clot within 1 month of starting treatment in the trial
Have congestive heart failure
Have had other heart problems such as a heart attack or severe angina in the past 6 months
Have had high blood pressure in the past 6 months that hasn't been controlled by medication
Have had a stroke in the past 6 months
Have a disorder that causes fits (seizures) in the past 6 months
Have HIV, hepatitis B or hepatitis C
Have an infection that needs treatment
Have had lung diseases such as interstitial lung disease, sarcoidosis, silicosis, idiopathic pulmonary fibrosis or pulmonary hypersensitivity pneumonitis
Have a disease that means you can't absorb the necessary nutrients from your food such as Crohn's disease, coeliac disease or lactose intolerance (a malabsorption syndrome)
Have an ongoing problem with diarrhoea
Are known to have a blockage in your bowel
Have any other medical or mental health condition that could the trial team think could affect you taking part
Other
Have already had a taxane drug
Are currently taking part in another clinical trial or have had treatment with an experimental drug as part of a clinical trial in the past month
Are taking medication that affects how your immune system   works
Are sensitive to nab-paclitaxel, azacitidine, human albumin or mannitol
Are pregnant or breastfeeding 
Trial design
This is an international phase 2 trial. The researchers need 240 people to join.
This is a randomised trial. You are put into 1 of 3 treatments groups by a computer. Neither you nor your doctor can choose which group you are in.
nab-paclitaxel
nab-paclitaxel and CC-486
nab-paclitaxel and durvalumab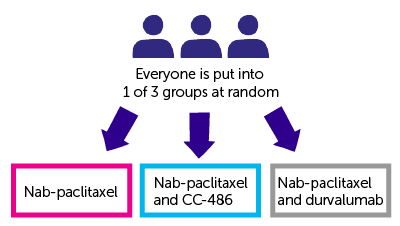 You have nab-paclitaxel as an injection into a vein. You have it once a week for 2 weeks and then you have 1 week with no treatment.
CC-486 is a tablet you take every day for 2 weeks and then you have 1 week with no treatment.
You have durvalumab as an injection into a vein once every 3 weeks.
Each 3 week period is called a cycle of treatment.
You continue to have treatment until your cancer starts to get worse.
Quality of life
The researchers will ask you to fill out questionnaire:
at the start of each cycle of treatment
at the end of treatment
a month after finishing treatment
The questionnaires will ask you about how are feeling and any side effects. This is a quality of life study.
Tissue and blood samples
The researchers will ask for a sample of your cancer that was removed when you had surgery or a biopsy

 and for some extra blood samples.
They will use these samples to look for substances (biomarkers) that might tell how well the treatment is working and to see how your genes might affect the way you respond to treatment (pharmacogenetics).  
Hospital visits
You see the doctor to have some tests before taking part. These tests include
a physical examination
blood tests
chest CT scan
heart trace (ECG )
During treatment you see the doctor at the start of each cycle of treatment for a physical examination and blood tests. You have a chest CT scan every 6 weeks.
At the end of treatment you see the doctor for the same tests you had at the start apart from the heart trace. A month later you see the doctor to see how you are and then they will tell you how often they want to see you.
A member of the trial team will phone you every 3 months to find out how you are. 
Side effects
The most common side effects of CC-486 are:
a drop in blood cells causing an increased risk of infection, bruising and bleeding
infections
stomach pain
feeling weak
high temperature (fever)
sore throat with swelling or pain of the nose
muscle, joint and chest pain
dizziness
headache
shortness of breath
The most common side effects of durvalumab are:
tiredness
feeling or being sick
loss of appetite
shortness of breath
cough
high temperature
pain in the muscles and joints
rash, dry itchy skin
The most common side effects of nab-paclitaxel are:
a drop in blood cells
feeling or being sick
constipation or diarrhoea
stomach pain
sore mouth including swelling
nerve changes causing tingling, numbness and changes to sensations
dizziness
headache
tiredness
feeling weak
high temperature (fever)
chills
loss of appetite and changes to taste
weight loss
difficulty sleeping
depression
shortness of breath
rash, itching and nail changes
nose bleeds
loss of water and minerals in the body (dehydration )
Your doctor will talk to you about the side effects of the drugs before you agree to take part. 
How to join a clinical trial
Please note: In order to join a trial you will need to discuss it with your doctor, unless otherwise specified.
Please note - unless we state otherwise in the summary, you need to talk to your doctor about joining a trial.
Supported by
Experimental Cancer Medicine Centre (ECMC)
Celgene
Questions about cancer? Contact our information nurses
CRUK internal database number:
Please note - unless we state otherwise in the summary, you need to talk to your doctor about joining a trial.
Cara took part in a clinical trial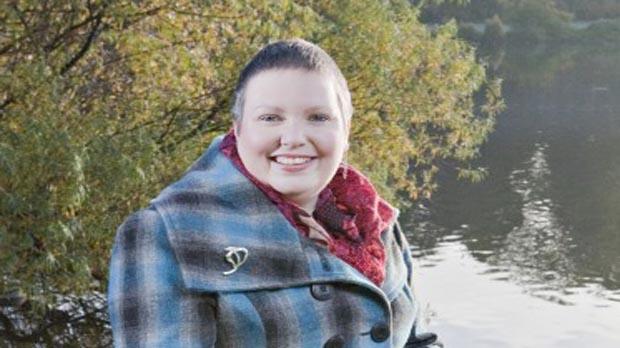 "I am glad that taking part in a trial might help others on their own cancer journey."