A trial of AZD8931 with chemotherapy for bowel cancer (PANTHER)
Please note - this trial is no longer recruiting patients. We hope to add results when they are available.
Cancer type:
Bowel (colorectal) cancer
This trial is looking at a new drug called AZD8931 alongside chemotherapy for bowel cancer.
Cancer Research UK supports this trial.
More about this trial
If bowel cancer can't be removed with surgery, has come back after surgery, or has spread to another part of your body, doctors can treat it with chemotherapy. They may use a chemotherapy treatment called FOLFIRI.
Researchers are looking for ways to improve treatment and in this trial they are looking at a drug called AZD8931 alongside FOLFIRI chemotherapy.
AZD8931 is a type of biological therapy that stops signals that cancer cells use to divide and grow.
The aims of the trial are to
See how safe AZD8931 is
Find the best dose of AZD8931 to have alongside chemotherapy
Learn more about the side effects
See if AZD8931 with FOLFIRI is better than FOLFIRI alone for people with bowel cancer
Who can enter
You may be able to join this trial if all of the following apply.
You have bowel cancer that has come back or spread to another part of your body and can't be removed with surgery
Your cancer cells don't have changes to a gene called RAS
Your cancer can be measured on a scan
You are well enough to carry out all your normal activities, apart from heavy physical work (performance status of 0 or 1)
You have satisfactory blood test results and your bile duct isn't blocked (you can take part if you have a tube called a stent in place to keep the bile duct open)
You can swallow tablets
You are willing to use 2 forms of reliable contraception during the trial and for 6 months afterwards if there is any chance you or your partner could become pregnant
You cannot join this trial if any of these apply. You
Are having treatment with the aim of curing your cancer
Have already had a drug called mitoxantrone or a drug that is an anthracycline
Have already had treatment that works in a similar way to AZD8931
Have a condition that can affect how your body absorbs, uses and gets rid of drugs
Have a build up of fluid that is causing symptoms in your tummy (ascites ) or elsewhere in your body
Need to take regular medication to control diarrhoea
Have had another type of cancer and the trial team think this could affect you taking part in this trial
Have an infection that can't be controlled with medication
Have certain heart or lung problems (the trial team can advise you about this)
Have certain skin or eye problems (the trial team can advise you about this)
Have another medical condition or mental health problem that could affect your taking part
Are known to be very sensitive to AZD8931 or anything it contains, or to similar drugs
Take other medication that can affect body substances called CYP enzymes or drugs that can alter your heart beat
Have an inherited condition that means you can't tolerate natural sugar (hereditary fructose intolerance)
Are pregnant or breastfeeding
Trial design
The researchers need up to 24 people to join the 1st part of the trial and 40 people to join the 2nd part. 
Everybody joining the 1st part of the trial had AZD8931 and FOLFIRI chemotherapy.The first few people had a low dose of AZD8931. The doses were then increased until the doctors found the best dose to give. This is called a dose escalation study.
The 2nd part of the trial is randomised. The people taking part are put into treatment groups by a computer. Neither you nor your doctor will be able to decide which group you are in.
People in group 1 have the best dose of AZD8931 found in the 1st part of the trial alongside FOLFIRI chemotherapy
People in group 2 have FOLFIRI chemotherapy alone
FOLFIRI chemotherapy is made up if the drugs
folinic acid

fluorouracil (also called 5-FU)

irinotecan
You have the drugs through a drip into a vein every 2 weeks. You have fluorouracil continuously over 2 to 3 days via a small pump that you take home with you. The trial team will tell you when to return to the hospital to have the pump disconnected.
If you take AZD8931, you start it on the same day as you have the FOLFIRI. You take the tablets twice a day for 4 days every 2 weeks. The trial team will ask you to keep a diary. In this, you write down when you take your tablets, whether you miss any doses and if you are sick after taking any of the tablets.
As long as you don't have bad side effects, you can carry on having the treatment for as long as it is helping you. If you stop having AZD8931, you may be able to carry on having FOLFIRI alone.
AZD8931 will not be available after 31st May 2018. Your doctors will talk with you about what will happen if you are still on the drug at this time. 
Hospital visits
You see the trial team and have some tests before you start treatment. The tests include
Physical examination
An eye test
Blood tests
Heart trace (ECG )
Heart scan (echocardiogram ) or MUGA scan
MRI scan of your liver (if your doctor thinks you need this)
The trial team will ask if they can take 2 extra samples of tissue (biopsies)

. This is so they can look at how the treatment works. You do not have to agree to have these biopsies. You can still take part in the trial.
They will also ask you to have 4 extra blood tests. Again this is to get more information on how the treatment works (pharmacodynamics)

. You may need to have extra hospital visits to have these blood tests. 
During treatment, you see the trial team at least once every 2 weeks. You have regular blood tests. You have a CT scan every 3 months.
When you finish treatment, you see the trial team again a month later. You have a physical examination and blood tests.
The trial team will then check how you are every 6 months for up to 3 years. This may be at hospital appointments, or they will contact your GP to see how you are.
If you stop the trial treatment because of bad side effects, or because you no longer want to be in the trial, the researchers will ask you to see them and have a scan every 3 months until your cancer starts to get worse.
Side effects
As AZD8931 is a new drug and this is the 1st time people are having it alongside FOLFIRI, there may be side effects we don't know about. In trials so far, the side effects have included
Skin rash
Changes to the way your heart works
Eye problems such as changes to your vision, irritation, stinging, itching, redness and being sensitive to light
Swelling (inflammation) in the area where your nails meet the skin. This can affect fingernails and toenails and can become infected
Bladder inflammation (cystitis) which can make you feel that you want to pass urine urgently. It can also cause pain in your bladder or when you pass urine
Nosebleeds
If you become unwell between hospital visits or have any cause for concern, you should contact the trial team. If you normally wear contact lenses, you may have to stop wearing them during the trial if you have any problems with your eyes. If you do develop eye problems, you must tell the trial team straight away.
The most common side effects of FOLFIRI include
A drop in blood cells causing an increased risk of infection, bleeding problems, tiredness and breathlessness
Increased saliva production, watery eyes and abdominal cramps when you are having the drugs
Diarrhoea that can be severe on the day of treatment and for a day or 2 afterwards
Tiredness (fatigue )
An increased risk of blood clots
The treatment in this trial may make you more sensitive to sunlight. You must avoid spending long periods of time in the sun. If you are out in the sun, you will need to wear sunglasses and use a sunscreen that is at least factor 30. You mustn't use tanning booths during the trial or for 3 months after the last dose of AZD8931.
How to join a clinical trial
Please note: In order to join a trial you will need to discuss it with your doctor, unless otherwise specified.
Please note - unless we state otherwise in the summary, you need to talk to your doctor about joining a trial.
Supported by
AstraZeneca
Cancer Research UK
Experimental Cancer Medicine Centre (ECMC)
NIHR University College London Hospitals Biomedical Research Centre
University College London (UCL)
Other information
This is Cancer Research UK trial number CRUKD/12/015.
CRUK internal database number:
Please note - unless we state otherwise in the summary, you need to talk to your doctor about joining a trial.
Charlie took part in a trial to try new treatments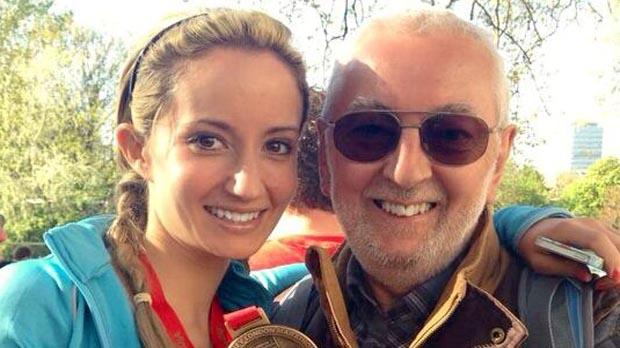 "I think it's really important that people keep signing up to these type of trials to push research forward."