A trial looking at olaparib for small cell lung cancer (STOMP)
Please note - this trial is no longer recruiting patients. We hope to add results when they are available.
This trial is looking at olaparib for people with small cell lung cancer (SCLC) who have already had one other treatment. This trial is supported by Cancer Research UK.
Doctors treat small cell lung cancer with chemotherapy or chemotherapy and radiotherapy (chemoradiotherapy

). Unfortunately it may come back afterwards. The researchers want to see if olaparib can delay or prevent SCLC coming back after the first line treatment. This is called maintenance therapy.
Olaparib is a type of biological therapy called a PARP inhibitor. It blocks an enzyme

that cancer cells need to repair themselves and grow.
In this trial some people will have olaparib and some people will have a dummy drug (placebo).
The aims of this trial are to find out
If olaparib can be used as maintenance therapy for people with SCLC
If olaparib can increase the length of time people live
How safe olaparib is as maintenance therapy for SCLC
Who can enter
You may be able to enter this trial if
You have small cell lung cancer (SCLC)
You have had at least 3 cycles of chemotherapy or chemoradiotherapy with cisplatin, or carboplatin with etoposide
On a scan, your cancer had shrunk or there was no sign of it after treatment – your doctor can confirm this
You are well enough to be up and about for at least half the day (performance status 0, 1 or 2)
Your blood test results are satisfactory
You are able to swallow tablets
You are willing to use reliable contraception during treatment and for 3 months afterwards if there is any chance you or your partner could become pregnant
You are at least 18 years old
You cannot enter this trial if
Your radiotherapy started more than 5 weeks after your last cycle of chemotherapy
Your last treatment of radiotherapy was more than 3 weeks ago
The start of your last cycle of chemotherapy was more than 6 weeks ago
You still have moderate to severe side effects from your treatment apart from hair loss
Your cancer has spread to your brain and you have symptoms that aren't controlled
You have a non cancerous disease of your lung tissue or the space surrounding the air sacs of your lungs (called interstitial lung disease) – your doctor can confirm this
You have had another cancer in the past 3 years apart from successfully treated non melanoma skin cancer or in situ carcinoma of the cervix or breast
You have problems with your digestive system that could affect how you absorb tablets
You have had an experimental drug as part of a clinical trial in the past 2 weeks
You have already had olaparib or another PARP inhibitor – your doctor can confirm this
You are having certain medications that affect body proteins called CY3P enzymes – your doctor can advise about this
You have had a heart attack in the past 3 months or have any other medical condition that could affect you taking part in this trial
You are HIV, hepatitis B or hepatitis C positive
You have uncontrolled fits (seizures)
You have myelodysplastic syndrome or acute myeloid leukaemia (AML) – the trial team will test for these
You have had major surgery in the past 2 weeks or haven't recovered from major surgery
You are allergic to olaparib or its ingredients
You are pregnant or breastfeeding
Trial design
This is a phase 2 trial. It will recruit 222 people. It is a randomised trial. The people taking part are put into treatment groups by a computer. Neither you nor your doctor will be able to decide which group you are in. And neither of you will know which group you are in. This is called a double blind trial. The groups are
People who have 2 olaparib tablets 3 times a day
People who have 3 olaparib tablets twice a day
People who have 2 dummy tablets 3 times a day
People who have 3 dummy  tablets twice a day
Olaparib and the dummy drug are tablets. You take them every day for 2 years.
If your cancer comes back during the 2 years, you stop taking the olaparib or dummy drug. Your doctor will talk to you about other treatment that may be available to you.
If you have very bad side effects the doctor can reduce the number of tablets you take.
The trial team will ask you to fill out a questionnaire before you start treatment, every month during treatment and after you finish treatment. The questionnaire will ask about side effects and how you've been feeling. This is called a quality of life study.
If you agree to take part in this study, the researchers will ask for 3 extra blood samples during the trial and for a sample of your cancer that was removed when you had surgery or a biopsy

. If you don't want to give these samples for research, you don't have to. You can still take part in the trial.
Hospital visits
You see the doctor to have some tests before taking part in this trial. These tests include
A physical examination
Blood tests
Chest X-ray
During treatment you see the doctor every month for a physical examination and blood tests. You have a chest X-ray at 4 weeks and then every 2 months.
If you stopped treament early due to side effects rather than your cancer getting worse with your permission the trial team would like you to have a CT scan every 2 months.
After treatment your doctor will tell you how often they want to see you.
Side effects
Olaparib is a new drug and there may be side effects we don't know about yet. The most common side effects may include
How to join a clinical trial
Please note: In order to join a trial you will need to discuss it with your doctor, unless otherwise specified.
Please note - unless we state otherwise in the summary, you need to talk to your doctor about joining a trial.
Supported by
AstraZeneca
Cancer Research UK
Experimental Cancer Medicine Centre (ECMC)
NIHR Clinical Research Network: Cancer
Sheffield Teaching Hospitals NHS Foundation Trust
Other information
This is Cancer Research UK trial number CRUK/10/037.
CRUK internal database number:
Please note - unless we state otherwise in the summary, you need to talk to your doctor about joining a trial.
Charlie took part in a trial to try new treatments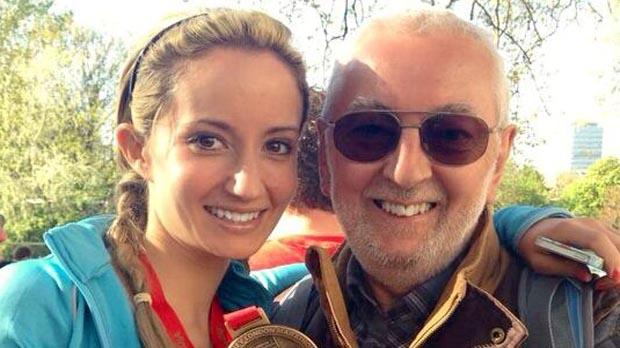 "I think it's really important that people keep signing up to these type of trials to push research forward."