A trial looking at the margins removed during surgery for melanoma skin cancer (MelMarT)
This trial looked at the amount of tissue surgeons removed around the melanoma during surgery for melanoma skin cancer.
More about this trial
Surgery is the usual treatment for melanoma skin cancer. The doctor removes the mole or area of skin. An expert (pathologist

) looks at this under a microscope if the doctors suspects it's melanoma.
You have a further operation called a wide local excision if it is a melanoma. The surgeon removes more of the tissue in the area where the melanoma was. The aim is to remove any abnormal cells that may have been close to the melanoma. It reduces the chance of the melanoma coming back in the future.
Guidelines recommend that the surgeon removes a margin of between 1 cm and 3 cm if someone has a melanoma thicker than 1 mm. Researchers from around the world think that removing a 1 cm margin could be enough to reduce the risk of the melanoma coming back. But this needs to be tested in a trial before it becomes standard practice.
The advantages of a smaller margin could be that it leaves a smaller scar, people recover more quickly and it may be less painful.  It also might mean that more extensive reconstructive surgery, for example a skin graft may not be necessary.
The aims of this trial were to:
find out if a 1 cm margin was as good as a 2 cm margin
compare the side effects of removing each size of margin
learn more about the costs of a 1 cm or 2 cm margin to the healthcare system and to the patient
Summary of results
The researchers found that people in the 2 cm margin group were about three times more likely to need a reconstruction after the wider excision of their melanoma, such as a skin graft than the those in the 1 cm group. They also found that at 12 months after surgery, there were no differences in quality of life or complications between the two groups.
400 people from around the world took part in this trial. They were put into 2 different groups at random. Of those:
198 had a 1 cm wide local excision
202 had a 2 cm wide local excision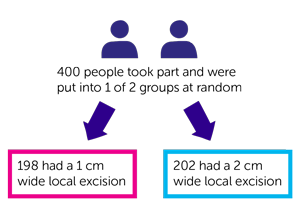 At the same time as the wide local excision, everyone had an operation to remove the lymph glands closest to the melanoma (a sentinel node

 biopsy). This was part standard treatment.
The doctors looked where the melanomas were on the body.
Just over 5 out of 10 people (56%) had melanomas on the main part of their body (trunk)
Just over 3 out of 10 people (35%) had melanomas on their arms, legs, hands or feet
The rest had melanomas on their head and neck
The researchers had the results for 377 people. They looked at who needed a complex reconstruction such as a skin graft. This was in:
just over 3 out of 10 people (34%) people who had a 2 cm margin
just over 1 out of 10 people (13%) people who had a 1 cm margin
Everyone who took part completed quality of life questionnaires

. The questionnaires asked how they felt about having melanoma, its treatment and how it affected daily life. One questionnaire assessed pain. Everyone filled in the questionnaires:
before the wide local excision
at 3, 6 ,12 months after surgery
The researchers say this pilot study shows it is possible to do a larger trial with more people. This future trial should be able to answer for sure the best excision margin for people with a melanoma skin cancer more than 1 mm thick.
We have based this summary on information from the research team. The information they sent us has been reviewed by independent specialists and has been accepted for publication in the Annals of Surgical Oncology.  The figures we quote above were provided by the research team. We have not analysed the data ourselves.
How to join a clinical trial
Please note: In order to join a trial you will need to discuss it with your doctor, unless otherwise specified.
Please note - unless we state otherwise in the summary, you need to talk to your doctor about joining a trial.
Supported by
Australia and New Zealand Melanoma Trials Group (ANZMTG)
Experimental Cancer Medicine Centre (ECMC)
Norfolk and Norwich University Hospitals NHS Foundation Trust
CRUK internal database number:
Please note - unless we state otherwise in the summary, you need to talk to your doctor about joining a trial.
Cara took part in a clinical trial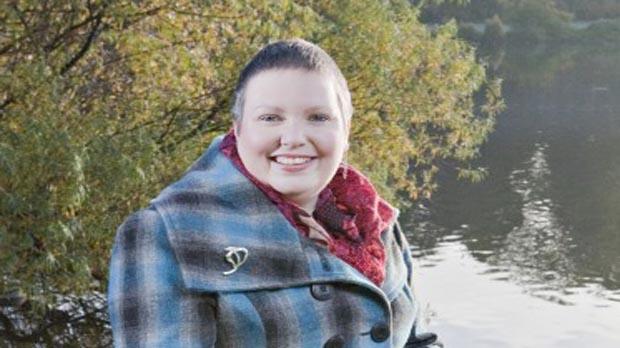 "I am glad that taking part in a trial might help others on their own cancer journey."