A trial looking at an exercise programme for people after bowel cancer surgery (CRIB)
Cancer type:
Bowel (colorectal) cancer
This trial looked at whether an exercise programme for people recovering from a heart attack could also help people recovering from bowel cancer surgery.
More about this trial
Studies have shown that exercise after bowel cancer surgery might reduce the risk of the cancer coming back. It can also reduce the tiredness (fatigue) and depression that might happen after surgery. But often people in this situation don't know if it is safe to exercise.
Cardiac rehabilitation is a programme of exercise and health advice for people recovering from a heart attack. This gives them the confidence to exercise and improve their wellbeing. 
The researchers thought that this programme might help people who were recovering from bowel cancer surgery.
In this pilot trial the researchers asked people who were recovering from bowel cancer surgery to take part in a cardiac rehabilitation programme. This was alongside people who have had a heart attack.
The aims of this pilot trial were to find:
if it was possible to deliver a cancer rehabilitation programme within the cardiac rehabilitation programme 
how acceptable this was for both the patients and the health care professionals 
if it was possible to do a larger trial
Summary of results
The trial team found that it was possible and acceptable for bowel cancer patients and heart attack patients to do the cardiac rehabilitation programme together. 
Everyone who took part had surgery to remove their cancer. 
Everyone who went to the rehabilitation programme was expected to go to 10 exercise sessions. 
There were 2 parts to this trial. On 3 separate occasions everyone in part 1 wore a small device on their wrist. This monitored and recorded their physical activity. In part 2 only people who took part in the rehabilitation programme did this. 
Everyone was asked to fill in 3 short questionnaires:
when they agreed to take part
when they completed the exercise programme
6 months later
In both parts the team also interviewed people who took part about the trial and how it was run. 
Part 1 results
This part was a feasibility study. This part took place in a single hospital.
24 people with bowel cancer were given information about the study. 
Of the 10 people willing to take part 4 agreed to. 
Going to the rehabilitation programme
Of these 4 people:
1 person went to 10 exercise sessions
1 person went to 6 sessions
1 person went to 5 sessions 
1 person didn't go at all
Wearing the device
No one reported any problem with wearing the device.
Questionnaires
Everyone completed their questionnaires. Comments about the questionnaires were:
some sections were repeated in each questionnaires particularly questions asking about quality of life
some questions were not applicable for example those asking about work as many of the people were retired
Interviews
People interviewed said that the barriers to take part in the trial included:
distance travelled to and from where the rehabilitation programme was
returning to work and so unable to go to the programme
feeling fit and well and so felt it wasn't necessary to take part in the programme
having on going treatment and not feeling well enough to take part in the programme
a poor recovery from surgery
Part 2 results
This part was a randomised trial. 41 people agreed to take part.
Everyone who took part was put into 1 of 2 groups by a computer. Neither they or their doctor choose which group they were in. 
The 2 groups were:
21 people did the cardiac rehabilitation programme
20 people had usual care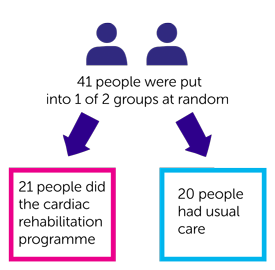 Going to the rehabilitation programme
13 of the 21 people in the rehabilitation group completed the programme. 
Wearing the device
The researchers had 65 separate sets of information (that is 3 sets for each of the 41 people) from the device to look at. They could use 45 sets. 
The main reason for not being able to use the other 20 sets was that on these occasions people didn't wear the device. 
Questionnaires
The majority of people in both groups completed the questionnaires on each occasion. 
Interviews
The team interviewed 41 people:
12 cancer patients who did the rehabilitation programme
10 cancer patients who had usual care
8 heart (cardiovascular) patients who did the programme
5 bowel cancer nurse specialists
6 cardiac rehabilitation professionals 
They asked them what they thought about the rehabilitation programme.  Their answers came under 7 main themes.
Confidence and motivation
The cardiac rehabilitation programme seemed to give the bowel cancer patients the motivation and confidence to start to become more physically active.
Peer support
The programme gave people the social opportunity to tap into support from others who were recovering from the same illness.
Mixed patient rehabilitation
No one had any problem with bowel cancer patients taking part in the cardiac rehabilitation programme with cardiac patients. 
Support from health professionals
The programme is given by NHS health professionals who are able to offer a greater degree of safety and understanding of illness and treatment. 
Barriers to taking part in the rehabilitation
These included:
time needed to travel to and from the programme
a prolonged recovery from surgery 
having chemotherapy
having an opening to the outside of the body (a stoma )
Capability
The cardiac rehabilitation professionals felt they wouldn't have the relevant knowledge and skills to provide the necessary support for people with cancer as this wasn't their speciality.
Capacity
The cardiac rehabilitation team were concerned about not been able to deal with an increase in the number of people taking part in the programme. 
The trial team concluded that using the cardiac rehabilitation programme for bowel cancer patients after surgery was acceptable and possible to do. To find out how well this programme would work, a large clinical needs to be done. And a few changes need to be made to deal with the barriers that might stop people taking part.
We have based this summary on information from the research team. The information they sent us has been reviewed by independent specialists (peer reviewed

) and published in a medical journal. The figures we quote above were provided by the trial team who did the research. We have not analysed the data ourselves.
How to join a clinical trial
Please note: In order to join a trial you will need to discuss it with your doctor, unless otherwise specified.
Please note - unless we state otherwise in the summary, you need to talk to your doctor about joining a trial.
Supported by
NIHR Clinical Research Network: Cancer
NIHR - Health Services & Delivery Research Programme (HS&DR) 
University of Stirling
CRUK internal database number:
Please note - unless we state otherwise in the summary, you need to talk to your doctor about joining a trial.
Around 1 in 5 people take part in clinical trials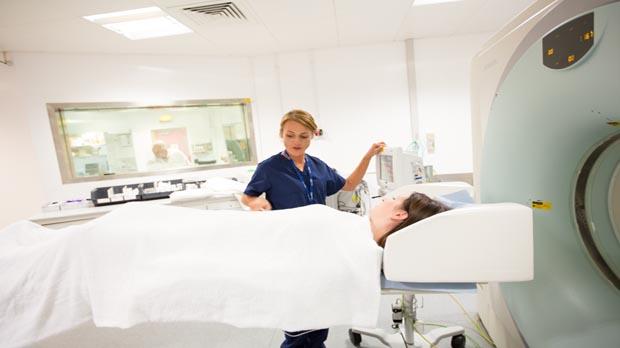 Around 1 in 5 people diagnosed with cancer in the UK take part in a clinical trial.