A trial looking at AZD2014 for advanced kidney cancer (ZEBRA)
This trial compared AZD2014 with everolimus (Afinitor) as a treatment for kidney cancer. It was for people with a type of kidney cancer called clear cell that had spread to another part of the body.
More about this trial
Kidney cancer that has spread to another part of the body is called advanced kidney cancer. Doctors usually treat advanced kidney cancer with one of the following
All of these drugs are biological therapies. This treatment can help, but the cancer may come back. Doctors may then use another type of biological therapy called everolimus. Everolimus is a cancer growth blocker. It works by stopping signals that cancer cells use to divide and grow.
AZD2014 is also a cancer growth blocker. It blocks more signals than everolimus does and researchers thought that it may work better for advanced kidney cancer.
The aims of this trial were to
Compare AZD2014 with everolimus to find out which works best 
Find out how safe AZD2014 is 
Summary of results
The trial team found that AZD2014 did not work as well as everolimus and so recruitment into the trial was stopped early. 
This was a phase 2 trial, 49 people took part. 
The trial was randomised. This means the people taking part were put into 1 of 2 treatment groups by a computer. Neither they nor their doctor chose which group they were in.
26 people had AZD2014 tablets 
23 people had everolimus tablets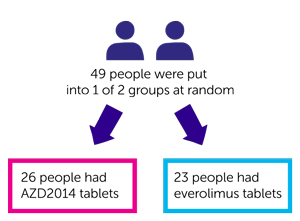 The researchers looked at the time it took for the cancer to start growing again. On average it was
Just under 2 months for people who had AZD2014 
Just over 4 ½ months for people who had everolimus
The researchers also looked at how long people lived for. They found that on average 
People having everolimus lived for just over 16 ½ months
People having AZD2014 lived for just over 6 months

The most common side effects reported in both groups were 
There were no significant differences between the groups in the type of side effects people had. But more people having everolimus rated their side effects as severe, compared to those having AZD2014.
The researchers concluded that people coped well with the side effects of either drug. 
 
The researchers planned to recruit 120 patients. But the trial was stopped after 16 months. This was because the researchers found that AZD2014 was not as good a treatment as everolimus. 
All patients stopped treatment as part of the trial. Future treatment was then discussed with people on an individual basis. 
These findings support earlier trials that show everolimus is a useful drug for people with advanced clear cell kidney cancer. 
We have based this summary on information from the research team. The information they sent us has been reviewed by independent specialists (peer reviewed

) and published in a medical journal. The figures we quote above were provided by the trial team who did the research. We have not analysed the data ourselves.
How to join a clinical trial
Please note: In order to join a trial you will need to discuss it with your doctor, unless otherwise specified.
Please note - unless we state otherwise in the summary, you need to talk to your doctor about joining a trial.
Supported by
AstraZeneca
Cancer Research UK
Experimental Cancer Medicine Centre (ECMC)
NIHR Clinical Research Network: Cancer
Queen Mary University of London
Other information
This is Cancer Research UK trial number CRUKE/11/037.
CRUK internal database number:
Please note - unless we state otherwise in the summary, you need to talk to your doctor about joining a trial.
Charlie took part in a trial to try new treatments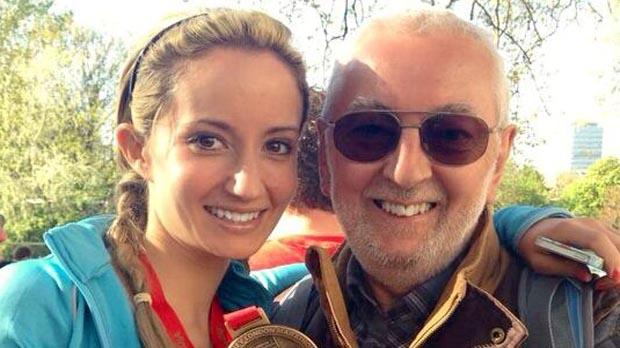 "I think it's really important that people keep signing up to these type of trials to push research forward."