A trial looking at rucaparib for ovarian cancer that has come back (ARIEL4)
Please note - this trial is no longer recruiting patients. We hope to add results when they are available.
This trial is for women with ovarian cancer that has come back or continued to grow after chemotherapy.  
It is for women who have:
These cancers are treated in the same way, so when we use the term ovarian cancer in this summary, we are referring to all 3. 
More about this trial
Ovarian cancer is often treated with chemotherapy. But sometimes the cancer comes back or continues to grow after treatment. This is a relapse.  
You can have more chemotherapy if you have relapsed ovarian cancer. This is usually:
Doctors are looking at a new drug called rucaparib.  
Rucaparib (or CO-338) is a type of targeted cancer drug known as a PARP inhibitor. PARP is a protein that helps damaged cells to repair themselves. If PARP is blocked, then cancer cells might not be able to repair themselves.   
In this trial you have 1 of the following: 
The main aims of this trial are to:
find out how well rucaparib works as a treatment
learn about the side effects 
find out more about people's quality of life
look for cancer cells DNA  in your blood (circulating DNA)
look for certain proteins to see why treatments work better for some people than others
Who can enter
The following bullet points list the entry conditions for this trial. Talk to your doctor or the trial team if you are unsure about any of these. They will be able to advise you. 
You may be able to join this trial if all of the following apply:
You have epithelial ovarian cancer, fallopian tube cancer or primary peritoneal cancer that is likely to grow quickly (high grade )
Your ovarian cancer has a change (mutation ) in the BRCA1  or BRCA2  gene. Your doctor can check for this
You have had 2 or more types of chemotherapy regimens
Your cancer came back or got worse after 6 months of finishing the 1st chemotherapy regimen
You have had a sample of your cancer taken (biopsy ) or are willing to have one taken if there isn't a suitable sample
You have at least 1 area of cancer that can be seen on a scan 
You have satisfactory blood tests results
You are well enough to carry out your normal activities, apart from heavy physical work (performance status of 0 or 1) 
You are at least 18 years old
You are willing to use effective contraception during treatment and for 6 months afterwards if there is any possibility you could become pregnant
You cannot join this trial if any of these apply:
Cancer related
Your cancer got worse less than 4 weeks after finishing the last platinum chemotherapy 
Your cancer has spread to your brain and this is causing symptoms. You might be able to take part if you have had treatment for this and it has been stable for at least 4 weeks
You have had rucaparib or other similar drug 
You have moderate to severe side effects from previous anti cancer treatments. You may be able to take part if you have certain side effects (apart from numbness and tingling in your hands and feet) that are stable. You doctor can tell you more about this
You have or have had another cancer unless it has been successfully treated and you have finished chemotherapy for it more than 6 months ago (2 years if it was a bone marrow transplant )
Medical conditions
You have had a blockage in your bowel (bowel obstruction) that required hospitalization in the past 3 months
You need regular blood transfusions , platelet transfusions or a drug called granulocyte colony stimulating factor (GCSF)
You have bowel or stomach problems that can affect how your body absorb tablets  
You have HIV
You have hepatitis B or hepatitis C 
You have any other serious medical condition that the trial team think could affect you taking part
Other
You are pregnant or breastfeeding
Trial design
This is an international phase 3 trial. The researchers need about 345 people worldwide and around 20 people from the UK to take part. 
This trial is randomised. The people taking part are put into 1 of the following treatment groups by computer:
Neither you nor your doctor will be able to decide which group you are. You are 2 times more likely to have rucaparib than chemotherapy.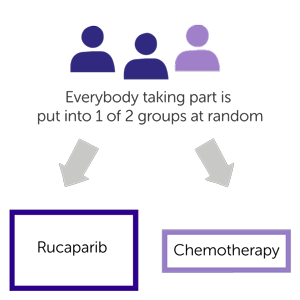 Rucaparib
Rucaparib is a tablet that you take every day, twice a day. Your doctor will tell you how many tablets to take. 
You continue to take rucaparib for as long as your doctor thinks it is helping you, even if your cancer gets worse. 
Chemotherapy
You have chemotherapy as a drip into a vein. You have 1 of the following:
Your doctor can tell you which treatment you have and how you have it. If you have cisplatin or carboplatin you can have it for up to 32 weeks (around 8 months). 
If your cancer gets worse, you stop having chemotherapy. You might be able to start taking rucaparib. This is a cross over. Your doctor will discuss this with you.  
Quality of life
Everybody taking part of this trial completes a quality of life questionnaire before starting treatment and then:
at set times during the trial
at the end of treatment
a month after finishing treatment
The questionnaire asks about how you have been feeling and what side effects you have had. You complete the questionnaire using an electronic device. The study team will show you how to do it. 
Blood tests 
You have some extra blood tests as part of this trial. The researchers want to:
look for substances called biomarkers  to see why treatments work better for some people than others
look for a substance called CA-125
find the amount of rucaparib in your body 
You have the extra blood tests before starting treatment, at set times during the trial, at the end of treatment and after 1 month of finishing treatment. 
Tissue samples 
The research team will ask to use a tissue sample of your cancer taken either when you were diagnosed or during other treatments. If there is not a suitable sample available the researchers will ask you to have a biopsy

. This is to look for certain proteins that can tell why treatments work better for some people than others. 
Doctors might also ask you to have a new tissue sample taken if your cancer gets worse. You do not have to agree to the new sample if you don't want to. You can still take part in this trial.
Hospital visits
You see a doctor and have some tests before taking part. These tests include: 
During treatment you see the doctor for bloods tests and a physical examination at least once a month. How often you see them depends on the treatment you have. 
You have a CT scan every 2 months while you are having treatment. 
When you finish treatment you see the doctor after a month. You have blood tests and a physical examination. You then speak with the trial team every 3 months.
Side effects
The trial team monitor you during the time you have treatment and you have a phone number to call them if you are worried about anything. The team will tell you about the possible side effects before you start the trial.
Rucaparib is a new drug and there may be side effects we don't know about yet. The most common side effects include: 
tiredness (fatigue)
taste changes
a drop in blood cells causing an increased risk of infection, bleeding problems, tiredness and breathlessness 
raised blood cholesterol
We have information about: 
How to join a clinical trial
Please note: In order to join a trial you will need to discuss it with your doctor, unless otherwise specified.
Please note - unless we state otherwise in the summary, you need to talk to your doctor about joining a trial.
CRUK internal database number:
Please note - unless we state otherwise in the summary, you need to talk to your doctor about joining a trial.
Around 1 in 5 people take part in clinical trials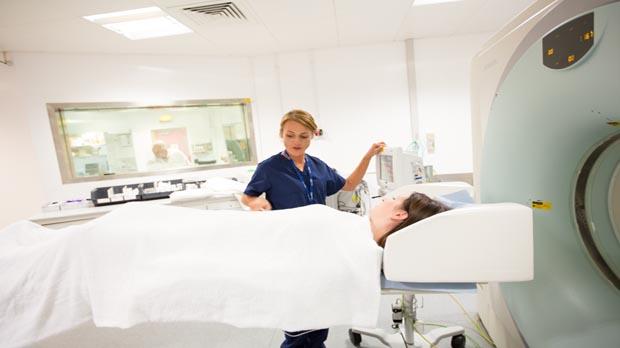 Around 1 in 5 people diagnosed with cancer in the UK take part in a clinical trial.