A trial looking at a way to prevent lymphoedema after surgery to remove the lymph nodes under your arm (PLACE)
Please note - this trial is no longer recruiting patients. We hope to add results when they are available.
This trial is trying to find out if wearing an elastic sleeve (external compression) helps to stop early signs of swelling in the arm developing into lymphoedema after surgery for breast cancer.
Surgery is often the first treatment for breast cancer. If the cancer has spread to your lymph nodes, your surgeon may remove all the nodes under your arm. This is called an axillary clearance. If you have an axillary clearance, the normal fluid drainage channels of the lymphatic system may become blocked. Fluid does not drain in the normal way and the arm can become swollen. This is called lymphoedema

.
More than half of those who have some arm swelling in the first few months after surgery will develop lymphoedema within the next 2 years. In this trial, the researchers describe lymphoedema as your swollen arm being at least 10% bigger than it was before surgery.
The standard care for early signs of arm swelling would be for your specialist to give you information about lymphoedema and to monitor you closely. They can teach you ways of reducing your risk of lymphoedema, such as positioning your arm and gentle exercises. But researchers want to see if treating this early swelling with external compression helps women more than standard care. External compression involves wearing an elastic sleeve each day and is already used to treat lymphoedema.
The aim of the trial is to see if treating early signs of arm swelling with external compression reduces the number of women who go on to develop lymphoedema.
Who can enter
You can enter this trial if you
Have been diagnosed with breast cancer and have had surgery to remove the lymph nodes under your arm (axillary clearance) in the last 9 months
Had the arm on the affected side measured before surgery, and it is now between 4% and 9% bigger
Are a woman aged between 18 and 90
You cannot enter this trial if you
Have breast cancer that could not be removed with surgery or has spread outside the breast and lymph nodes under your arm
Did not have any arm measurements taken before having surgery
Have had radiotherapy to the area under your arm (the axilla)
Have had an axillary clearance or radiotherapy to the breast or chest wall in the past
Are taking part in another clinical trial that could affect the results of this study
Are pregnant
Trial design
The trial will recruit about 270 women in the UK. It is a randomised trial. The people taking part are put into groups by a computer. Neither you nor your doctor will be able to decide which group you are in.
Women in group 1 have standard treatment for arm swelling. This includes teaching you some exercises and how to position and massage your arm.
Women in group 2 have the same treatment, but they will also have an elastic sleeve that they will be asked to wear for at least 6 hours every day for a year. The trial team will work out the size of sleeve you need. And they will advise you about how to put the sleeve on, take it off and look after it.
You will be asked to fill out a questionnaire at the beginning of the trial and then
After 3 months and 6 months
Every 6 months for the next year and a half
Every year for the following 3 years
The questionnaire will ask how you have been feeling. This is called a quality of life study. There will also be some questions about how your swollen arm affects your daily life.
The researchers will ask your permission to take a blood sample. They may use this to study your DNA to learn more about which genes

might cause cancer or increase the chance of having treatment side effects. If you don't want to donate this sample for research, you don't have to. You can still take part in the main trial.
Hospital visits
At the beginning of the trial, a member of the trial team will measure your arm using a machine called a 'perometer'. This is a scan using 2 infra red lights directed at your arm. It takes measurements that can show if your arm has changed in size.
Women in both groups will see the trial team
Every 3 months for 18 months
Once more 6 months later
Then once a year for the next 3 years
They will measure both your arms each time using the perometer. If at any time this shows your arm has increased in size by 10% or more, a specialist lymphoedema nurse will talk to you about having more treatment.
Side effects
Wearing a sleeve can make your skin dry. The trial team will advise you to put moisturiser on your arm each day after removing the sleeve.
How to join a clinical trial
Please note: In order to join a trial you will need to discuss it with your doctor, unless otherwise specified.
Please note - unless we state otherwise in the summary, you need to talk to your doctor about joining a trial.
Supported by
NIHR Clinical Research Network: Cancer
University of Manchester
CRUK internal database number:
Please note - unless we state otherwise in the summary, you need to talk to your doctor about joining a trial.
Caroline took part in a clinical trial for breast cancer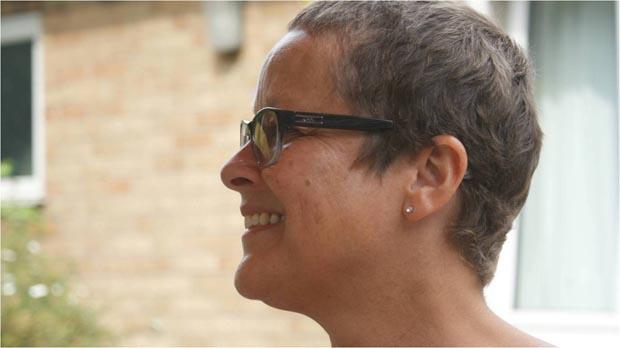 "I had treatment last year and I want to give something back."