A trial looking at olaparib with chemoradiation for pancreatic cancer (PIONEER)
Please note - this trial is no longer recruiting patients. We hope to add results when they are available.
This trial is looking at giving olaparib and chemoradiation for people with pancreatic cancer that has not spread to other parts of the body.
More about this trial
Locally advanced pancreatic cancer has started growing outside the pancreas, into nearby large blood vessels and possibly into the lymph nodes. But it has not spread to other areas of the body. Doctors can treat people with locally advanced pancreatic cancer with a combination of chemotherapy using the drug capecitabine and radiotherapy. This is called chemoradiation.
Olaparib is a type of biological therapy called a PARP-1 inhibitor. It stops an  enzyme called PARP-1 from working. This enzyme helps to repair the DNA in cells when it is damaged. DNA controls growth, development and how the body works. Cancer cells have damaged DNA and rely on PARP to repair them. So when olaparib stops PARP from repairing DNA damage, the cancer cells die.
Radiotherapy and some chemotherapy drugs damage DNA in cancer cells and kills them. Doctors think having olaparib along with chemotherapy and radiotherapy will make these treatments work better.
In this trial doctors want to
Find the highest safest dose of olaparib to give with chemoradiation
Learn more about the side effects of olaparib with chemoradiation
Who can enter
You may be able to join this trial if all of the following apply.
You have locally advanced ductal adenocarcinoma of the pancreas and you can't have surgery
You are able to have chemoradiation treatment
You have had 12 weeks of chemotherapy (induction chemotherapy) with gemcitabine and capecitabine (GEMCAP), or gemcitabine on its own or folinic acid, fluorouracil, irinotecan and oxaliplatin (FOLFIRINOX) and your cancer has not got any worse
Your cancer can be measured and is 6 cm or less (your doctors can advise you about this)
You are well enough to carry out all your normal activities, apart from heavy physical work (performance status of 0 or 1)
You have satisfactory blood results
You are able to swallow tablets and capsules
You are willing to use reliable contraception during the trial and for 12 months afterwards if there is any chance that you or your partner could become pregnant. Also you must not donate sperm during the trial or for 12 months after
You are aged at least 16
When the doctors know the best dose of olparib to give, some people with pancreatic cancer who could potentially have surgery could join the trial. The trial doctors would discuss this with you.
You cannot join this trial if any of these apply. You
Have cancer that has spread to other parts of your body (metastatic cancer)
Have either myelodysplastic syndrome or acute myeloid leukaemia
Have had any chemotherapy, other than the drugs you had for your induction chemotherapy, for your pancreatic cancer
Have had a donor bone marrow transplant (allogeneic transplant)
Have had a blood transplant form 2 seperate donor umbilical cords 
Have had radiotherapy, hormone therapy, immunotherapy or any experimental drugs
Have had a type of biological therapy called a PARP inhibitor including olaparib
Have taken part in a clinical trial for a new treatment or procedure during the last 12 months
Have had major surgery in the last 2 weeks or you have not recovered from any surgery
Have had a blood transfusion in the last month
Are taking a drug called brivudine or have taken it in the past 4 weeks
Have side effects from your capecitabine and gemcitabine chemotherapy unless this is sickness controlled by medication or hair loss
Were not able to have the standard dose of capecitabine during previous treatment
Are HIV, Hepatitis B or  Hepatitis C positive
Have a heart condition that is not well controlled by medication
Have a problem with the rhythm of your heart and you take medication to contro it
Have a family history of problems with heart rhythm
Have taken medication that can affect your heart rhythm (the trial doctors can advise you about this)
Have fits (seizures) that are not controlled by medication
Have DPD deficiency
Take any medication that affects body substances called CYP enzymes (your doctor can advise you about this)
Have any problems with your digestive system that could affect how you absorb the trial drug
Are allergic to olaparib or any of its ingredients (your doctors can advise you about this)
Have any other medical and mental health problems that the trial team think could prevent you taking part
Are pregnant or breastfeeding
Trial design
This is a phase 1 trial. The researchers need up to 36 people to take part. Everybody will have olaparib and chemoradiation. The first few patients taking part will have a low dose of olaparib. If they don't have any serious side effects, the next few patients will have a higher dose. And so on, until they find the best dose. This is called a dose escalation study.
 For this second part of the trial, doctors need between 6 and 12 people. 
Olaparib is a tablet. You may be asked to take it once or twice a day depending on what dose you are having.  You start the drug 3 days before starting the chemoradiation and finish taking it on the last day of chemoradiation. You take it Monday to Friday.
Capecitabine is also a tablet. You take it twice a day Monday to Friday from when you start radiotherapy to the last day of your treatment.
You have radiotherapy once a day Monday to Friday over 6 weeks.
You will not have radiotherapy or take olaparib or capecitabine on a Saturday and Sunday.
You have a diary card to record when you take your tablets and how many you take. You also record any side effects you might have. You must bring this diary card with you when you go to the hospital. 
The doctors will ask you for some additional blood samples during the trial. This is so they can tell how long olapraib is in your body after treatment and how long it takes the body to get rid of the chemotherapy drugs. Your doctor may call this pharmacokinetics.
The doctors will also ask your permission to keep some of your blood samples. These will be kept as part of research looking at who might benefit from having olapraib and chemoradiation in the future.
People taking part in the second part of the trial might be asked for 1 or 2 hairs. These could be from your scalp, eyebrows or forearms. The doctors take these samples to check how much damage is caused to a cell's DNA by the olaparib.
Everybody taking part in the trial will be asked if the doctors can use some of the tissue taken when your cancer was first diagnosed (biopsied) for research. If you are in the second part of the trial the doctors will do a biopsy if you didn't have one when your cancer was diagnosed.
Hospital visits
You will see the doctors and have some tests before you start treatment. The tests include
Physical examination
Heart trace (ECG)
You go to the hospital 3 days before the chemoradiation so you can start the olaparib. During your chemoradiation treatment you see the doctors once a week.
After you finish your treatment you see the doctors 1 week and then 4 weeks later. During these visits you will be asked how you are, have a physical examination and some blood tests. You may also have some eyebrow hairs taken. Each visit will take about 30 to 60 minutes.
At the visit 4 weeks after you finish treatment you have another CT scan.
You then see the doctors every 3 months.
Side effects
Olaparib with chemoradiation is a new treatment so not all the side effects are known. The doctors will be looking at side effects and you will have a telephone number to contact the trial team if you are worried about anything.
The most common side effects of radiotherapy to the pancreas are
Feeling or being sick
Diarrhoea
Tiredness (fatigue)
Inflammation of the lining of the stomach (gastritis)
The most common side effects of olaparib are
A drop in blood cells causing an increased risk of infection, bleeding problems, tiredness and breathlessness
Tiredness and weakness (fatigue)
Taste changes
Diarrhoea tell your doctor straight away if this becomes severe
Indigestion and or heartburn
Upper tummy pain
Headache
Dizziness
We have information about capecitabine.
How to join a clinical trial
Please note: In order to join a trial you will need to discuss it with your doctor, unless otherwise specified.
Please note - unless we state otherwise in the summary, you need to talk to your doctor about joining a trial.
Supported by
Astra Zeneca
Cancer Research UK
Cancer Clinical Trials Unit Scotland (CaCTUS)
Experimental Cancer Medicine Centre (ECMC)
NIHR Clinical Research Network: Cancer
NHS Greater Glasgow and Clyde
University of Glasgow
Other information
This is Cancer Research UK trial number CRUKD/14/008
CRUK internal database number:
Please note - unless we state otherwise in the summary, you need to talk to your doctor about joining a trial.
Charlie took part in a trial to try new treatments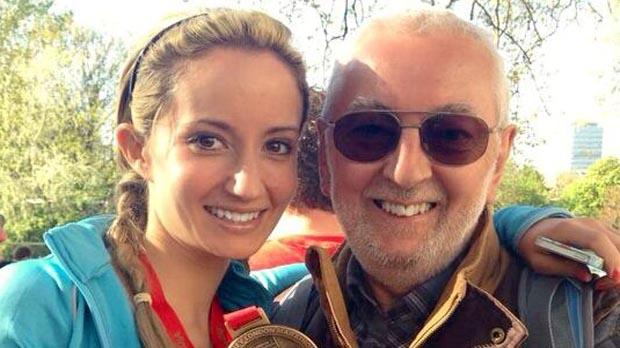 "I think it's really important that people keep signing up to these type of trials to push research forward."