A trial looking at hydrogen peroxide to help radiotherapy work better for breast cancer (KORTUC)
This trial is looking at whether hydrogen peroxide can make breast cancer more sensitive to radiotherapy. This could make the radiotherapy work better. 
The trial is open to people with breast cancer that:
has grown to greater than 3cm in size in the breast and or spread to the nearby lymph nodes or tissues (locally advanced)
or came back in your breast or nearby lymph nodes after treatment (recurrent) 
More about this trial
Doctors use radiotherapy to shrink breast cancer. This can help control the symptoms. 
In this trial researchers are using KORTUC (hydrogen peroxide contained within a gel) with radiotherapy. 
Hydrogen peroxide is a household antiseptic. People sometimes use it to clean and sterilise cuts and grazes. KORTUC is a weakened (diluted) form of hydrogen peroxide mixed with a gel. It is 6 times weaker than the hydrogen peroxide that we use at home. 
KORTUC is injected into the cancer before you have radiotherapy. Once in the cancer the gel slowly releases the hydrogen peroxide into the cancer. The hydrogen peroxide breaks down into oxygen and water. So none of the hydrogen peroxide goes into your bloodstream. 
Research shows that KORTUC might work for people with breast cancer. To find this out half the people in this trial have KORTUC with their radiotherapy and half have radiotherapy on its own. 
The main aim of this trial is to find out how well KORTUC with radiotherapy works compared to radiotherapy on its own.
Who can enter
The following bullet points list the entry conditions for this trial. Talk to your doctor or the trial team if you are unsure about any of these. They will be able to advise you. 
Who can take part
You may be able to join this trial if all of the following apply. You:
have primary breast cancer that has grown to greater than 3cm in size and or spread to the nearby tissue or lymph nodes (locally advanced) or you have breast cancer that has come back in the same area after treatment (local recurrence)
have at least 1 area of cancer that is seen on an ultrasound scan  or MRI scan  and measures between 3cm and 15cm across
are having high dose radiotherapy with the aim to relieve the symptoms of breast cancer and or provide long term control
have an area of cancer where the trial team can inject the hydrogen peroxide into
are willing to use contraception during treatment and for 3 months after radiotherapy if there is any chance you or your partner could become pregnant
are at least 18 years old
Who can't take part
You cannot join this trial if any of these apply. You:
have had radiotherapy to the area of cancer where the team can inject the hydrogen peroxide
have cancer that is near major blood vessels or nerves that would make it difficult to inject the hydrogen peroxide
are having another treatment such as chemotherapy, a targeted drug , or a monoclonal antibody  (MAB) with your radiotherapy apart from trastuzumab (Herceptin), pertuzumab, denosumab and other treatments to prevent bone damage (bisphosphonates) and hormone therapies
can't have an MRI scan. This could be because you are uncomfortable in small spaces, have metal in your body such as a pacemaker, surgical clips, cochlear implant or any other metal pieces
are allergic to hydrogen peroxide or any of its ingredients
are pregnant or breastfeeding
Trial design
This a phase 2 trial the team need a 184 people to join. 
It is a randomised trial. There are 2 groups. Neither you nor your doctor chooses which group you are in. The 2 groups are:
radiotherapy on its own
radiotherapy with hydrogen peroxide
You have a planning appointment before starting radiotherapy. This so the radiotherapy team can work out the dose and where you need it. 
As part of the trial everyone has an MRI scan before they start their radiotherapy treatment. This so the team can accurately measure the size of your cancer. 
KORTUC is hydrogen peroxide in a slow release gel. You have the gel injected into the cancer before having radiotherapy. 
A specialist member of staff injects the hydrogen peroxide. Before the injection you have a local anaesthetic

 to numb the area of skin. A staff member uses an ultrasound scan

 to guide where to give the injection. This takes 10 to 15 minutes. The gel slowly releases the hydrogen peroxide over 1 to 2 days after each injection. 
You start having the injections on the 2nd week of radiotherapy. You have the injection before your radiotherapy. You have 4 to 6 doses over 2 to 3 weeks. This means that you have 2 injections a week. 
MRI sub study
This is an extra scan you have at the end of your routine MRI scan. It adds an extra 6 minutes to the scan. You have it at:
You also have an extra MRI scan at the end of your radiotherapy. This takes about 30 minutes. 
The aim of this sub study is to:
improve ways of finding out if the treatment is working
understand how KORTUC works 
Ultrasound sub study
This sub study is only open to people having treatment at the Royal Marsden Hospital. 
Imperial College London Hospital has developed a new 3 dimensional (3D) ultrasound technique that looks at how blood flows through cancers. This ultrasound scan takes about 20 minutes. You have it:
before you start radiotherapy
at the end of radiotherapy
6 months later then at
1 year
They hope this ultrasound scan along with the MRI scan can improve doctor's ability to work out how well the treatment is working. 
Blood and tissue samples for research
You give extra blood samples 4 times during the trial. 
The team ask to get a piece of the tissue sample from routine hospital tests. 
You give 2 extra tissue samples:
before you start radiotherapy 
after having 2 weeks of radiotherapy
Researchers use these blood and tissue samples to:
look for substances (biomarkers ) that might show how well treatment is working
find more about how KORTUC works
You can choose if you want to take part in the sub studies and if you want to give both or either of the samples. 
Hospital visits
You see the doctor for tests before taking part. These tests include:
After your radiotherapy you see the doctor at:
2 weeks
3 months and then 
every 3 months to 2 years
Side effects
The trial team monitor you during treatment and afterwards. Contact your advice line or tell your doctor or nurse if any side effects are bad or not getting better.
You might have some mild pain in the area of cancer where you have the injection. This can last between a few minutes and several hours after the injection.
There is a very small chance you might get a mild form of tumour lysis syndrome. This happens when KORTUC breaks down the cancer faster than it takes the body to get rid of the waste products caused by the breakdown. The symptoms include:
tummy (abdominal) pain or pain at the side of the body
bloated (distended) tummy
passing less urine than usual
muscle weakness and cramps
loss of appetite
and possibly being sick (vomiting)
Contact your health team or advice line straight away if you have any of these symptoms after having KORTUC. 
We have information about radiotherapy to the breast. 
Your doctor or a member of the trial team will talk to you about the possible side effects of the treatments before you agree to take part. 
How to join a clinical trial
Please note: In order to join a trial you will need to discuss it with your doctor, unless otherwise specified.
Please note - unless we state otherwise in the summary, you need to talk to your doctor about joining a trial.
Supported by
Institute of Cancer Research (ICR)
CRUK Convergence Science Centre
Kortuc Inc
CRUK internal database number:
Please note - unless we state otherwise in the summary, you need to talk to your doctor about joining a trial.
Caroline took part in a clinical trial for breast cancer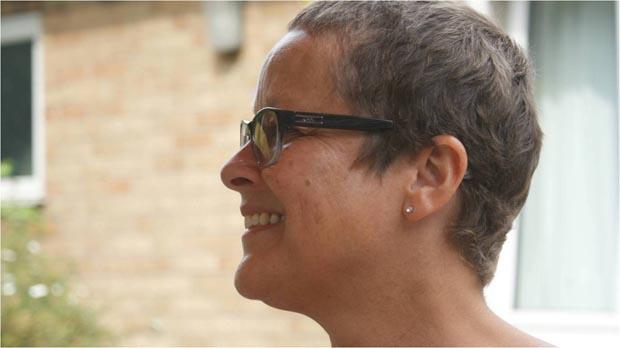 "I had treatment last year and I want to give something back."