A trial comparing a combination of surgery and sunitinib with sunitinib alone for kidney cancer that has spread (CARMENA)
Coronavirus (COVID-19)
We know that this is an especially worrying time for people with cancer and their family and friends. We have separate information about coronavirus and cancer. Please read that information alongside this page. We will update that information as guidance changes.
Please note - this trial is no longer recruiting patients. We hope to add results when they are available.
This trial is looking at whether or not surgery helps people who are having sunitinib for kidney cancer that has spread to other parts of the body.
The most common type of kidney cancer is renal cell cancer. There are several different types of renal cell cancer that are identified by looking at the cancer cells under a microscope. The most common is clear cell.
Treatment for renal cell cancer has improved during the last few years with the development of new biological therapies.
Sunitinib is a type of biological therapy called a tyrosine kinase inhibitor (TKI for short). TKIs block tyrosine kinase, which is a chemical messenger that sends messages telling cells to divide and grow. Blocking the effect of tyrosine kinase may stop cancer cells growing.
If the cancer has spread outside your kidney, having an operation to remove your kidney (a nephrectomy) will not cure the disease, and it is a big operation to have. In the past, having surgery to remove the kidney did help people to live longer. But with the new types of biological therapy now available, doctors don't know if people still benefit from having this type of surgery.
The aim of this trial is to find out if having surgery to remove the kidney as well as sunitinib is better at treating clear cell renal cancer than sunitinib alone.
Who can enter
You can enter this trial if you
Have clear cell kidney cancer that has spread to other parts of your body
Are well enough to carry out all your normal activities, apart from heavy physical work (performance status of 0 or 1)
Are able to have surgery to remove your kidney (nephrectomy)
Are going to have sunitinib to treat your kidney cancer
Have satisfactory blood test results
Are willing to use reliable contraception if there is any chance you or your partner could become pregnant
Are at least 18 years old
You cannot enter this trial if you
Have already had treatment for kidney cancer
Have cancer in both kidneys
Have cancer that has spread to your brain unless it has been successfully treated in the last 6 weeks, is not causing symptoms and you don't need to take steroids
Have a serious heart problem or any other serious medical problems
Have had any sort of blood clot (thrombosis) in the last 3 months
Have serious problems with your digestive system
Have had treatment as part of another clinical trial in the last 4 weeks
Are pregnant or breastfeeding
Have had any other cancer apart from non melanoma skin cancer or prostate cancer that had not spread and that was successfully treated at least 5 years ago
Trial design
This study will recruit 1,134 patients from the UK and Europe.
This is a randomised trial. The people taking part are put into 1 of 2 treatment groups by a computer. Neither you nor your doctor will be able to decide which group you are in.
People in group 1 have surgery to remove the cancerous kidney as well as sunitinib
People in group 2 have sunitinib alone
If you are in group 1, you have your surgery soon after joining the trial

. When you have recovered from the operation, you start sunitinib.
If you are in group 2 you start sunitinib soon after joining the trial.
People in both groups take sunitinib tablets once a day for 4 weeks, followed by 2 weeks with no tablets. This 6 week period is called a treatment cycle. You can carry on taking sunitinib for as long as it helps you.
If you have not already had a biopsy

to confirm that you have clear cell cancer, you will need to have one at the beginning of the trial.
If you have a nephrectomy, the trial team will ask your permission to take a sample of tissue during surgery. This sample will be stored safely and may be looked at in the future by the trial team.
Hospital visits
Before you start the trial you will see the trial doctors and have some tests. These will include
If you are in group 1, you will stay in hospital for your surgery. The length of time you stay in hospital depends on how quickly you recover.
When you start sunitinib you will have the following tests.
Physical examination
Blood test
You have these every 6 weeks while you are taking sunitinib. You have them again 4 weeks after you stop taking it.
You will have a heart trace (ECG) and a CT or MRI scan every 12 weeks during treatment, and again 4 weeks after you stop taking sunitinib.
Once you have stopped taking the sunitinib, the study team will contact you every 3 months to find out how you are. They will either phone you or see you at the hospital.
Side effects
There can be possible problems after any surgery. These problems can include, pain, infection and slow wound healing. But surgery for kidney cancer can include the following complications
Blood clots (DVT)
Bleeding
Common side effects of sunitinib include
Tiredness (fatigue)
A rise in blood pressure (hypertension )
There is more information about sunitinib on CancerHelp UK.
How to join a clinical trial
Please note: In order to join a trial you will need to discuss it with your doctor, unless otherwise specified.
Please note - unless we state otherwise in the summary, you need to talk to your doctor about joining a trial.
Supported by
Cancer Research UK
NHS Greater Glasgow and Clyde
NIHR Clinical Research Network: Cancer
Questions about cancer? Contact our information nurses
CRUK internal database number:
Please note - unless we state otherwise in the summary, you need to talk to your doctor about joining a trial.
Around 1 in 5 people take part in clinical trials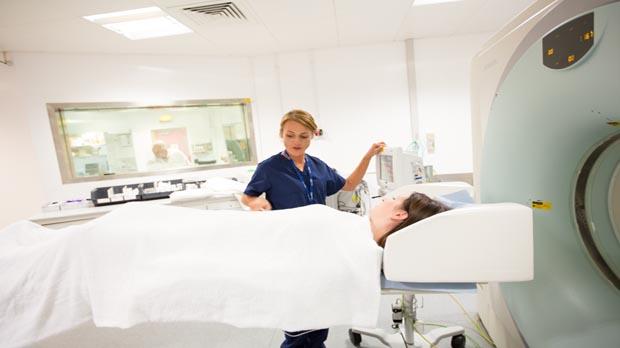 Around 1 in 5 people diagnosed with cancer in the UK take part in a clinical trial.