A trial of brivanib for advanced cancer that cannot be treated in any other way (CA182026)
Coronavirus (COVID-19)
We know that this is an especially worrying time for people with cancer and their family and friends. We have separate information about coronavirus and cancer. Please read that information alongside this page. We will update that information as guidance changes.
Please note - this trial is no longer recruiting patients. We hope to add results when they are available.
This trial is looking at a drug called brivanib to see if it helps people with advanced cancer.
Cancers need a blood supply to help them grow and survive. Growing cancers can attract new blood vessels. This is called 'angiogenesis'. Researchers are looking at ways to stop cancers being able to grow these new blood vessels. Drugs that block cancer blood vessel growth are called anti angiogenics.
In this trial, they are looking at an anti angiogenic drug called brivanib (also known as brivanib alaninate or BMS 582664). Brivanib may be able to stop cancer blood vessels growing by blocking 2 growth factors called VEGF and FGF.
The aim of the trial is to find out if brivanib helps people with advanced cancer

and to see if the drug is safe.
Who can enter
You can enter this trial if you
Have an advanced cancer that cannot be removed with surgery or treated in any other way
Have at least 1 area of cancer that your doctors can measure
Are well enough to take part in the trial and have a performance status of 0 or 1
Have satisfactory blood test results
Have recovered from the side effects of any other treatment
Are willing to use reliable contraception during the trial and for 12 weeks afterwards if there is any chance you or your partner could become pregnant
Are at least 18 years old
You cannot enter this trial if you
Have cancer that has spread to your brain
Have cancer in your lungs that is near to a large blood vessel or is causing a space (cavity) to form inside your lung
Have had any bleeding from your cancer, unless it was a very small amount
Have had an experimental drug as part of another clinical trial in the last 4 weeks
Have already had brivanib
Are having any other type of cancer treatment
Have had minor surgery in the last week, or major surgery in the last 8 weeks
Have had radiotherapy in the last 2 weeks
Have had chemotherapy or biological therapy in the last 3 weeks, or have not recovered from the side effects of earlier treatment
Have had a drug called bevacizumab in the last 8 weeks
Have had any sort of blood clot in the last 6 months that needed treatment with drugs to thin the blood
Have had another cancer apart from non melanoma skin cancer, bladder cancer in situ, cervical cancer in situ, or any other cancer that has been treated successfully and there has been no sign of it (complete remission ) for at least 3 years
Have problems with wounds or ulcers not healing
Have had a heart attack or heart pain (angina) that could not be controlled with medication in the last year
Have heart failure or other heart problems that are a cause for concern
Have had a stroke
Have high blood pressure or any other serious medical condition that cannot be controlled with medication
Cannot swallow or absorb tablets for any reason
Are known to be allergic to brivanib or similar drugs
Are pregnant or breastfeeding
Trial design
This is a phase 2 trial that will recruit about 300 people. At the beginning of the trial, people with different types of cancer including breast cancer could take part, but now it is only recruiting people with ovarian cancer.
Everybody taking part in the trial has brivanib for 12 weeks to begin with. You take up to 4 brivanib tablets every day. You will be asked to keep a diary at home to record when you take your tablets.
After 12 weeks, you have a scan to see if your cancer has got bigger or smaller.
If your cancer has grown in size by a quarter or more, you will stop having brivanib and leave the trial. Your doctor will discuss other treatment options with you.
If your cancer has reduced in size by at least half, you can carry on having brivanib.
If your cancer has not got much bigger, or much smaller, you will be put into 1 of 2 treatment groups by a computer. Neither you nor your doctor can decide which group you are in. This is called randomisation. People in group 1 carry on having brivanib. People in group 2 have dummy (placebo

) tablets.
Neither you nor your doctor will know which group you are in. This is called a 'double blind trial'. But if your cancer starts getting bigger during this part of the trial, the trial doctors can find out if you are taking brivanib or placebo tablets. If are taking the placebo tablets, you can switch back to having brivanib again.
As long as you don't have any bad side effects, you can carry on taking brivanib for as long as it helps you.
The trial doctors will get a sample of tissue removed when you had a biopsy

to diagnose cancer. If there is no tissue available, they may ask you to have another biopsy. And they will get take an extra blood sample at the beginning of the trial.
They will use these samples to learn more about how brivanib works and what happens to it in the body. They will also look at the DNA in your samples to see how genes affect the way people respond to the drug and the side effects they have.
Hospital visits
You will see the trial doctors and have some tests before you start treatment. The tests include
Physical examination
Heart trace (ECG )
Heart scan (Echocardiogram or echo)
Blood and urine tests
You go to hospital once a week for the first 3 weeks of treatment, and then once every 3 weeks after that. You have blood tests at each visit. You have a CT or MRI scan every 6 weeks during treatment, and an echocardiogram every 3 months.
After you finish treatment, you go back to see the trial doctors and have more blood tests and a scan.
Side effects
How to join a clinical trial
Please note: In order to join a trial you will need to discuss it with your doctor, unless otherwise specified.
Please note - unless we state otherwise in the summary, you need to talk to your doctor about joining a trial.
Supported by
Bristol-Myers Squibb
Experimental Cancer Medicine Centre (ECMC)
Questions about cancer? Contact our information nurses
CRUK internal database number:
Please note - unless we state otherwise in the summary, you need to talk to your doctor about joining a trial.
Around 1 in 5 people take part in clinical trials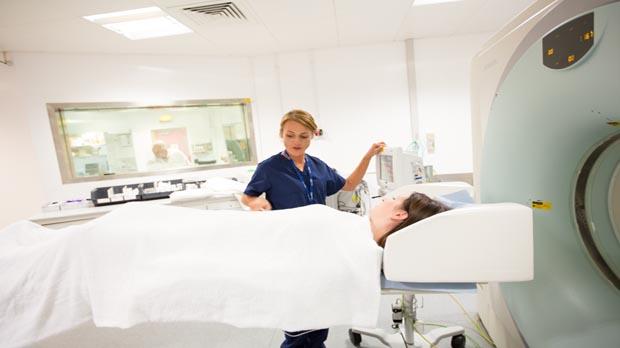 Around 1 in 5 people diagnosed with cancer in the UK take part in a clinical trial.