A study to find genes that may increase the risk of bowel tumours (CORGI study)
Coronavirus (COVID-19)
We know that this is an especially worrying time for people with cancer and their family and friends. We have separate information about coronavirus and cancer. Please read that information alongside this page. We will update that information as guidance changes.
Please note - this trial is no longer recruiting patients. We hope to add results when they are available.
Cancer type:
Bowel (colorectal) cancer
The research team are continuing to look at the role genes play in the risk of bowel cancer in their study called CORGI 2.
This study is trying to find genes that may increase your risk of bowel cancer or non cancerous tumours called polyps and adenomas.
We know from research that certain genetic factors you inherit from your parents may affect your risk of getting tumours in your bowel. This includes polyps

and adenomas as well as bowel cancer.
In this study, the researchers will look at the genes of a large number of people who have had a tumour in their bowel. They will look for common gene faults that may increase the risk. And they will find out more about people's family history to see if any of their relatives have also had tumours in the bowel.
The aim of the study is to identify genes that may cause bowel tumours.
Who can enter
You can enter this study if you (or a relative) have had a bowel tumour.
You cannot enter this trial if you are known to have an inherited condition with a gene fault that increases your risk of bowel tumours.
Trial design
The study will recruit about 3,000 people. If you have had a bowel tumour, a doctor who has been involved in your care will talk to you about the study, or send you a letter explaining it.
If you agree to take part after talking to your doctor, they will give you a letter containing more information. They will ask you to sign a consent form and fill in a questionnaire with questions about your medical history and that of your family. Then they will arrange for you to give a blood sample. This can usually be done when you are due to have another routine blood test.
If you want longer to think about the study, you can take away some information and contact the research team later on if you decide you do want to take part.
If you receive an initial letter about the study and decide you want to take part, you return a reply slip to the research team. A member of the research team will then contact you by phone to give you more information about the study. If you agree to take part, they will then send you
A letter containing more information
The questionnaire about you and your family's medical history
A consent form for you to sign
A blood sampling kit
You give a small sample of blood at your GP surgery or hospital. They will use the blood sampling kit provided by the researchers and send it back to them, along with the completed questionnaire and signed consent form.
The researchers will look at the DNA in the blood samples to try and find genes that may increase the risk of bowel tumours. By signing the consent form, you also give them permission to look at your medical records.
If you have had surgery to remove a bowel tumour, the researchers may get a sample of the tissue that was removed. They will do further genetic tests on this tissue sample.
If any of your close relatives have also had a bowel tumour, the researchers may ask you to contact them about the study. If a relative agrees, the researchers will contact them by phone and invite them to take part.
You may also ask a relative by marriage, who hasn't had a bowel tumour to take part in the study. This is because the research team need blood samples from a group of people to use as a comparison. This is known as a control group. The control group will be made up of people who
Have not had a bowel tumour themselves
Don't have any close relatives who have had a bowel tumour
All the information you and your relatives give will be kept confidential

. No results will be given to the people taking part, or to their doctors. Taking part will have no effect on medical care for you or your family.
Hospital visits
The only extra visit will be if you need to go to your GP surgery for the blood test.
You may have already seen a genetics specialist, but if you haven't and the study team think you have a strong family history, they will suggest you talk to your GP about being referred to a genetics service.
Side effects
You may have a small bruise where the blood sample is taken.
How to join a clinical trial
Please note: In order to join a trial you will need to discuss it with your doctor, unless otherwise specified.
Please note - unless we state otherwise in the summary, you need to talk to your doctor about joining a trial.
Supported by
Cancer Research UK
NIHR Clinical Research Network: Cancer
University of Oxford
Questions about cancer? Contact our information nurses
CRUK internal database number:
Please note - unless we state otherwise in the summary, you need to talk to your doctor about joining a trial.
Alan took part in a clinical trial for bowel cancer patients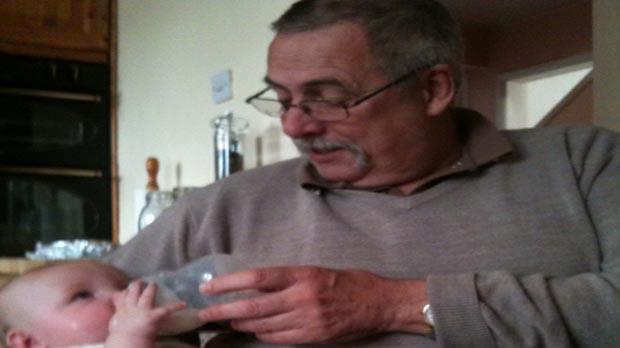 "I think it's essential that people keep signing up to these type of trials to push research forward."