A study of palbociclib with hormone therapy for women with early breast cancer (PENELOPE-B)
Coronavirus and cancer
We know it's a worrying time for people with cancer, we have information to help. If you have symptoms of cancer contact your doctor.
Please note - this trial is no longer recruiting patients. We hope to add results when they are available.
This study is for women who have had chemotherapy before surgery. It is open to women whose breast cancer cells:
have receptors for the hormones oestrogen or progesterone (is hormone receptor positive)
are HER2 negative
Doctors call this luminal type breast cancer. 
More about this trial
Surgery and chemotherapy are the usual treatments for early breast cancer. But sometimes, there are some remaining cancer cells after treatment. This means you have an increased risk of the cancer coming back. So you usually have 5 years of hormone therapy such as tamoxifen, letrozole, anastrozole or exemastane.
Researchers are looking at new treatments to improve hormone therapy.
In this study, they looking at a drug called palbociclib. It is a targeted cancer drug.
It targets and blocks the proteins that help cancer cells to divide and grow. Doctors think having it alongside hormone therapy might help stop the cancer coming back. But they don't know for sure, so they want to find out more.
In this study, some women have hormone therapy and palbociclib. And some women have hormone therapy and a dummy drug (placebo

)
The aims of this study are to find out:
if palbociclib and hormone therapy can increase the time before the cancer comes back
if having palbociclib and hormone therapy can help women live longer
what the side effects are
about quality of life
Who can enter
The following bullet points list the entry conditions for this study. Talk to your doctor or the study team if you are unsure about any of these. They will be able to advise you.
You might be able to join this study if all of the following apply.
You are a woman with invasive breast cancer
You have had at least 16 weeks of chemotherapy before surgery including 6 weeks of a taxane drug  - you might be able to take part if your cancer got worse before you completed the 16 weeks of chemotherapy but you had the 6 weeks of taxane treatment
You have had surgery to remove the cancer in your breast
There are some remaining cancer cells in your breast or lymph nodes  following your chemotherapy and surgery
You have had radiotherapy after surgery
You have had surgery within 16 weeks of joining the study or radiotherapy within 10 weeks
There is a tissue sample of your cancer available for the study team to do some tests
Your cancer is hormone receptor positive and HER2 negative
You are well enough to carry out all your normal activities, apart from heavy physical work (performance status 0 or 1)
You are willing to use reliable contraception during treatment and for up to 90 days afterwards if there is any chance that you could become pregnant
You have satisfactory blood test results
You are at least 18 years old
You cannot join this study if any of these apply. You
Cancer related
Have breast cancer that grew into surrounding tissue or spread to another part of the body when you were having chemotherapy before surgery – you might be able to take part if the cancer got worse in the area it started
Have had treatment with palbociclib or a similar drug in the past
Have side effects from chemotherapy unless they are mild apart from hair loss
Have had any other cancer in the last 5 years apart from carcinoma insitu of the cervix (CIS) or basal cell skin cancer  that was successfully treated
Are having or have had treatment with an experimental drug as part of a clinical trial in the last 30 days
Medical conditions
Have problems with your heart, such as a heart attack in the last 6 months, high blood pressure that is not well controlled, angina that is not well controlled, an abnormal rhythm of your heart, congestive heart  failure, or heart bypass surgery
Have had a stroke or blood clot in your lungs in the last 6 months
Have a digestive system  problem such as inflammatory bowel disease, long term diarrhoea, short bowel syndrome or any surgery to your stomach or gut (intestines)
Have a problem with the way your liver and kidneys work, for example your kidneys aren't filtering urine properly
Have had major surgery in the last 2 weeks
Have an infection that isn't getting better or a wound that isn't healing
Have HIV
Have hepatitis B or hepatitis C
Have any other serious medical condition or mental health problem that the study team think could affect you taking part
Other
Are sensitive to palbociclib, similar drugs or anything they contain
Have taken medication that affects body substances called CYP enzymes in the last 7 days
Are pregnant or breastfeeding
Trial design
This phase 3 study is taking place worldwide. The researchers need 1,250 people to take part including 35 in the UK.
It is a randomised study. You are put into 1 of 2 groups. You have one of the following:
hormone therapy and palbociclib
hormone therapy and a dummy drug (placebo)
Neither you nor your doctor will be able to decide which group you are in. And neither of you will know which group you are in. This is called a double blind study.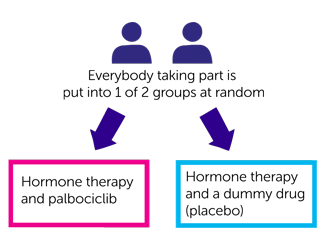 Palbociclib and the dummy drug are capsules. You have treatment over 4 weeks. You take palbociclib or the dummy capsules everyday for 21 days then you have a week off.  Each 4 week period is a cycle of treatment.
You have treatment for up to a year as long as it is helping and the side effects aren't too bad.
You have hormone therapy for 5 years. The study team will tell you more about the type of hormone therapy you have and how often you take it.
Quality of life
Everybody taking part will be asked to fill out a questionnaire before starting treatment, at set times during the study and after finishing treatment. The questionnaire will ask about any side effects you have had and about how you have been feeling. This is called a quality of life study.
Samples for research
The doctors will ask to take some extra blood samples. Where possible, you have these at the same time as your routine blood tests.
They plan to look at:
what happens to palbociclib in the body (pharmacokinetics )
substances called biomarkers  to help work out why treatment might work for some people and not for others
whether there is DNA from cancer cells known as circulating tumour DNA or ctDNA in your blood
You don't have to agree to give a blood sample looking at circulating tumour DNA. You can still take part in the study.
Hospital visits
You see a doctor and have some tests before you can take part. These include:
a physical examination
blood tests
heart trace (ECG )
mammogram
You might also have a bone scan

 and PET-CT scan.
You see the doctors for a check up and some blood tests every:
2 weeks for 2 months
once a month after that
The blood tests check your general health and you will also have a blood test regularly that checks your glucose (sugar) levels.
When you finish treatment, the study team will follow you up for 3 years. You have a:
routine check up every 6 months
mammogram or MRI once a year
Side effects
As palbociclib is a new drug, there might be some side effects we don't know about yet. The study team will monitor you during the time you have treatment and you'll have a phone number to call them if you are worried about anything.
So far the most common side effects include:
a drop in blood cells causing an increased risk of infection, bleeding problems, tiredness and breathlessness
tiredness (fatigue)
shortness of breath
cough
tummy pain
swelling in hands and feet
fevers
joint pain or back pain
flatulence (passing gas)
How to join a clinical trial
Please note: In order to join a trial you will need to discuss it with your doctor, unless otherwise specified.
Please note - unless we state otherwise in the summary, you need to talk to your doctor about joining a trial.
Supported by
German Breast Group (GBG)
Pfizer
ICR Clinical Trials and Statistics Unit (ICR-CTSU)
CRUK internal database number:
Please note - unless we state otherwise in the summary, you need to talk to your doctor about joining a trial.
Caroline took part in a clinical trial for breast cancer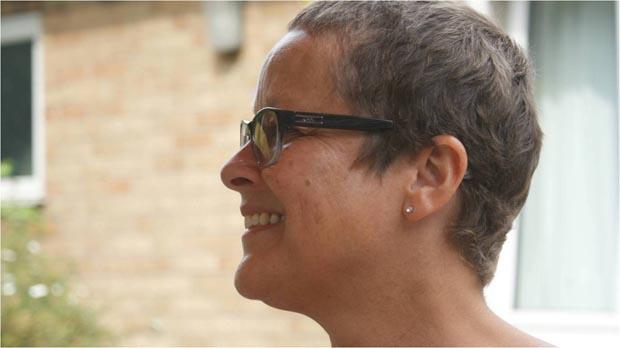 "I had treatment last year and I want to give something back."