A study of FOLFOX-A chemotherapy for cancer of the pancreas that has spread (PRIMUS 001)
This study is comparing FOLFOX-A chemotherapy with AG chemotherapy for pancreatic cancer that has spread elsewhere in the body. It is for people who haven't had treatment for pancreatic cancer that has spread.
The Primus 001 study is part of a large research programme looking at new treatments for cancer of the pancreas. To take part in Primus 001, you must have already joined a study called Precision Panc. In this study, your doctor looked at the make up of your cancer and they have now matched you to have the treatment in this trial. 
Cancer Research UK supports this trial.
More about this trial
Cancer of the pancreas
that has spread elsewhere in the body can be difficult to treat. This is called metastatic pancreatic cancer. You might have a type of chemotherapy treatment called AG. This is a standard treatment and includes the drugs:
nab paclitaxel 
gemcitabine
FOLFOX-A is a newer combination of chemotherapy. It includes folinic acid and the chemotherapy drugs:
fluorouracil (5FU)
oxaliplatin
nab paclitaxel 
Doctors have used these drugs to treat pancreatic cancer for many years. But having them together is a new combination of treatment. Some research suggests that it might work better than standard chemotherapy. But the researchers aren't sure, so they want to find out more.
The aims of the study are to:
find out if FOLFOX-A keeps the cancer under control for longer compared with standard treatment
learn more about the side effects
find out more about quality of life
Who can enter
The following bullet points list the
entry conditions
for this study. Talk to your doctor or the study team if you are unsure about any of these. They will be able to advise you.
Who can take part
You may be able to join this study if all the following apply:
you have joined the Precision Panc study and there are some suitable tissue samples available for the study team to do some tests on
you have cancer of the pancreas that has spread elsewhere in the body and these areas can be measured on a scan
you haven't had any anti cancer treatment for cancer spread
you can look after yourself, apart from heavy physical work (performance status 0 or 1)
you are willing to use reliable contraception during treatment and for 6 months afterwards if there is any chance you or your partner could become pregnant
you have satisfactory blood test results
you are at least 16 years old
Who can't take part
You cannot join this study if any of these apply.
Cancer related
You:
have cancer spread to your brain that isn't stable
have already had chemotherapy for cancer spread elsewhere in the body (you might be able to take part if you had fluoropyrimidine and gemcitabine after surgery and this was at least 6 months ago)
have had an experimental treatment that hasn't completely cleared your body
have had any anti cancer treatment or major surgery within 28 days of joining the study
have had any other cancer in the last 3 years apart from non melanoma skin cancer  that you have had treatment for, early cervical cancer or early prostate cancer that you have had treatment for or it is stable
Medical conditions
You:
have a heart problem such as fluid around the heart (congestive heart failure), a heart attack or angina that isn't well controlled
have had a stroke or mini stroke (TIA)

have an active infection including herpes or chicken pox

are having any antiviral treatment such as brivudine or sorivudine

have very bad diarrhoea

have moderate to severe numbness or tingling in your hands or feet

have a condition called DPD (stands for dihydropyridine dehydrogenase which means you can't break down chemotherapy properly). People with a partial DPD deficiency are suitable for the study.

have a mental health problem or medical condition that means you can't take part in the study
Other
You:
are sensitive to any of the study drugs
are pregnant or breastfeeding
Trial design
This is a
phase 2 study
. The study team need 500 people to take part. 
It is a
randomised study
. You are put into treatment groups by a computer. Neither you nor your doctor will be able to decide which group you are in.
You are put into 1 of the following groups:
FOLFOX-A
nab paclitaxel and gemcitabine (AG group)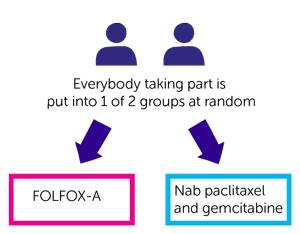 FOLFOX-A treatment group
Each 2 week period is a
cycle of treatment
. The first day of each treatment cycle is called day 1. You have all your treatment on day 1. You have the nab paclitaxel first and then have the oxaliplatin and folinic acid. This takes 2 and a half hours. Although you might be at hospital for longer than this. Then you start the 5FU.
You have the 5FU as a continuous infusion over 2 days. You have it through a small pump connected to either a
central line

 or
PICC line

. You can carry the pump on a belt or in a bag. You can go home with the pump. The nurses will tell you how to look after it.
AG treatment group
Each 4 week period is a cycle of treatment. 
You have treatment on:
Treatment takes about an hour each time. You usually have this as a day patient and will be at the hospital for a few hours.
Both treatment groups
You have treatment for as long as it is working and the side effects aren't too bad.
Quality of life
The researchers will ask you to fill out questionnaires before starting treatment and then every 4 weeks or 8 weeks. These take about 30 minutes to complete. The questionnaires will ask about side effects and how you've been feeling. This is called a
quality of life study
.
Research samples 
The study team will ask you to give some extra blood samples:
before starting treatment
2 months after treatment starts
if your cancer starts to grow again
The researchers plan to use these samples to look for
biomarkers

. This might help develop a blood test to:
detect if cancer comes back
check how well treatment is working rather than using CT scans
You have the blood tests at the same time as your routine blood tests.
Hospital visits
You'll see a doctor before you take part to have some tests. These include:
blood tests
physical examination
heart trace (ECG)
You go to hospital every 2 weeks while you are having FOLFOX-A. You go to hospital once a week for 3 weeks out of every 4 while having AG.
At each visit you have blood tests and see the study doctor for a check up. You have a CT scan every 3 months.
When you stop treatment, you see the study team every:
3 months in the first year
6 months in the second year
then once a year for the following 3 years
Side effects
The side effects of both FOLFOX-A and AG are:
a drop in the number of blood cells causing an increased risk of infection, bleeding problems, tiredness and breathlessness
feeling or being sick
numbness or tingling in your hands or feet
fluid loss (dehydration)
hair loss or thinning
tiredness (fatigue)
headache
shortness of breath
cough
nose bleeds
stomach pain
swelling
dizziness
fever or chills
weight loss
depression
difficulty sleeping
loss of appetite
low levels of potassium in the blood
Some other common side effects of FOLFOX-A are:
a sore mouth
an unpleasant sensation in the throat
redness, swelling and pain on the palms of your hands and soles of your feet
an allergic reaction, including a skin rash
We have more information about:
How to join a clinical trial
Please note: In order to join a trial you will need to discuss it with your doctor, unless otherwise specified.
Please note - unless we state otherwise in the summary, you need to talk to your doctor about joining a trial.
Supported by
Cancer Research UK
NHS Greater Glasgow and Clyde
Celgene
CRUK internal database number:
Please note - unless we state otherwise in the summary, you need to talk to your doctor about joining a trial.
Charlie took part in a trial to try new treatments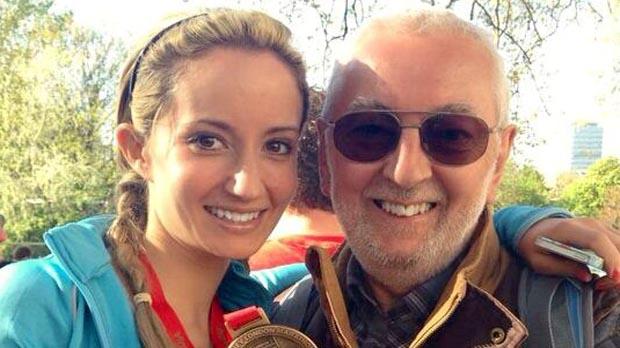 "I think it's really important that people keep signing up to these type of trials to push research forward."