A study of blinatumomab for B cell non Hodgkin lymphoma
Please note - this trial is no longer recruiting patients. We hope to add results when they are available.
This study is for people who have fast growing lymphoma that has come back or is no longer responding to treatment.
More about this trial
Rituximab and chemotherapy are the usual treatments for B cell non Hodgkin lymphoma that is fast growing (high grade). Unfortunately, treatment can stop working or the lymphoma can come back. Doctors might treat it with rituximab and chemotherapy again, followed by a stem cell transplant

.
Doctors know that if you have had rituximab in the past, it doesn't always work as well the second time. So they are looking at new treatments.
In this study, they are looking at a drug called blinatumomab. It is a targeted cancer drug (biological therapy

) called a monoclonal antibody. Antibodies help the white blood cells (a part of the immune system

) to defend the body against bacteria and viruses. They can also help attack cancer cells. 
Blinatumomab seeks out particular proteins on the surface of cells. One part binds to the surface of a cancer cell. The other part binds to the surface of a white blood cell. This helps the white blood cells to find and kill the cancer cells. 
Researchers want to see if it helps to get rid of all signs of the lymphoma before going on to have a stem cell transplant. This is called having a complete molecular response. You have a PET-CT scan

 to check for this. 
This study is in 2 parts. Part 1 is looking at blinatumomab followed by a stem cell transplant. Part 2 is comparing blinatumomab with standard treatment 

that includes chemotherapy and rituximab followed by a stem cell transplant. 
The aims of this study are to find out:
how well blinatumomab works
how safe it is
if blinatumomab is better than rituximab and chemotherapy for people having rituximab a second time 
more about the side effects
more about quality of life
Who can enter
The following bullet points list the entry conditions for this study. Talk to your doctor or the study team if you are unsure about any of these. They will be able to advise you. 
You might be able to join this study if all of the following apply. You
Have a fast growing (high grade) B cell non Hodgkin lymphoma such as diffuse B cell lymphoma or follicular lymphoma that was grade 3b at diagnosis
Had rituximab and chemotherapy as your first treatment and it stopped working or the lymphoma came back 
Have had at least 2 cycles of the usual treatment given before a stem cell transplant that included a platinum chemotherapy  drug such as cisplatin or carboplatin and your lymphoma got worse, stayed the same or went away a little bit or you had 1 cycle and your lymphoma got worse
Have an area of lymphoma that can be seen on a scan and measures at least 1.5cm across or you have an area of lymphoma outside the lymph glands   that measures at least 1cm across 
Have had a recent sample of tissue (biopsy)  taken of your lymph nodes which showed your lymphoma has come back 
Are suitable to have high dose chemotherapy and a stem cell transplant 
Are well enough to be up and about for at least half the day (performance status 0,1 or 2)
Are willing to use reliable contraception during treatment and for up to 48 hours after the last dose of blinatumomab
Have satisfactory blood test results
Are at least 18 years old
You cannot join this study if any of these apply. You
Cancer related
Have a type of non Hodgkin lymphoma called lymphoblastic lymphoma or Burkitt's lymphoma
Didn't have any signs of your lymphoma after rituximab and chemotherapy (you had a complete molecular response)
Have had high dose chemotherapy and a stem cell transplant in the past
Have had a stem cell transplant with your own cells in the past
Have lymphoma in your brain or spinal cord (central nervous system)
Have had any other cancer in the last 3 years apart from very early cancers that were successfully treated
Have had blinatumomab or a similar type of drug in the past 
Have had treatment as part of a clinical trial within 30 days of joining this study
Medical conditions
Have had a serious condition that affects your brain such as epilepsy, seizures (fits), a stroke or a severe brain injury
Have hepatitis B or hepatitis C
Have HIV
Have any other serious medical condition or mental health problem that the study team think could affect you taking part
Other
Are allergic to blinatumomab, immunoglobulins or anything they contain
Are pregnant or breastfeeding
Trial design
This phase 2/3 study is taking place worldwide. 
The study is in 2 parts. The researchers need 36 people to join part 1 and 296 people to join part 2. The study will include about 4 people in total from the UK. 
In part 1, everyone has blinatumomab and a stem cell transplant. When enough people have joined part 1, then part 2 will begin. 
Part 2 is randomised. You are put into 1 of 2 groups. You have 1 of the following:
blinatumomab followed by a stem cell transplant
rituximab and chemotherapy followed by a stem cell transplant
Neither you nor your doctor will be able to decide which group you are in.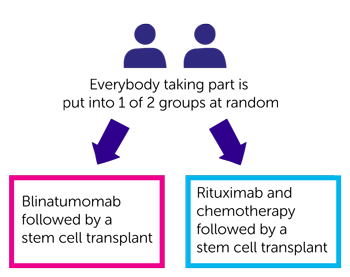 Blinatumomab
You have blinatumomab over 8 weeks followed by 2 to 4 weeks without treatment. This 12 week period is 1 cycle of treatment. You have 1 cycle to begin with. 
You have blinatumomab through a central line

 into a vein in your chest. You have it through a pump. The pump gives you a continuous dose over 8 weeks. It fits into a small bag that you can attach to a belt. So you can go home and walk around as normal. 
If the treatment helps, you might have a 2nd blinatumomab treatment. The study team can tell you more if this applies. 
Chemotherapy and rituximab
In the standard treatment group, you have chemotherapy and rituximab. For example, you might have a treatment called R-CHOP. This includes the drugs:
rituximab
cyclophosphamide
doxorubicin
vincristine
prednisolone
You have treatment in cycles. Each 2 or 3 week period is called a cycle of treatment. You have 6 cycles over 21 weeks. The study team can give you more information about the drugs you are have and how often you have them.
For both treatments, if it helps to get rid of the lymphoma, then you might be able to have a stem cell transplant.
Samples for research
As part of the study, the doctors will ask for some extra blood samples. Where possible, you have these at the same time as your routine blood tests.
They plan to look at:
what happens to blinatumomab in the body (pharmacokinetics )
substances called biomarkers  to help work out why treatment might work for some people and not for others
They might use the samples for future research studies. 
The doctors are also looking at pharmacogenetic testing looking at your genetic material (DNA), in your body cells such as blood and tissue cells. Knowing more about people's genetic material might help the doctors to understand why lymphoma can behave differently in different people and how their bodies respond to treatment. 
They will ask to use blood samples and any tissue samples you have taken during the study. You would not need to have any extra samples taken. 
You don't have to agree to this genetic testing if you don't want to. You can still take part in the study.
Hospital visits
You see a doctor and have some tests before you can take part. These include:
physical examination
blood tests
heart trace (ECG )
You might also have a bone marrow test. 
You stay overnight in hospital for the first 3 days of blinatumomab. You might have to go back to hospital for a short stay if the doctors need to change the dose. Otherwise you continue having the treatment at home. You go to hospital once or twice a week for check ups.
You have your chemotherapy and rituximab in the hospital day unit. You shouldn't need to stay overnight. 
You have a PET-CT scan at the end of blinatumomab treatment. If you are having rituximab and chemotherapy you have PET scan at the end of cycle 3 and 6. 
You have a check up:
1 month after you finish treatment 
every 3 months for 2 years
After that, the study team will contact you at home every 6 months for 2 years to see how you are getting on.
Side effects
Blinatumomab is a new drug for B cell NHL, so there might be some side effects we don't know about yet. The study team will monitor you during the time you have treatment and you'll have a phone number to call them if you are worried about anything. 
So far the most common side effects include:
a drop in the number of blood cells causing an increased risk of infection, bleeding problems, tiredness and breathlessness
tummy pain
tiredness (fatigue)
chest pain
bone, joint or back pain
pain in the arms, legs and hands
cough
rash
problems falling asleep or staying asleep
weight gain
swelling of hands, legs, ankles, feet or face
high levels of sugar (glucose) in the blood
low levels of magnesium or potassium in the blood
There is a small chance that you might have a mild reaction to blinatumomab. This can cause:
chills
fever
headache 
low blood pressure
feeling and being sick
There is also a small chance that blinatumomab can cause central nervous system problems such as:
shaking 
dizziness
seizures (fits)
memory loss
Your doctor will keep a close eye on you and treat these straight away. They will explain all the possible side effects before you join the study.
We have more about side effects of:
How to join a clinical trial
Please note: In order to join a trial you will need to discuss it with your doctor, unless otherwise specified.
Please note - unless we state otherwise in the summary, you need to talk to your doctor about joining a trial.
CRUK internal database number:
Please note - unless we state otherwise in the summary, you need to talk to your doctor about joining a trial.
Cara took part in a clinical trial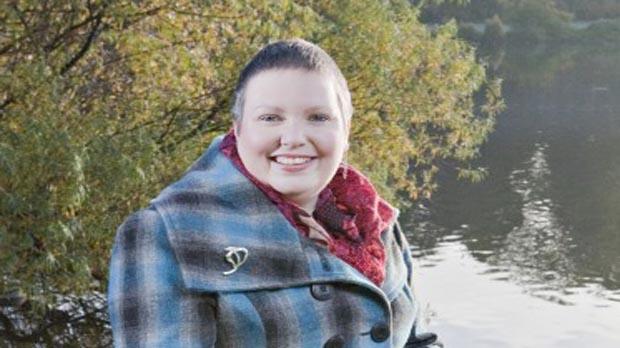 "I am glad that taking part in a trial might help others on their own cancer journey."