A study of alpelisib and hormone therapy for advanced breast cancer (BYLieve)
Please note - this trial is no longer recruiting patients. We hope to add results when they are available.
This study is looking at alpelisib with either fulvestrant or letrozole for advanced breast cancer that has continued to grow.
It is for men and women whose breast cancer has spread into surrounding tissue (is locally advanced) or elsewhere in the body. And whose breast cancer cells have:
receptors for oestrogen or progesterone (is hormone receptor positive)
low or no amounts of HER2 (this is called HER2 negative breast cancer)
a change to the PIK3CA gene
More about this trial
Hormone therapy is one of the usual treatments for advanced breast cancer. You might have this alongside a targeted cancer drug for example, palbociclib or ribociclib. They are both types of drugs CDK 4/6 inhibitors. Unfortunately for some people their cancer may not respond to this treatment or may come back afterwards. Doctors are looking for ways to treat these people.
In this study, they are looking at a drug called alpelisib (also known as BYL719). It is also a type of targeted cancer drug. It is called a cancer growth blocker. It works by blocking the actions of proteins called PI3K (a PI3K inhibitor). This can stop signals that cancer cells use to divide and grow.
Researchers think having alpelisib with the usual hormone therapy drugs fulvestrant or letrozole will help control the cancer. But they want to find out more.
The aims of the study are to:
find out how well treatment works
find out how safe it is
learn more about the side effects
Who can enter
The following bullet points list the entry conditions for this study. Talk to your doctor or the study team if you are unsure about any of these. They will be able to advise you.
Who can take part
You may be able to join this study if all of the following apply.
You:
have breast cancer that has grown into surrounding tissues or spread elsewhere in the body
have breast cancer that has got worse during or after treatment with drugs called CDK 4/6 inhibitors such as palbociclib or ribociclib and this was the last treatment you had
have changes to the PIK3CA gene in your breast cancer cells
have cancer that has few, or no receptors for HER2 (it is HER2 negative)
have cancer that is hormone receptor positive (there are a large number of oestrogen or progesterone hormone receptors)
have 1 area of cancer that can be seen on a scan or the cancer has caused holes in the bone (lytic bone lesions) and you have at least 1 lesion
have satisfactory blood test results
are well enough to be up and about for at least half the day (performance status 0,1 or 2)
are willing to use reliable contraception for up to 8 months if you are a man and there is any chance your partner could become pregnant
are at least 18 years old
Who can't take part
You cannot join this study if any of these apply.
Cancer related
You:
have had treatment with the study drug (alpelisib) or a similar drug in the past
have had more than 2 different treatments for advanced breast cancer
have cancer that has spread to the brain or spinal cord or if you do, your treatment finished at least 28 days ago, it is stable and you haven't taken steroids or drugs to control seizures in the last 2 weeks
have had tamoxifen for 14 days or longer or letrozole, anastrozole or goserelin for 28 days or longer
have cancer spread to the lymphatic system in the lungs
have had another cancer in the last 3 years apart from basal cell skin cancer, squamous cell skin cancer or cancer of the cervix that was successfully treated with surgery
have had radiotherapy in the last 4 weeks or radiotherapy for symptoms in the last 2 weeks before you join the trial and you have side effects unless they are mild apart from hair loss
are having or have had steroid treatment in the 2 weeks before starting alpelisib or you still have side effects from this treatment
have had an experimental treatment as part of another clinical trial in the last 30 days or the drug hasn't completely cleared your body when you join this study
haven't fully recovered from past treatments unless they are mild, apart from hair loss
Medical conditions
You:
have diabetes
are taking any medication that blocks an enzyme called CYP3A4 in the 5 days before joining this study
have a problem with your digestive system that might affect how you absorb the drug
have an inflammation of the lung tissue (pneumonitis) that is active and needs treatment
have had major surgery in the 2 weeks before starting alpelisib
have problems with your heart, such as a heart attack in the last 6 months, high blood pressure that is not well controlled, angina that is not well controlled, an abnormal rhythm of your heart, congestive heart failure or inflammation of the heart muscle that is causing symptoms
have had inflammation of the pancreas (pancreatitis) within 1 year of joining this study
have an active hepatitis B or hepatitis C infection
have HIV
Other:
there are any reasons why you might not be able to stick to the study procedures and visits
​you are allergic to alpelisib, fulvestrant, letrozole, goserelin or leuprolide
Trial design
This is an international phase 2 study. The study team need about 160 people to take part including 3 from the UK.
To begin with, the researchers need to check your breast cancer cells for the PIK3CA gene change (mutation). They will look at a tissue sample (biopsy) your doctor took when you had a previous surgery or biopsy. You might need to give a new sample if there isn't one available.  
You won't be able to take part in the study if it isn't possible to identify if you have the mutated breast cancer gene. Your doctor will talk to you about other treatment options.
In this study, people who had letrozole in combination with their CDK 4/6 inhibitor will have fulvestrant. And people who had fulvestrant in combination with their CDK 4/6 inhibitor will have letrozole. So, depending on the hormone treatment you had prior to this, you are put into 1 of the following treatment groups:
alpelisib and fulvestrant
alpelisib and letrozole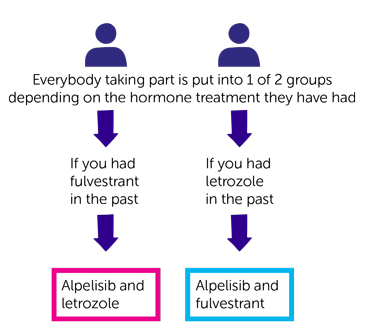 Alpelisib is a tablet. You take the tablets once a day, every day.
Letrozole is a tablet. You take the tablets once a day, every day.
You have fulvestrant as 2 injections, one into each buttock. You have the injections:
twice a month in the first month
then once a month
Women who haven't been through the menopause and some men also have hormone therapy. You have either goserelin or leuprolide. You have this as an injection once a month, every month.  
You have treatment for as long as it is helping you and the side effects aren't too bad. You stop treatment if your cancer gets worse. Your doctor will talk to you about other treatment options.
Research samples
The researchers will ask for samples of your cancer (a biopsy) that the doctors removed when you had surgery or a previous biopsy. They also ask to take some extra blood samples. Where possible, you have these at the same time as your routine blood tests.
They plan to:
look at gene changes (mutations)
look at substances called biomarkers to help work out why treatment might work for some people and not for others
measure tumour cells that have broken away from the cancer and are circulating in the blood
They will ask you to give extra blood and tissue samples if your cancer gets worse. They will use these to look for additional biomarkers. You don't have to give these extra samples if you don't want to. You can still take part in the study.
The researchers might also ask you to give a skin sample (biopsy) if you develop a severe rash.
Hospital visits
You'll see a doctor and have some tests before you start treatment. The tests include:
a physical examination
blood tests
urine tests
heart trace (ECG)
heart scan (echocardiogram) or MUGA scan
You go to hospital to have fulvestrant. You won't need to stay overnight.
You see the doctor:
2 to 3 times in the first 2 months
once a month after that
At each visit you have a physical examination, blood tests and a heart trace.
You have a CT scan and an MRI scan every:
8 weeks for 18 months
12 weeks after that
When you stop treatment, you see the study team after 1 month for a check up.
After that you see them every 3 months at routine hospital appointments or they might phone you to see how you are getting on.
If you stopped treatment early due to side effects, you see the study team and have a scan every:
8 weeks for 18 months
12 weeks
until your cancer gets worse.
Side effects
As alpelisib is a new drug, there may be some side effects we don't know about yet. The study team will monitor you during the time you have treatment and you'll have a phone number to call if you are worried about anything.
The most common side effects of alpelisib include:
skin rash or dry skin
high levels of sugar in the blood
stomach upset (dyspepsia)
feeling or being sick
sore or inflamed mouth (stomatitis)
tiredness (fatigue) and feeling weak
loss of appetite and taste changes
weight loss
fluid loss (dehydration)
drop in the number of red blood cells (anaemia)
tummy (abdominal) pain
swollen arms or legs
fever
leg or arm pain
headache
difficulty sleeping
shortness of breath
changes to how the liver works
low levels of potassium or magnesium
We have information about:
How to join a clinical trial
Please note: In order to join a trial you will need to discuss it with your doctor, unless otherwise specified.
Please note - unless we state otherwise in the summary, you need to talk to your doctor about joining a trial.
CRUK internal database number:
Please note - unless we state otherwise in the summary, you need to talk to your doctor about joining a trial.
Charlie took part in a trial to try new treatments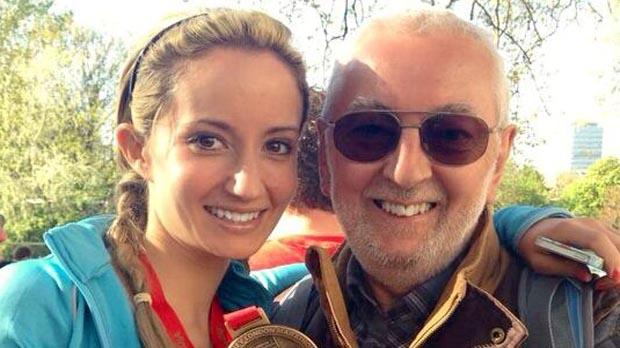 "I think it's really important that people keep signing up to these type of trials to push research forward."