A study looking at nelfinavir and chemoradiotherapy for pancreatic cancer (SCALOP-2)
Coronavirus and cancer
We know it's a worrying time for people with cancer, we have information to help. If you have symptoms of cancer contact your doctor.
Please note - this trial is no longer recruiting patients. We hope to add results when they are available.
This study is for people who have pancreatic cancer that hasn't spread to other parts of the body but can't be removed with surgery. We call this locally advanced cancer.   
There are 2 stages to this study. The first stage looked at finding the best dose of nelfinavir to have with chemoradiotherapy.  The 2nd stage is looking at having this dose with chemoradiotherapy.
Cancer Research UK supports this trial.
More about this trial
Treatment for locally advanced
pancreatic cancer
is usually either chemotherapy alone or a combination of chemotherapy and radiotherapy (chemoradiotherapy). But these treatments do not get rid of the cancer and so doctors are looking at how they can improve these treatments.
In this study, doctors want to see if increasing the dose of radiotherapy works better. They also want to see if having a drug called nelfinavir with a chemotherapy and radiotherapy makes the treatment better. The chemotherapy drug you have in this trial is
capecitabine
.
Nelfinavir is a type of drug called an antiretroviral. It is a treatment for human immunodeficiency virus (HIV). Doctors think it might help radiotherapy to work better. They think that it does this by increasing the amount of oxygen and blood supply to the cancer.  This will make the cancer cells more sensitive to the effects of the radiotherapy.
The aims of this study are to:
find the best dose of nelfinavir
learn about the side effects of combining nelfinavir, capecitabine and radiotherapy
find out if increasing the dose of radiotherapy can help people live longer
find out if adding nelfinavir to chemoradiotherapy can delay the cancer coming back
Who can enter
The following bullet points list the
entry conditions
for this study. Talk to your doctor or the study team if you are unsure about any of these. They will be able to advise you.
Who can enter
You may be able to join this study if all of the following apply. You:
have been diagnosed with pancreatic cancer and are unable to have surgery to remove this (locally advanced pancreatic cancer)
have a tumour that measures 6 cm or less
are well enough to carry out all your normal activities, apart from heavy physical work (performance status of 0 or 1)
have satisfactory blood test results
are aged 18 years or older
Women who take part and who could possibly become pregnant must be willing to use reliable contraception during their:
chemotherapy and for 6 month afterwards 
chemoradiotherapy and for 6 months afterwards 
Men who take part who have a partner who could possibly become pregnant must be willing to use reliable contraception during their:
chemotherapy and for 6 months afterwards
chemoradiotherapy and for 3 months afterwards 
Who cannot enter
You can't join this study if any of these apply.
Cancer related
You:
have pancreatic cancer that can be removed by surgery
have a type of cancer of the pancreas called lymphoma or a neuroendocrine tumour
have cancer that has spread elsewhere in the body (metastatic disease)
have pancreatic cancer that has come back after surgery
have had any other cancer in the last 3 years, apart from carcinoma in situ of the cervix or basal cell skin cancer  that was successfully treated or another early stage cancer that was successfully treated and there haven't  been any signs of any cancer for at least 3 years
have had radiotherapy to your upper abdomen
have had any experimental treatment, including chemotherapy and immunotherapy, within 6 weeks of joining the study
Medical conditions
You:
are taking the following drugs and you are not able to stop them during the time you have chemoradiotherapy- sorivudine and analogues such as brivudine, methotrexate, allopurinol, dipyridamole
have any problem with your kidneys such as adult polycystic kidney disease or hydronephrosis that would stop you being able to have radiotherapy
have heart problems such as coronary artery disease which is not controlled by medication or you have had a heart attack or stroke in the last 6 months
have haemophilia A or B
have chronic hepatitis B or hepatitis C
have HIV
have low levels of a protein called DPD (this helps your body to break down chemotherapy)
have galactose intolerance, Lapp-lactose deficiency or glucose-galactose malabsorption
have had a severe reaction to a group of chemotherapy drugs called fluoropyrimidine
are sensitive or allergic to any of the study drugs or their ingredients
have any other serious medical condition or mental health problem that the trial team think could affect you taking part
Other
You:
are pregnant or breastfeeding
Trial design
This is a
phase 2 study
. It is in 2 stages. In the first stage doctors needed up to 27 people to take part. 
In the 1st stage the study team found the best dose of nelfinavir. They will use this dose in stage 2 of the study.
Stage 2
In this stage, the team need about 168 people to join the study. 
Everyone has a course of chemotherapy, you have the drugs
gemcitabine
and nab-
paclitaxel
. We call this combination of chemotherapy GEMABX. 
You have both drugs through a drip into a vein.  You have them once a week for 3 weeks then you have a week of no treatment. Each 4 week period is called a
cycle of treatment
. 
You have 3 cycles then you have a
CT scan
. This is so the doctors can see what is happening to your cancer.  
People whose cancer stayed the same or shrunk (responded) are put into 1 of 4 groups (
randomised
). 
People whose cancer has continued to grow or aren't willing to be randomised are put into the observation group. 
Observation group
Your doctor will discuss with you what your best treatment options are. You will have regular follow up as part of the study. 
Randomisation
The study team need about 96 people to be randomised as part of the study. 
You have 1 more cycle of chemotherapy. Then you are put into 1 of 4 groups. Neither you nor your doctor can choose which group you are in. 
You will be put into one of the following treatment groups:
nelfinavir, capecitabine and 5½ weeks of radiotherapy
nelfinavir, capecitabine and 6 weeks of radiotherapy at a higher dose
capecitabine and 6 weeks of radiotherapy at a higher dose
gemcitabine and nab-paclitaxel (GEMABX)
Chemoradiotherapy
People having chemoradiotherapy start it within 4 to 6 weeks of finishing your last dose of chemotherapy. The treatment will last for 5 ½ weeks or 6 weeks. Everyone has:
radiotherapy-  Monday to Friday
capecitabine tablets twice a day - Monday to Friday
Some people also have nelfinavir tablets twice a day. You start these 7 days before starting radiotherapy and you take them every day until the end of radiotherapy.
You take both capecitabine and nelfinavir after a meal, for example breakfast and an evening meal. Or with as much food you can manage. 
You record the days and times you take your tablets on a diary card the nurse gives you. A research nurse checks your diary card when you go for treatment. 
Quality of life
You fill in a questionnaire before you start treatment and at 5 other visits to the hospital. The questions ask about how you are feeling and any side effects you might have. This is a quality of life study. 
Tissue samples
The team will ask for a piece of tissue (biopsy) form when you were first diagnosed. 
They might also ask for a small piece of tissue if your cancer gets worse while having treatment. You don't have to agree to have this sample taken if you don't want to. You can still take part in the main trial. 
The researchers use the tissue samples to find put more about pancreatic cancer and how to treat it. 
Blood samples
You have a blood sample taken before you start nelfinavir to make sure you are fit enough to have it. And 2 after you finish treatment to see how well your body coped with the drug.
You might also have to have an extra blood test when the doctors are checking to see if you are able to join the trial. You will only have this if there are no recent blood test results available. 
They will also ask for extra blood samples:
when you agree to take part in the trial
during treatment
after treatment has finished
if your caner gets worse
You don't have to agree to have these blood tests if you don't want to. You can still take part in the main trial. 
Researchers will use these samples to find out more about pancreatic cancer and how to treat it.
Hospital visits
You see the doctors and have some tests before you start treatment. The tests include:
blood tests
a physical examination
CT scan (if you haven't had one done in the last 28 days) or a PET-CT scan
test to see how well your kidneys work, for example a 24 hour urine collection, if needed
You see the doctor regularly through treatment:
for blood tests
a physical examination
to see how you are
Once you have finished your treatment you see the doctors every 3 months for the first year. You have blood tests and a CT scan at these visits. After the first year your doctors will tell you how often they need to see you. They will also tell you what tests you need to have.
Side effects
The most common side effects of gemcitabine are:
a drop in blood cells causing an increased risk of infection, bleeding problems, tiredness and breathlessness
flu-like symptoms (headaches, muscle aches (myalgia), a high temperature and shivering)
swelling in your face, hands or feet
blood in your pee
The most common side effects of nab-paclitaxel (Abraxane) are:
feeling or being sick
numbness, tingling and weakness in your hands and feet (peripheral neuropathy)
sore mouth or mouth ulcers
aching joint and muscles
stomach pain
dizziness
swelling of your body
high temperature (fever) and shivering (chills)
taste changes
weight loss
difficulty sleeping
depression
shortness of breath
itchiness
low level of potassium in the blood that can cause irregular heart beat and muscle cramps
dehydration
The most common side effects of capecitabine are:
diarrhoea
feeling or being sick
mouth ulcers
loss of appetite
tummy (abdominal) pain
soreness, redness and peeling on the palms of the hands and soles of the feet (palmar - plantar syndrome)
The most common side effects of nelfinavir are:
wind (flatulence)
diarrhoea
skin rash
feeling or being sick
changes to your blood test results (full blood count and liver function tests)
The most common side effects of radiotherapy are:
tiredness
feeling or being sick
diarrhoea
skin reaction (redness or soreness)
We have more information about:
Your doctor will talk to you about the possible side effects of all treatments you might have. 
How to join a clinical trial
Please note: In order to join a trial you will need to discuss it with your doctor, unless otherwise specified.
Please note - unless we state otherwise in the summary, you need to talk to your doctor about joining a trial.
Chief Investigator
Professor Somnath Mukherjee
Supported by
Cancer Research UK
Celgene Ltd
Experimental Cancer Medicine Centre (ECMC)
National Radiotherapy Trials Quality Assurance Group (RTTQA) 
NIHR Clinical Research Network: Cancer
Oxford Clinical Trials and Research Unit (OCTRU)
University of Oxford
Other information
This is Cancer Research UK trial number CRUK/07/040.
CRUK internal database number:
Please note - unless we state otherwise in the summary, you need to talk to your doctor about joining a trial.
Charlie took part in a trial to try new treatments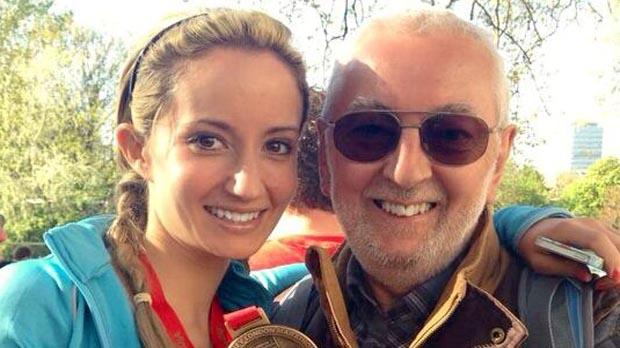 "I think it's really important that people keep signing up to these type of trials to push research forward."