"Like Cancer Research UK, I've just had my 20th birthday!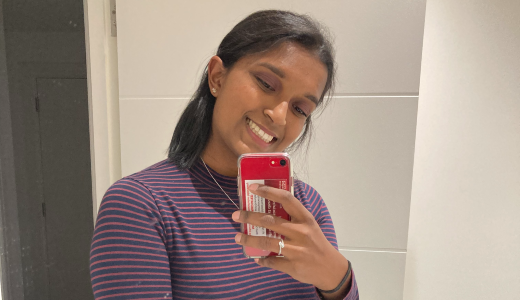 Shaumya, a member of the Cancer Research UK for Children & Young People's Insights Panel, is from Eastbourne but has recently moved to Glasgow to study medicine at university. Here, Shaumya shares her story and tells us how it feels to be the same age as Cancer Research UK!
"In June 2020, I was diagnosed with Hodgkin's lymphoma, and during my treatment I became passionate about patient involvement. I think young people have a unique set of issues that come with a cancer diagnosis, and to fully understand them they need to be heard about from us! It's so inspiring to see Cancer Research UK for Children & Young People approach the different challenges we face with the same determination, across all cancer types. I'm excited to be part of a Cancer Research UK panel - as a charity, they've pioneered so many great advances and I feel very lucky to have benefitted from their work on a personal level. Working in patient involvement has truly been one of the 'silver linings' of my diagnosis - it means so much to know that our opinions are valued and go so far in shaping the work that CRUK does.
On 4 February it was World Cancer Day and 20 years since Cancer Research UK formed. This year also marks 120 years since the founding of the Imperial Cancer Research Fund, one of the organisations that merged to form Cancer Research UK in 2002. This makes it both CRUK's 20th and 120th anniversaries.
I was surprised to learn that Cancer Research UK is just 20 years old, but it's testament to the charity and everyone involved that so much has been achieved in such a short period of time. Whether it's through pioneering research, campaigning for policy change or raising awareness or providing support for people with cancer, Cancer Research UK has had a global impact in bringing forward the day when we beat cancer.
So, I suppose we should be thinking of CRUK as '20 years young'! If this much has been achieved in the last 20 years, who knows what we can do in the next 20? I hope that in future, we can keep achieving policy changes, more early screening and detection, kinder treatments for cancer and increased survival rates for all cancer types."
Get involved
Be part of our Patient Involvement Network and use your experience to help us beat cancer.