A trial of vorinostat for advanced mesothelioma
This trial looked at a drug called vorinostat (also known as MK0683) for mesothelioma of the lung that continued to grow despite having chemotherapy.
The results of this trial were published in 2015. 
More about this trial
Chemotherapy is often used to treat
mesothelioma
. But this type of cancer often comes back and researchers are looking for new treatments to help people in this situation. In this trial they looked at a drug called vorinostat.
In cancer cells, there are chemical messengers (enzymes) that send signals telling the cells to grow and divide. Vorinostat blocks some of these signals, which can slow down the growth of cancer cells.
Everybody taking part in the trial had treatment available to help any cancer symptoms and to improve their quality of life. This is best supportive care. Some people also had vorinostat.
The aims of the trial were to:
see if vorinostat and best supportive care is better than best supportive care alone for advanced mesothelioma
learn more about the side effects
Summary of results
The trial team found that giving people with mesothelioma of the lung (pleural mesothelioma) vorinostat after chemotherapy did not improve the length of time they lived for. They do not recommend it as a treatment for people with advanced pleural mesothelioma.
This was an international phase 3 trial. 661 people in 24 countries took part. 
The trial was randomised. The people taking part were put into treatment groups by a computer. Neither they nor their doctor could decide which group they were in. 
Half the people taking part had vorinostat capsules. The other half had capsules that contain a dummy drug (placebo).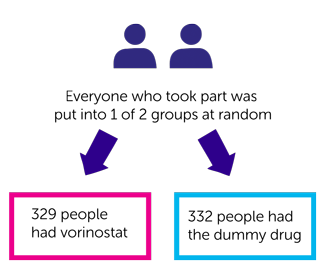 The people taking part and their doctors did not know which group they were in. This is called a double blind trial. 
The trial team found that having vorinostat did not significantly improve the length of time someone lived (their overall survival).  The average length of time people in the trial lived was:
just under 31 weeks (30.7) for the people taking vorinostat
just over 27 weeks (27.1) for the people taking the dummy drug
The trial team also looked at the side effects people in each group had. They found that the people having vorinostat had more:
tiredness and general discomfort (fatigue or malaise) 
difficulty breathing (dyspnoea)
Although this trial did not show any value from using vorinostat as a treatment for this group of people, the researchers do feel that there were valuable outcomes. They think other researchers can use findings from some of the studies they did as part of the trial to help with future trials and research. 
These include the results from the use of certain breathing tests called
lung function tests

. They found the total amount of air you breathe out during a test (the forced vital capacity) can be linked to how well you can manage day to day (your
performance status

) and your
quality of life

.
Also as part of the trial the researchers gathered a large collection of mesothelioma tissue samples. This means they have been able to establish a tumour bank. These tissue samples are now being used to understand more about mesothelioma and hopefully find new ways of treating this disease, including using different types of cancer drugs. 
We have based this summary on information from the research team. The information they sent us has been reviewed by independent specialists (
peer reviewed

) and published in a medical journal. The figures we quote above were provided by the trial team who did the research. We have not analysed the data ourselves.  
How to join a clinical trial
Please note: In order to join a trial you will need to discuss it with your doctor, unless otherwise specified.
Please note - unless we state otherwise in the summary, you need to talk to your doctor about joining a trial.
Supported by
Experimental Cancer Medicine Centre (ECMC)
Merck
Sharp & Dohme
If you have questions about the trial please contact our cancer information nurses
Freephone 0808 800 4040
CRUK internal database number:
Please note - unless we state otherwise in the summary, you need to talk to your doctor about joining a trial.
Charlie took part in a trial to try new treatments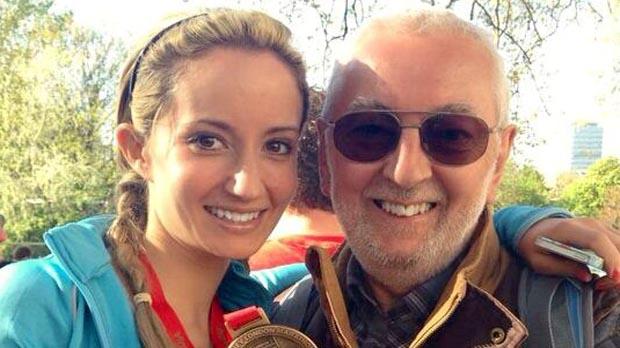 "I think it's really important that people keep signing up to these type of trials to push research forward."