A trial of olaparib and cediranib after platinum chemotherapy for ovarian cancer that has come back (ICON9)
This trial is looking at long term treatment with 2 drugs called olaparib and cediranib for women whose ovarian cancer has started to grow again. It is for women whose cancer shrunk after their first course of chemotherapy. And they are having a second course.
The trial is open to women who have:
ovarian cancer
fallopian tube cancer
primary peritoneal cancer
Doctors treat these cancers in the same way. So, when we use the term ovarian cancer in this summary, we are referring to all 3.
Cancer Research UK supports this trial.
More about this trial
Platinum chemotherapy is one of the usual treatments for ovarian cancer. This includes the drugs cisplatin and carboplatin. But sometimes the cancer can come back. You might then have a second course of chemotherapy if it worked well the first time.
Doctors are looking for ways to improve treatment in women with ovarian cancer. In this trial, they are looking at 2 drugs called cediranib and olaparib. They think that having this extra treatment after second course chemotherapy can help control the cancer.
Cediranib and olaparib are both types of targeted drugs. They work in different ways.
Olaparib is a PARP inhibitor. It blocks an enzyme called PARP, which helps damaged cancer cells to repair themselves.  Doctors think that if they stop PARP working, the cancer cells will not be able to repair themselves.
Cediranib is a tyrosine kinase inhibitor. It stops cancers from being able to make new blood vessels that they need to grow. We know from research that having it with olaparib helps control the cancer for longer.
Some women in the trial have olaparib on its own. And some have olaparib and cediranib.
The main aim of the trial is to see if olaparib and cediranib can increase the length of time before the cancer starts to grow again.
Who can enter
The following bullet points list the entry conditions for this trial. Talk to your doctor or the trial team if you are unsure about any of these. They will be able to advise you.
Who can take part
You may be able join this trial if all of the following apply:
you have a type of ovarian cancer, fallopian tube cancer or peritoneal cancer that is high grade serous or endometroid – this means the cancer is more likely to come back
your ovarian cancer got worse more than 6 months after the start of the final cycle of chemotherapy that included a platinum drug
a CT or MRI scan shows the cancer has come back or you had surgery to remove the cancer after it came back or blood tests using tumour markers show the cancer has come back
you need further treatment with chemotherapy that will include a platinum drug such as cisplatin or carboplatin (this will be your second course of chemotherapy)
there is a sample of your cancer available from a previous surgery or a biopsy for the trial team to test
you can swallow and absorb tablets
your thyroid is working well
you have blood pressure that is well controlled with no more than 2 different types of blood pressure medication
are well enough to carry out all your normal activities, apart from heavy physical work (performance status of 0 or 1)
are at least 18 years old
After your second course of chemotherapy, the following must also apply:
you had between 4 and 6 cycles of second course of chemotherapy that included a platinum drug
you had a recent scan that showed your cancer had shrunk
if it wasn't possible to measure the cancer on a scan then you had a blood test for tumour markers that showed the chemotherapy worked or if you had surgery after the cancer came back the first time, there are no signs of it on a scan or using other ways your doctor might monitor your cancer
you can start treatment within 7 days of being put into a treatment group and this is within 4 to 8 weeks of starting the final cycle of chemotherapy
you have satisfactory blood test results
you don't have a high level of protein in your urine
you have had a test for the BRCA 1 and BRCA 2 gene change and you and the trial team know the results
Who can't take part
You cannot join this trial if any of these apply.
Cancer related
You:
have a type of ovarian cancer called clear cell, mucinous, sarcoma or ovarian cancer that is not epithelial
have cancer that has spread to your brain or the tissues surrounding your brain and is causing symptoms unless you are on a stable dose of steroids that you started at least 4 weeks before joining the trial
have spinal cord compression
have had a bone marrow transplant from somebody else (an allogenic transplant) or a transplant using blood from an umbilical cord
have myelodysplastic syndrome or acute myeloid leukaemia
have had another cancer in the last 5 years apart from carcinoma insitu of the cervix, early breast cancer or early cancer of the womb lining that was successfully treated
are having or have had another experimental drug as part of a clinical trial within 28 days of joining this trial
Medical conditions
You:
have had a heart attack, a stroke or a mini stroke (TIA) in the last 12 months
have had a blockage of your bowel within 3 months of starting trial treatment
have had an area of pus (an abscess) in your tummy area (abdomen) within 3 months of starting trial treatment
have had tears or holes (perforations) in your stomach or bowel – you might be able to take part if you had an abnormal opening (fistula) in your abdominal area and you had surgery to repair it at least 6 months ago and it is unlikely to come back
have inflammatory bowel disease such as Chron's or ulcerative colitis
have an ileostomy
have problems with your heart, such as a heart attack or angina that is not controlled with medication in the last 6 months, an abnormal rhythm of your heart or congestive heart failure
have a heart condition called QTc prolongation or a family history of QT syndrome
have a bleeding problem that means you are more likely to have a bleed, you have had a large bleed in the last 3 months or you have coughed up more than a teaspoon of blood in the last 4 weeks
have already had a targeted cancer drug called a tyrosine kinase inhibitor such as axitinib or a PARP inhibitor such as niraparib
have ongoing moderate to severe side effects from past treatments apart from hair loss or tingling and numbness in your hands or feet
have had surgery in the 14 days before starting treatment
have an active hepatitis B or hepatitis C infection
have HIV
have any other medical condition or mental health problem that the trial team think could affect you taking part
Other
You:
are pregnant or breastfeeding
are allergic to cediranib or olaparib or anything they contain
have taken drugs that affect enzymes called CYP3A in the last 2 to 5 weeks
Trial design
This trial is taking place worldwide. It is a phase 3 trial. The researchers hope 618 women will take part.
Your doctor will check to see how well your second course of chemotherapy worked with a scan or blood tests. Once they have confirmed that your cancer has shrunk, and you meet all the other entry conditions, then you might be suitable to have the treatment in this trial.
It is a randomised trial. You are put into 1 of 2 groups by a computer. Neither you nor your doctor can decide which group you are in.
You have 1 of the following:
olaparib and cediranib (Group A)
olaparib (Group B)
Olaparib and cediranib are tablets.
Women in Group A take:
olaparib tablets twice a day
cediranib once a day
Women in Group B take olaparib tablets twice a day.
The trial team will tell you exactly when to start taking the tablets. You have them for as long as they are working and the side effects aren't too bad. 
You stop treatment if your cancer starts to grow again. Your doctor will talk to you about other treatment options.
Quality of life
The trial team will ask you to fill out a questionnaire before you start treatment and at set times during treatment. The questionnaire will ask about side effects and how you've been feeling. This is called a quality of life study.
Tissue and blood samples
The trial team will look at a sample of tissue you gave when you were first diagnosed or when you had more surgery.
You have extra blood tests as part of this trial. Where possible you have these at the same time as your routine blood tests.
They will also use the samples to:
look for gene changes
find out why these treatments work better for some people and not others
learn more about ovarian cancer
Hospital visits
You see a doctor and have some tests before you can join the trial. These tests include:
You go to hospital:
every 2 weeks for the first 2 months
then monthly for a year
then 2 monthly whilst you remain on treatment
At each visit you have blood tests, urine tests and a check up. You might also have to do a 24 hour urine collection. You take a container home and collect all the urine you pass in a 24 hour period. You then return the urine collection to the trial team.
You have a CT scan:
at 4 months
at 8 months
at 12 months
at 15 months
at 19 months
at 23 months and then
every 6 months after that and then
when you finish treatment
if your cancer comes back
When you finish treatment, the trial team contact you every 3 to 6 months to see how you are getting on. They might phone you or see you at a routine hospital appointment. 
Side effects
The trial team will monitor you during the time you have treatment and you'll have a phone number to call them if you are worried about anything.
The most common side effects of olaparib include:
tiredness (fatigue)
an increased risk of breathlessness (anaemia)
heartburn
dizziness
headache
cough
The most common side effects of cediranib include:
tiredness
diarrhoea
high blood pressure
protein in the urine
feeling or being sick
The trial team will tell you all about the possible side effects before you join.
We have more information about olaparib.
How to join a clinical trial
Please note: In order to join a trial you will need to discuss it with your doctor, unless otherwise specified.
Please note - unless we state otherwise in the summary, you need to talk to your doctor about joining a trial.
Supported by
Cancer Research UK
AstraZeneca
University College London
Other information
This is Cancer Research UK trial number CRUK/15/074
CRUK internal database number:
Please note - unless we state otherwise in the summary, you need to talk to your doctor about joining a trial.
Cara took part in a clinical trial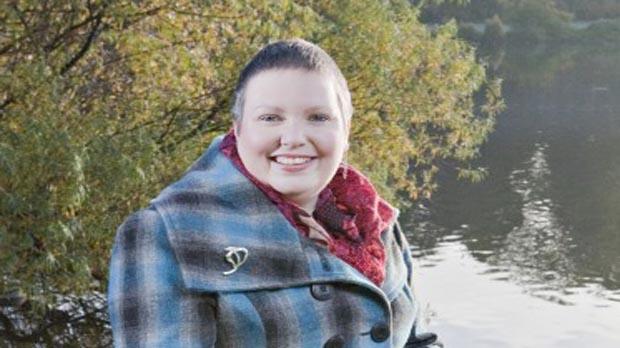 "I am glad that taking part in a trial might help others on their own cancer journey."