A trial of radiotherapy after surgery for a type of brain tumour called meningioma (ROAM) (EORTC 1308)
Please note - this trial is no longer recruiting patients. We hope to add results when they are available.
Cancer type:
Brain (and spinal cord) tumours
This trial is for people who have had surgery for an atypical meningioma.
More about this trial
Meningiomas are a type of brain tumour that start in the linings (membranes) of the brain. Most of these tumours are benign (not cancerous) and can be treated with surgery. Very rarely, they are malignant (cancerous) and need treatment with both surgery and radiotherapy.
Although benign meningiomas are slow growing, others can grow more quickly and have a higher chance of coming back. These are called atypical meningiomas. Doctors think that giving radiotherapy after surgery might stop them growing again. But they aren't sure, so want to find out more.
In this trial, some people have radiotherapy after surgery and some don't. Instead, they have regular check ups to see how they are getting on. This is called active monitoring.
The aims of the trial are to:
find out if radiotherapy stops atypical mengiomas coming back
learn more about the side effects of radiotherapy
find out more about the cost of radiotherapy compared to active monitoring
Who can enter
The following bullet points list the entry conditions for this trial. Talk to your doctor or the trial team if you are unsure about any of these. They will be able to advise you.
You might be able to join this trial if all of the following apply.
You have a newly diagnosed atypical meningioma (grade 2)
It is possible to completely remove the meningioma with surgery
You are able to start radiotherapy within 12 weeks of surgery
You are well enough to be up and about for at least half the day (performance status 0,1 or 2)
You are willing to use reliable contraception during treatment if there is any chance you or your partner could become pregnant
You are at least 16 years old
You cannot join this trial if any of these apply.
You have more than 1 meningioma
You have a meningioma growth on the nerve that connects the brain to your eye (the optic nerve)
You have a condition that causes growths on the nerve that connects the inner ear with the brain (neurofibromatosis 2)
Your meningioma is caused by radiation
You have had another type of brain tumour in the past
You have another cancer apart from basal cell skin cancer or carcinoma in situ (CIS) of the cervix and if you had another cancer it was successfully treated and you have been disease free for 5 years 
You have any other serious medical condition or mental health problem that the trial team think could affect you taking part
You are pregnant or breastfeeding
Trial design
This is a phase 3 trial. The researchers need about 172 people to take part from the UK and Europe.
It is a randomised trial. You are put into 1 of 2 treatment groups by a computer.
One group have surgery and radiotherapy
The other group have surgery and regular check ups (active monitoring)
Neither you nor your doctor will be able to decide which group you are in.
If you are having radiotherapy, you have an MRI scan 2 to 8 weeks after surgery. You start treatment about 2 to 3 months after surgery. You have this once a day, Monday to Friday, for 6 weeks.
Both groups have the same follow up appointments. To begin with, the appointments are every 6 months after surgery.
Quality of life
The trial team will ask you to fill out some questionnaires when you join the trial, at set times during the trial and at follow up appointments. The questionnaires will ask about side effects and how you've been feeling. This is called a quality of life study.
Samples for research
The researchers will ask for a sample of your meningioma (a biopsy) that was removed when you had surgery. They will also ask to take some extra blood samples. Where possible, you have these at the same time as your routine blood tests.
The researchers plan to use the samples to look for substances called biomarkers to see why radiotherapy works better for some people than others.
Hospital visits
You see a doctor and have some tests before you can take part. These include:
a physical examination
an MRI scan
some memory tests
The trial team can tell you more about your surgery and how long you stay in hospital afterwards.
If you are having radiotherapy, you have it once a day, Monday to Friday, for 6 weeks.
After surgery, everyone has a check up, blood tests and an MRI scan at:
6 months for 1 year
1 year for 5 years
Side effects
The side effects of radiotherapy depend on the area being treated. The possible side effects of radiotherapy to the brain include:
hair loss in the area treated
problems with wound healing
tiredness (fatigue)
headache
problems with memory and concentration
We have more information on the side effects of radiotherapy to the brain. 
How to join a clinical trial
Please note: In order to join a trial you will need to discuss it with your doctor, unless otherwise specified.
Please note - unless we state otherwise in the summary, you need to talk to your doctor about joining a trial.
Supported by
NIHR Health Technology Assessment (HTA) programme
European Organisation for Research and Treatment of Cancer (EORTC)
NIHR Clinical Research Network: Cancer
Trans Tasman Radiation Oncology Group (TROG)
The Walton Centre NHS Foundation Trust 
University of Liverpool Clinical Trials Research Centre 
CRUK internal database number:
Please note - unless we state otherwise in the summary, you need to talk to your doctor about joining a trial.
Rhys was only four years old when he was diagnosed with a brain tumour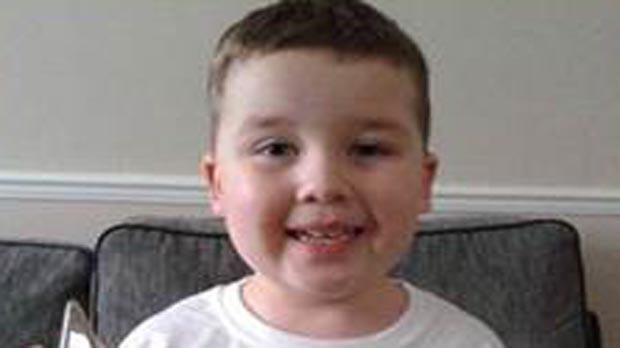 "He went through six operations and was placed on a clinical trial so he could try new treatments."