A trial of olaparib for prostate cancer that has spread and has got worse after hormone therapy and chemotherapy (TOPARP)
Coronavirus and cancer
We know it's a worrying time for people with cancer, we have information to help. If you have symptoms of cancer contact your doctor.
Coronavirus and cancer
We know it's a worrying time for people with cancer, we have information to help. If you have symptoms of cancer contact your doctor.
Please note - this trial is no longer recruiting patients. We hope to add results when they are available.
A trial to see if olaparib helps men with prostate cancer that has got worse despite treatment with hormone therapy and chemotherapy drugs called taxanes.
The trial is supported by Cancer Research UK.
More about this trial
Doctors can treat prostate cancer that has spread with chemotherapy and hormone therapy. But prostate cancer may stop responding to these standard treatments

. Doctors are looking for new treatments to help men in this situation. In this trial they are looking at a drug called olaparib.
Every cell contains DNA. It is the genetic information that controls how cells behave. In cancer cells, the DNA is damaged and they rely heavily on an enzyme

 called PARP-1 to repair it.
Olaparib stops PARP-1 from working. If PARP-1 doesn't work, cancer cells can't repair themselves and they die.
Olaparib is already used to help people with ovarian or breast cancer. And has been looked at in trials for other types of cancer, both on its own and alongside other drugs.
The aims of this trial are to
See if olaparib helps men with prostate cancer that is not responding to hormone therapy
Find out if some men are more likely to benefit from olaparib than others
Who can enter
You may be able to enter this trial if your prostate cancer has certain biomarkers

that mean that olaparib is more likely to be a useful treatment. The trial team will test for these biomarkers before you can join the trial. As well as this all of the following must apply. You
Have prostate cancer that is getting worse
Have had surgery to remove your testicles or have been taking drugs to lower the level of testosterone in your body (luteinising hormone agonists) for at least 4 weeks
Have had at least 1, but no more than 2 types of chemotherapy that included a taxane drug such as docetaxel
Have finished the drug flutamide at least 4 weeks before starting treatment with olaparib
Have finished bicalutamide at least 6 weeks before starting treatment with olaparib
Are well enough to be up and about for at least half the day (performance status 0, 1 or 2)
Are able to swallow tablets
Have satisfactory blood test results
Are willing to use reliable contraception during the trial and for 3 months after finishing olaparib if there is any chance your partner could become pregnant
Are at least 18 years old
You cannot enter this trial if you
Have cancer that has spread to your brain unless it has been successfully treated and is not causing any symptoms
Have cancer that is pressing on your spinal cord (spinal cord compression) unless it has already been treated, is not getting any worse and is not causing symptoms
Have already had a drug that stops PARP working, or platinum drugs , or the chemotherapy drugs cyclophosphamide or mitoxantrone
Have had major surgery, a prostate biopsy, chemotherapy or another experimental drug in the 4 weeks before starting treatment with olaparib
Have had radiotherapy in the 2 weeks before starting olaparib, unless it was a single dose of radiotherapy to treat symptoms (palliative radiotherapy)
Have not recovered from side effects of other cancer treatment (apart from hair loss) unless they are very mild
Have had a fit (seizure) in the last 6 months before starting treatment with olaparib
Have a problem with your digestive system that could affect how you absorb tablets
Take drugs that affect body substances called cytochrome P enzymes (the trial doctors can advise you about this)
Take drugs called bisphosphonates unless you have been having the same dose for at least 30 days before starting treatment with olaparib
Have a blood disorder called MDS or acute myeloid leukaemia
Have had any other cancer in the last 2 years (apart from non melanoma skin cancer or very early stage bladder cancer) and your doctors think there is a risk it could come back in the next year
Have an infection, certain heart problems or any other medical condition that the trial team think could affect you taking part
Trial design
This is a phase 2 trial. It will recruit 88 men.
There are 2 parts to the trial. In the first part, scientists looked at tumour samples from the men taking part to see the type of cancer that each man had. From this and other research, they think it is possible that some men are more suitable for treatment with olaparib than others.
Men are now being asked to join the second part of the trial. If you are interested in taking part, the study team will test a sample of your cancer that was removed in the past. If these tests show that you have a type of cancer that the researchers think  is suitable for treatment with olaparib, they will ask you to take part in the trial. If there isn't a sample of tissue available, you will need to have a new biopsy

.
The trial team is looking at 2 different doses of olaparib. They want to see which dose works best and learn more about the side effects. To help them with this they may ask if you are willing to have extra blood samples taken. They may call this pharmacokinetics

. You do not have to have these samples taken if you don't want to. You can still take part in the trial.
This second part of the trial is randomised. This means that the men taking part are put into treatment groups by a computer. Neither you nor your doctor will be able to decide which group you are in.
Men in one group have olaparib 300mg (3 tablets) twice a day
Men in the other group have olaparib 400mg (4 tablets) twice a day
You have an equal chance of having either dose.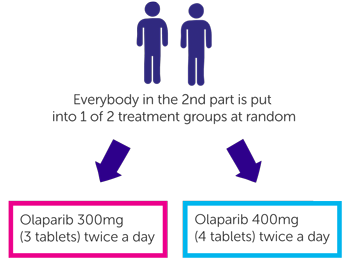 Everybody in the trial takes olaparib tablets twice a day. You keep a diary to note down when you take them.
As long as you don't have any bad side effects, you can carry on taking olaparib for as long as it is helping you.
The trial team will ask you to complete a questionnaire about whether you have any pain and what painkillers you take.  You complete this at the beginning of the trial, every 4 weeks during treatment and when you stop taking olaparib.
Hospital visits
You see the trial team and have some tests before you start treatment. The tests might include
Physical examination
Blood tests
Urine tests
Heart trace (ECG )
A new biopsy of your cancer
The trial team will collect a sample of your spit (saliva).
They may also ask if you would be willing to have a new type of MRI scan called diffusion weighted MRI. This allows doctors to look at your cancer in more detail. But if you don't want to have this scan, you don't have to. You can still take part in the trial.
You go to hospital on the very first day you start olaparib and then just over a week later.  You then go once every 4 weeks for as long as you take olaparib. You see a member of the trial team and have a blood test at each visit. Before some visits, you have to collect all the urine you pass in 24 hours and bring it with you to the hospital.
You have a bone scan and CT or MRI scan every 12 weeks.
The doctors may ask you to have another biopsy (tissue sample) of your prostate
Between 1 to 4 weeks after you start olaparib
If your dose of olaparib is increased
At the end of treatment
These biopsies are all optional. It is up to you if you want to have them.
When you finish treatment, you see the trial team again a month later. You will have a physical examination, blood tests and urine tests.
Side effects
As olaparib is a new drug, there may be side effects we don't know about yet. In other trials, the side effects have included
A drop in blood cells causing an increased risk of infection, bleeding problems, tiredness and breathlessness
Tiredness (fatigue)
Inflammation of the lungs which can make you short of breath
At each hospital visit, the trial team will ask about any side effects you have noticed or concerns you have about the treatment.
How to join a clinical trial
Please note: In order to join a trial you will need to discuss it with your doctor, unless otherwise specified.
Please note - unless we state otherwise in the summary, you need to talk to your doctor about joining a trial.
Supported by
AstraZeneca
Cancer Research UK
Experimental Cancer Medicine Centre (ECMC)
Institute of Cancer Research (ICR)
NIHR Clinical Research Network: Cancer
The Royal Marsden NHS Foundation Trust
Other information
This is Cancer Research UK trial number CRUK/11/029
Questions about cancer? Contact our information nurses
CRUK internal database number:
Please note - unless we state otherwise in the summary, you need to talk to your doctor about joining a trial.
Cara took part in a clinical trial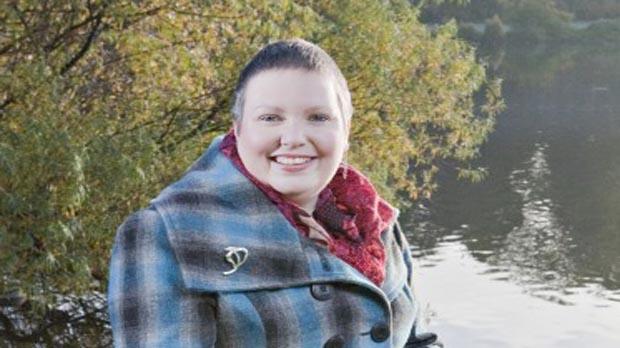 "I am glad that taking part in a trial might help others on their own cancer journey."