A trial of NZV930, PDR001 and NIR178 for people with advanced cancer
Please note - this trial is no longer recruiting patients. We hope to add results when they are available.
This trial is for people whose cancer has spread elsewhere in the body or continued to grow despite treatment. This is advanced cancer.
More about this trial
Doctors are always looking for ways to improve treatment for people with advanced cancer

. In this trial, researchers are looking at 3 drugs called:
NZV930 is a new drug. We know from early research that it blocks a chemical in the body called adenosine. Adenosine helps tumours to grow and spread and stops the immune system

 from attacking cancer cells. Blocking adenosine can help the immune system to fight cancer. 
NIR178 is another drug. It works in a similar way to NZV930.
PDR001 is an immunotherapy drug. It helps the body's immune system to find and kill cancer cells. 
In this trial everyone has NZV930 and some people will also have:
NIR178
PDR001
NIR178 and PDR001
The aims of the trial are to: 
find the best dose 
find the best treatment plan 
see which combination of treatment works best 
learn more about the side effects 
 
Who can enter
The following bullet points list the entry conditions for this trial. Talk to your doctor or the trial team if you are unsure about any of these. They will be able to advise you. 
Who can take part
You may be able to join this trial if all of the following apply. 
You:
have cancer that has grown into nearby tissues and you can't have surgery or radiotherapy to treat it, or the cancer has spread elsewhere in the body
have cancer that has got worse and there isn't another standard treatment or any other suitable treatment available
have an area of cancer that the doctors can take a tissue sample (biopsy ) from and you are willing to agree to this  
are up and about for more than half the day, you can look after yourself but might not be able to work (performance status of 0, 1 or 2)
have satisfactory blood test results
are willing to use reliable contraception during the trial and for at least 3 months afterwards if there is any chance you or your partner could become pregnant
are at least 18 years old 
are willing to stop smoking at least 7 days before having the trial drugs if you are a smoker
Who can't take part
You cannot join this trial if any of these apply. 
Cancer related
You:
have cancer that has spread to your brain or spinal cord  and is causing symptoms. You can take part if the cancer spread to your brain was treated at least 4 weeks ago and isn't causing symptoms
had to stop an immunotherapy drug in the past due to bad side effects 
have had another cancer treatment within 2 weeks of the first dose of the trial drugs (6 weeks if you had chemotherapy drugs called nitrosoureas or mitomycin C)
have had drugs that block a chemical in the body called adenosine in the past
have any other cancer that has been successfully treated and there have been no signs of it since apart from basal cell cancer , squamous cell cancer or any carcinoma insitu (CIS ) that was successfully removed 
Medical conditions
You:
have or have had an autoimmune disease  unless it is vitiligo, type 1 diabetes, hair loss (alopecia), thyroid problems that are controlled by medications or a skin condition called psoriasis that doesn't need treatment
have a condition caused by scarring in the lungs called interstitial lung disease or pneumonitis
have a heart problem such as a heart attack or angina in the last 3 months that wasn't well controlled by medication
have high blood pressure that isn't well controlled
have had a stroke or mini stroke and you needed treatment 
have an infection that needs treatment 
have side effects from past treatments that aren't getting better
have had major surgery within 2 weeks of the first dose of trial treatment 
have a problem with your gut that might affect how you absorb medication
are taking long term steroids of more than 10mg a day or any other treatment that damps down the immune system within 7 days of starting treatment in this trial, apart from inhalers, cream or steroids to replace hormones in the body
have had radiotherapy within 2 weeks of trial treatment unless it was radiotherapy to control symptoms
are having food, drink or medication that affects the levels of CYP enzymes in the body 
have HIV
have an active hepatitis B or hepatitis C infection 
have TB (tuberculosis)
have any other medical condition or mental health problem that the trial team think would affect you taking part in this trial
Other
You:
are allergic to any of the drugs in the trial or anything they contain
have had a live vaccination  within 4 weeks of starting treatment
are pregnant or breastfeeding
Trial design
This is a phase 1 trial. 344 people will take part in this trial worldwide including 20 people from the UK. 
This trial is in 2 parts:
dose escalation (part 1)
dose expansion (part 2)
Dose escalation (part 1)
In this part of the trial, researchers want to find the best dose and schedule of treatment. The first few people to take part will have a low dose of NZV930. If they don't have any bad side effects, the next few will have a higher dose. And so on until they find the highest safe dose. This is a dose escalation study.
After this they want to find the best dose of NZV930 to give with:
They do this the same way as above. The drugs you have depend on when you join the trial. The trial team can tell you more about this. 
Dose expansion (part 2)
In this part of the trial researchers test the best dose and best schedules they found in part 1 in more people. This part of the trial is randomised. You are put into treatment groups by computer. Neither you nor your doctor can choose which group you are in. 
You have 1 of the following: 
NZV930 and NIR178
NZV930 and PDR001
NZV930, NIR178 and PDR001
How you have the drugs
You have NVZ930 as a drip into a vein. This takes about 1 to 2 hours each time. You might have it every:
This depends on when you join the trial. 
You have PDR001 as a drip into a vein once every 4 weeks. This takes between 30 minutes and 2 hours each time. You have this every 4 weeks.
NIR178 is a capsule. You take this twice a day. The trial team recommend you avoid food, drink or medication that contains caffeine. For example try not to drink more than 2 cups of coffee a day. 
Please note, you cannot smoke (tobacco or marijuana) if you are having NIR178. If you are a smoker, you need to stop at least 7 days before you can start having treatment. Your doctor can prescribe nicotine patches or nicotine chewing gum to help you quit smoking.
Samples for research
The researchers will ask for samples of tissue (biopsy):
when you join the trial
at the end of the trial
They plan to use them to find out more about how immunotherapy treatment works. 
You have some extra blood tests as part of this study. These are to:
see what happens to the trial drugs in the body
see how the drug works in the body 
look for biomarkers
They also ask for a sample for genetic research. You don't have to give this sample if you don't want to. You can still take part in the main trial.
Hospital visits
You see the doctor and have some tests before taking part. These tests include:
During treatment you see the doctor regularly and have the same tests. How often you have them depends on which treatment you are having. The trial team can tell you more. 
You have a CT or MRI scan every 8 weeks for the first 40 weeks. And then every 3 months until you stop treatment. 
When you stop treatment, the trial team will follow you up at:
1 month
3 months 
5 months 
Side effects
The trial team monitor you during treatment and afterwards. Contact your advice line or tell your doctor or nurse if any side effects are bad or not getting better. 
PDR001, NZV930 and NIR178 can affect the immune system. They may cause inflammation in different parts of the body which can cause serious side effects. They could happen during treatment or some months after treatment has finished. Rarely these side effects could be life threatening.
If you have any of these side effects, you should tell the doctor or nurse as soon as possible. You should tell them that you are having or have had an immunotherapy. 
This is the first time people are having NZV930. So we don't know about all the side effects. The side effects we know about so far include:
hardening of blood vessels in people with low levels of adenosine in the blood. The trial team check for this.
a possible reaction to the infusion causing symptoms such as fever, chills, feeling or being sick, headache, dizziness, shortness of breath, low blood pressure, skin rash or itching and weakness
The most common side effects of PDR001 are:
fever 
joint and muscle pain 
The most common side effects of NIR178 are:
feeling or being sick
heartburn
skin rash
tiredness 
The trial team will tell you about all the side effects of treatment before you join the trial.
How to join a clinical trial
Please note: In order to join a trial you will need to discuss it with your doctor, unless otherwise specified.
Please note - unless we state otherwise in the summary, you need to talk to your doctor about joining a trial.
If you have questions about the trial please contact our cancer information nurses
Freephone 0808 800 4040
CRUK internal database number:
Please note - unless we state otherwise in the summary, you need to talk to your doctor about joining a trial.
Charlie took part in a trial to try new treatments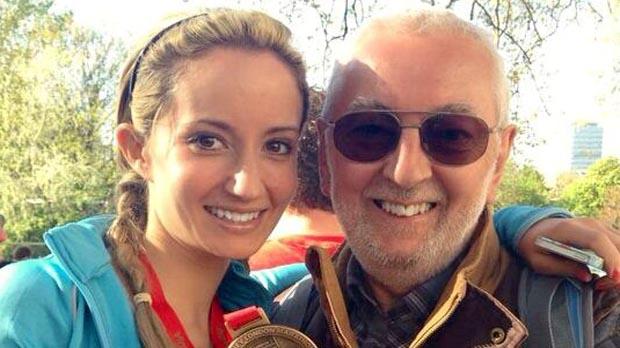 "I think it's really important that people keep signing up to these type of trials to push research forward."