A trial of farletuzumab with chemotherapy for ovarian cancer that has come back
Coronavirus (COVID-19)
We know that this is an especially worrying time for people with cancer and their family and friends. We have separate information about coronavirus and cancer. Please read that information alongside this page. We will update that information as guidance changes.
This trial looked at giving farletuzumab alongside chemotherapy for ovarian cancer that had come back after platinum chemotherapy.
More about this trial
Surgery followed by chemotherapy is the usual treatment for ovarian cancer. The chemotherapy often includes a platinum drug

such as carboplatin. 
If your cancer responds to this type of treatment, it is platinum sensitive. And if the cancer comes back, you might have a platinum drug again. You often have this alongside another type of drug called a taxane

.
In this trial researchers looked at an experimental drug called farletuzumab. It is a type of biological therapy called a monoclonal antibody. Monoclonal antibodies seek out cancer cells by looking for particular proteins on the cells.
All the women taking part had carboplatin and a taxane drug. Some also had 1 of 2 different doses of farletuzumab. Others had a dummy drug (placebo

).
The aims of the trial were to
see if farletuzumab and chemotherapy is better than chemotherapy alone for platinum sensitive ovarian cancer that has come back
find the best dose of farletuzumab
learn more about the side effects
Summary of results
The researchers found that when farletuzumab was given alongside chemotherapy it did not increase the amount of time before the cancer got worse. But they think it could be a useful drug for women who have lower levels of CA125

. 
1,100 women took part in this international phase 3 trial. 1,091 went on to have treatment.
It was a randomised trial. The women taking part were put into treatment groups by a computer. As well as having carboplatin and a taxane chemotherapy:
352 women had a dummy drug (placebo)
376 women had a low dose of farletuzumab
363 women had a slightly higher dose of farletuzumab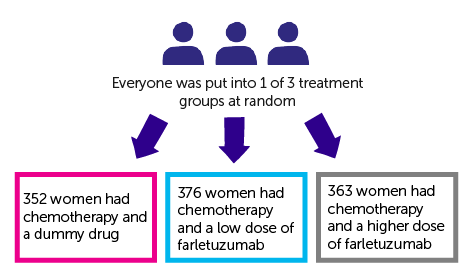 The researchers looked at how long it took for the cancer to get worse in each group (this is progression free survival). They found that on average this was:
9 months for the women who had a dummy drug 
9.5 months for the women who had low dose of farletuzumab
9.7 months for the women who had a slightly higher dose of farletuzumab
The researchers say that these figures are not statistically significant. The small differences could have happened by chance. 
They looked at the side effects each group of women had and found that these were mainly related to the chemotherapy drugs they had. The main side effects were:
hair loss
feeling sick
low levels of white blood cells (neutropenia )
low level of platelets (thrombocytopenia )
tiredness (fatigue)
feelings of numbness and tingling (neuropathy) 
They found that more women who had the higher dose of farletuzumab had lower levels of red blood cells (anaemia) than in the other 2 groups. 
The researchers looked specifically at some sub groups of women. They found that farletuzumab seemed to work best for women in the group who:
had the highest dose of farletuzumab
had lower levels of CA125 at the start of the trial
They found that these women had a longer time before their cancer came back and also lived longest (overall survival). 
Based on this finding the researchers plan to do another study looking at higher doses of farletuzumab for:
women who have platinum sensitive ovarian cancer 
who have low levels of CA125
We have based this summary on information from the research team. The information they sent us has been reviewed by independent specialists (peer reviewed

) and published in a medical journal. The figures we quote above were provided by the trial team who did the research. We have not analysed the data ourselves
How to join a clinical trial
Please note: In order to join a trial you will need to discuss it with your doctor, unless otherwise specified.
Please note - unless we state otherwise in the summary, you need to talk to your doctor about joining a trial.
Supported by
Eisai
Experimental Cancer Medicine Centre (ECMC)
Morphotek
Questions about cancer? Contact our information nurses
CRUK internal database number:
Please note - unless we state otherwise in the summary, you need to talk to your doctor about joining a trial.
Charlie took part in a trial to try new treatments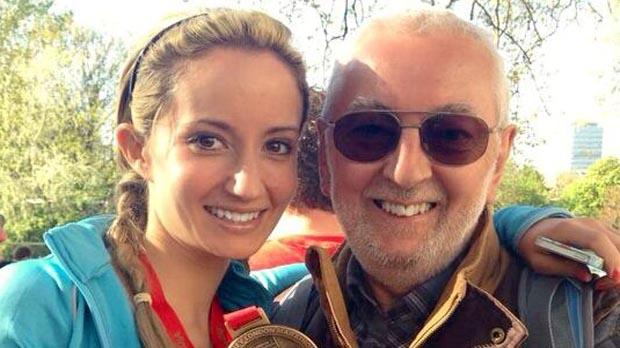 "I think it's really important that people keep signing up to these type of trials to push research forward."