A trial of chemotherapy for neuroendrocrine carcinoma (cancer) that started in any part of the body, except the lungs (NET 02)
Please note - this trial is no longer recruiting patients. We hope to add results when they are available.
Cancer type:
Neuroendocrine tumour (NET)
This trial is comparing 2 types of chemotherapy for people with a neuroendocrine carcinoma (NEC).
It is for people who have a NEC that didn't start in the lungs and it:
is fast growing (grade 3)
cannot be removed with surgery or it has spread elsewhere in the body
More about this trial
Neuroendocrine carcinomas (NECs) are fast growing cancers of the neuroendocrine system

. They are rare tumours that develop in cells of the neuroendocrine system. There are a number of different types. The type you have depends on the particular cells that the tumour starts in.
The cells in a NEC look very different compared to the normal cell structure. You may hear this called a poorly differentiated carcinoma (cancer). They are fast growing and more likely to spread. 
You might have a type of chemotherapy drug called a platinum drug

 to treat your neuroendocrine carcinoma. For example a drug called carboplatin or cisplatin. But this treatment can stop working. So doctors are looking for treatments to give people with fast growing NECs when platinum drugs are no longer working. Or you can't have them.  
In this trial they are comparing 2 types of chemotherapy. These are:
a combination that includes the drugs liposomal irinotecan, 5-fluorouracil (5FU) and folinic acid
docetaxel and a drug that stimulates white blood cells to grow (G-CSF)
These aren't new treatments. But the form of irinotecan in this trial is new. It is wrapped up in a fatty covering called a liposome. This helps the drug to stay in the bloodstream longer, so that more of the drug may reach the abnormal cells. 
The main aims of the trial are to:
find out if treatment helps to delay growth of the NEC
learn more about the side effects
find out how treatment affects quality of life
Who can enter
The following bullet points list the entry conditions for this trial. Talk to your doctor or the trial team if you are unsure about any of these. They will be able to advise you. 
Who can take part
You may be able to join this trial if all of the following apply. 
You:
have a neuroendocrine carcinoma (NEC) that started anywhere in the body apart from the lungs and is fast growing (grade 3 NEC) 
have had chemotherapy that included a platinum drug and this was more than 28 days ago
have a NEC that has got worse or you stopped chemotherapy because of bad side effects 
have a NEC that the doctor can see and measure on a scan 
are well enough to be up and about for at least half the day (performance status 0, 1 or 2)
have satisfactory blood test results 
are willing to use reliable contraception during treatment, and for 6 months after, if there is any chance you or your partner could become pregnant
are at least 18 years old
Who can't take part
You cannot join this trial if any of these apply. 
Neuroendocrine carcinoma (cancer) related
You:
have a NEC that has spread to the brain unless it has been successfully treated with surgery or radiotherapy, it hasn't got worse and you are on a stable dose of steroids and medication to stop fitting
are having radiotherapy to help with symptoms to areas of NEC that are being measured in this trial
have had another cancer in the last 3 years that has been successfully treated apart from non melanoma skin cancer , DCIS,  carcinoma in situ (CIS ) of the cervix if treatment was surgery only, or very early bladder cancer that has been treated with surgery 
have already had treatment with any of the drugs that are used in this trial 
Medical conditions
You:
have side effects from past treatment that aren't getting better
have a serious problem with your digestive system  such as a blockage in the bowel, your liver doesn't work properly or bleeding 
have had a heart attack or stroke in the last 6 months or you have another heart problem that needs treatment  
have an active hepatitis B, hepatitis C or HIV infection 
have inflammatory bowel disease such as Crohn's disease or ulcerative colitis
have taken a drug to thin the blood such as warfarin within a week of being put into a treatment group in this trial
have had medication that blocks an enzyme called CYP3A4 or another type of medicine such as atazanavir, gemfibrozil or indinavir in the 7 days before you start trial treatment 
have any other medical condition or mental health problem that the trial team think would affect you taking part
Other
You:
are allergic or sensitive to any of the treatments in the trial  
have had St. John's wort, grapefruit or Seville oranges in the 7 days before you start trial treatment
are pregnant or breastfeeding
Trial design
This is a phase 2 trial. The team need 102 people to take part. The trial is taking place in the UK. 
The researchers hope to run a larger trial with more people in the future. But first they need to run this one to find out which treatment to take forward into a bigger trial. 
It is a randomised trial. You are put into a treatment group by a computer. There are 2 treatment groups. Neither you nor your doctor can decide which group you are in.
You have 1 of the following:
liposomal irinotecan, 5-fluorouracil (5FU) and folinic acid
docetaxel and G-CSF
Liposomal irinotecan, 5-fluorouracil and folinic acid group
You have all your treatment as a drip into a vein. You have a central line

 inserted to have this combination of treatment. You have treatment in cycles

. Each 2 week period is a cycle of treatment. The first day of each treatment cycle is called day 1.
You have:
liposomal irinotecan on day 1 over 90 minutes
folinic acid on day 1 over 3 minutes
5FU as a slow drip that starts on day 1 and lasts for 46 hours 
You have 5FU via a small pump that you can wear when you go home. You can keep the pump in a small bag, or on a belt (like a bum bag). The team arrange to have this disconnected when it's finished.
You have treatment for as long as it is working and the side effects aren't too bad. 
Docetaxel group
You have docetaxel as a drip into a vein in your arm. You don't need a central line to have it.  You have treatment cycles. Each 3 week period is a cycle of treatment. 
You have docetaxel on day 1 of each treatment cycle. It takes about an hour each time. You will also have an injection of G-CSF which will support your white blood cell

 count after you have had docetaxel. You have this at least 1 day after you have had docetaxel.
You have treatment for as long as it is working and the side effects aren't too bad. 
Quality of life
The trial team ask you to fill out a questionnaire before you start treatment and at set times during treatment. The questionnaire asks about side effects and how you've been feeling. This is called a quality of life study.
Samples for research
You give some extra blood samples during treatment. You give these samples at the same time as your routine samples, where possible. They'll use the samples to:
look for enzymes  to work out if treatment is working 
learn more about NECs
Hospital visits
You see a doctor and have some tests before you can join the trial. These include:
You have treatment in the outpatient department. You see the doctor for a check up and blood tests every:
2 weeks if you having irinotecan, 5FU and folinic acid 
3 weeks if you are having docetaxel and G-CSF
You have a CT scan or MRI scan every 8 weeks. 
When you finish treatment, you see the team about a month later. Or they might call you at home to see how you are getting on. 
Side effects
The trial team monitor you during treatment and afterwards. Contact your advice line or tell your doctor or nurse if any side effects are bad or not getting better. 
The most common side effects of chemotherapy include:
a drop in the number of blood cells causing an increased risk of infection, bruising and bleeding
an irregular heartbeat or changes on your heart trace
tiredness, weakness and flu like symptoms 
swollen hands or feet
an allergic reaction to the infusion - this may cause symptoms such as skin rash, itching, swelling of the lips, face or throat or breathing difficulties. Your nurse gives you medicines beforehand to try to prevent a reaction. 
The trial doctor will talk to you about all the possible side effects of treatment. 
We have more information about the side effects of:
How to join a clinical trial
Please note: In order to join a trial you will need to discuss it with your doctor, unless otherwise specified.
Please note - unless we state otherwise in the summary, you need to talk to your doctor about joining a trial.
Supported by
NIHR Clinical Research Network 
Servier UK
The Christie NHS Foundation Trust
CRUK internal database number:
Please note - unless we state otherwise in the summary, you need to talk to your doctor about joining a trial.
Charlie took part in a trial to try new treatments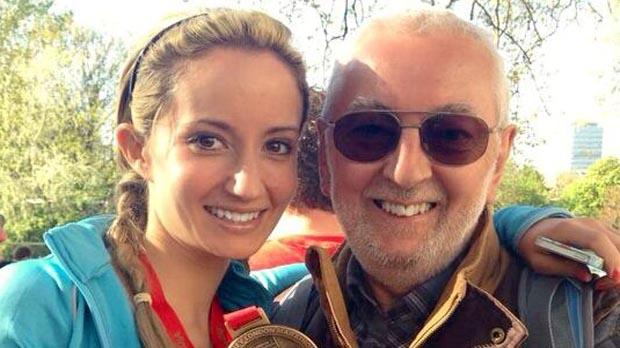 "I think it's really important that people keep signing up to these type of trials to push research forward."