A trial of chemotherapy after surgery for cancer of the bile duct or gallbladder (ACTICCA-1)
Coronavirus and cancer
We know it's a worrying time for people with cancer, we have information to help. If you have symptoms of cancer contact your doctor.
This trial is for people whose cancer has been removed or is due to be removed with an operation. It is open to people whose cancer hasn't spread to another part of the body. 
Cancer Research UK supports this trial.
More about this trial
Bile duct cancer and gallbladder cancer are known as biliary tract cancers.
If possible, you usually have an operation to remove all the cancer. You then have a course of chemotherapy tablets called capecitabine to try to prevent the cancer coming back. This is standard treatment. However, sometimes the cancer comes back. So researchers are looking at other treatment to keep the cancer under control for longer. 
In this trial, researchers want to find out if having 2 chemotherapy drugs after surgery delays or prevents the cancer coming back. The drugs are called cisplatin and gemcitabine. Both are already used for people with biliary tract cancers that have spread.
The aims of the trial are to
find out if cisplatin and gemcitabine after surgery works better than capecitabine
learn more about the side effects
Who can enter
The following bullet points list the entry conditions for this trial. Talk to your doctor or the trial team if you are unsure about any of these. They will be able to advise you.
You might be able to join this trial if all of the following apply.
You have cancer of the bile duct or gallbladder cancer
Your cancer has been completely removed by surgery or is due to be completely removed
You have surgery within 6 weeks of starting trial chemotherapy
You have satisfactory blood test results
You are well enough to carry out all your normal activities apart from heavy physical work (performance status 0 or 1)
You are willing to use reliable contraception during the trial and for 3 months afterwards if you have chemotherapy and there is any chance that you or your partner could become pregnant
You are at least 18 years old
You cannot join this trial if any of these apply. You
Have already had chemotherapy for biliary tract cancer
Have had treatment as part of a clinical trial with an experimental drug or an anti cancer treatment in the last 4 weeks
Have problems with your heart such as a heart attack in the last 3 months, angina that isn't well controlled, an abnormal rhythm of your heart or congestive heart failure
Have had had any other cancer in the last 3 years apart from non melanoma skin cancer  or carcinoma insitu of the cervix (CIS) that was successfully treated
Have an active infection apart from an active hepatitis infection that is being treated
Have any other medical condition or mental health problem that the trial team think would affect you taking part in this trial
Are pregnant or breastfeeding
Trial design
This is an international phase 3 trial. The researchers need 781 people to take part including 125 to 150 people from the UK.
It is a randomised trial. You are put into 1 of 2 treatment groups by a computer. Neither you nor your doctor will be able to decide which group you are in.
One group have gemcitabine and cisplatin
The other group have capecitabine (standard treatment)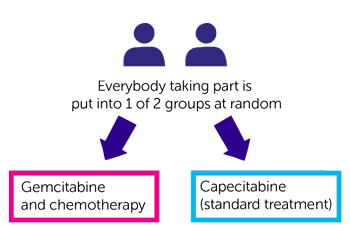 Everyone has treatment in 3 week periods. Each 3 week period is called a cycle of treatment.
In the gemcitabine and cisplatin group you have the drugs as a drip into a vein. 
The first day of treatment is called day 1. You have
gemcitabine and cisplatin on day 1
gemcitabine on day 8
2 weeks without treatment
You have up to 8 cycles of treatment. This takes about 6 months.
In the capecitabine group, you have
capecitabine tablets, twice a day, everyday for 2 weeks

a week without treatment
Samples for research
The researchers will ask for a sample of your cancer (a biopsy

) that was removed when you had surgery. They will also ask to take some extra blood samples. Where possible, you have these at the same time as your routine blood tests.
The samples will be used to look at genes to help understand more about biliary tract cancer. If you don't want to give these samples for research, you don't have to. You can still take part in the trial.
Quality of life
You will be asked to fill out questionnaires when the trial begins, during the trial and when it finishes. The questionnaire will ask about any side effects you have had and about how you have been feeling. This is called a quality of life study.
The trial team will ask you to fill in a diary if you are taking capecitabine. This records when you take your tablets and any side effects you might have.
Hospital visits
You see the doctors and have some tests before you start treatment. The tests include
You may also have a hearing test.
You have gemcitabine and cisplatin at the hospital. You shouldn't need to stay overnight. You take your capecitabine tablets at home. You have regular check ups and blood tests while you are having treatment.
Everyone has
a CT or MRI scan and a check up every 3 months for 2 years
an ultrasound scan of your abdomen (tummy) and a check up every 6 months for a further 3 years
If the scan shows your cancer has come back, you stop taking part in the trial. Your doctor will talk to you about other treatment options.
Side effects
The most common side effects of gemcitabine and cisplatin include
a drop in blood cells causing an increased risk of infection, bleeding problems, tiredness and breathlessness
changes in the way the kidneys work. You have fluids through a drip before and after chemotherapy to protect your kidneys.
loss of appetite
swelling in your ankles and legs
The most common side effects of capecitabine include:
loose poo (diarrhoea) or constipation
swollen, painful and red palms of the hands and soles of the feet (hand and foot syndrome)
a drop in blood cells
sore mouth and taste changes
feeling and being sick
tummy pain
hair loss
nail changes
tiredness (fatigue)
sensitivity to the sun
chest pain
We have more information about
How to join a clinical trial
Please note: In order to join a trial you will need to discuss it with your doctor, unless otherwise specified.
Please note - unless we state otherwise in the summary, you need to talk to your doctor about joining a trial.
Chief Investigator
Dr Henning Wege
Professor John Bridgewater
Supported by
Cancer Research UK
Experimental Cancer Medicine Centre (ECMC)
NIHR Clinical Research Network: Cancer
University of Birmingham
University Medical Centre Hamburg-Eppendorf
Other information
This is Cancer Research UK trial number CRUK/13/012.
CRUK internal database number:
Please note - unless we state otherwise in the summary, you need to talk to your doctor about joining a trial.
Charlie took part in a trial to try new treatments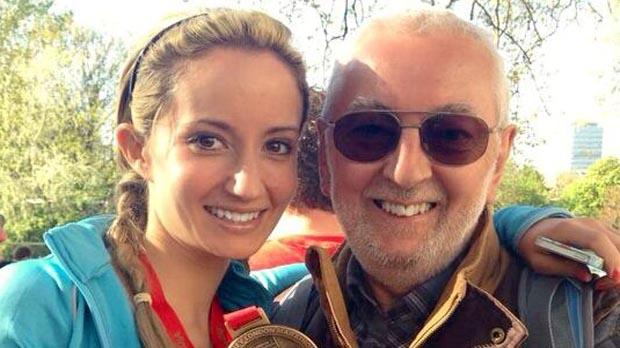 "I think it's really important that people keep signing up to these type of trials to push research forward."