A trial of oral azacitidine for acute myeloid leukaemia that has completely disappeared after chemotherapy
Coronavirus (COVID-19)
We know that this is an especially worrying time for people with cancer and their family and friends. We have separate information about coronavirus and cancer. Please read that information alongside this page. We will update that information as guidance changes.
Please note - this trial is no longer recruiting patients. We hope to add results when they are available.
Cancer type:
Acute myeloid leukaemia (AML)
This trial is looking at oral azacitidine alongside best supportive care for acute myeloid leukaemia that has completely disappeared after treatment.
More about this trial
Doctors usually treat acute myeloid leukaemia (AML) with chemotherapy. The aim of treatment is to get your leukaemia into remission

. This means there are no leukaemia cells in your blood or bone marrow

. The people taking part in this trial have all had successful treatment for AML and are in complete remission.
When you are in complete remission, your doctor will monitor you closely and you have regular tests. You may also have blood transfusions

, growth factors to increase the number of blood cells in your bloodstream and drugs such as antibiotics

 to treat infections. This is called best supportive care

.
But there is a risk that your leukaemia will come back. This is called a recurrence. Researchers are looking for new treatments to reduce this risk, or at least extend the time before leukaemia comes back. In this trial they are looking at a drug called azacitidine. Doctors can already use azacitidine given into the bloodstream to treat AML in people who can't have intensive chemotherapy.
The aims of the trial are to
See if people having azacitidine tablets and best supportive care live longer than people who have best supportive care alone after treatment for AML
Find out if azacitidine delays the recurrence of AML
Learn more about the side effects and how azacitidine affects quality of life
Who can enter
You may be able to enter this trial if you
Have been diagnosed with acute myeloid leukaemia
Have had chemotherapy and tests done in the last 3 months confirm that your leukaemia has completely disappeared
Are at least 55 years old
Are well enough to be up and about for at least some of each day, even if you need help looking after yourself (performance status 0, 1, 2 or 3)
Have satisfactory blood test results
Are willing to use 2 reliable contraception methods during the trial and for at least 3 months afterwards if there is any chance you or your partner could become pregnant
You cannot enter this trial if you
Have a type of AML called acute promyelocytic leukaemia or FAB M3
Have leukaemia that is linked to certain genetic changes (the trial team can advise you about this)
Had azacitidine or a similar drug as part of the chemotherapy that got rid of your leukaemia
Had azacitidine (or a similar drug) for a condition called MDS and then went on to develop acute myeloid leukaemia within 4 months of finishing this treatment
Have leukaemia affecting your brain or spinal cord (your central nervous system)
Have already had a bone marrow or stem cell transplant, or are due to have one
Have had another experimental drug in the last 4 weeks
Are known to be very sensitive to azacitidine or to a drug called mannitol
Have an infection that can't be controlled with medication
Have certain heart problems (the trial team can advise you about this)
Have any other medical condition or abnormal blood test results that could affect your taking part in the trial
Can't swallow tablets or have any problem with your digestive system that means you wouldn't be able to absorb tablets
Have had any other cancer in the last year, unless it was a very early stage and has been successfully treated (the trial team can advise you about this)
Are known to have HIV, hepatitis B or hepatitis C
Are pregnant
Trial design
This phase 3 trial will recruit 460 people in different countries. It is a randomised trial. The people taking part are put into treatment groups by a computer. Neither you nor your doctor will be able to decide which group you are in. And neither of you will know which group you are in. This is called a double blind trial.
Everybody taking part has best supportive care

. This may include blood transfusions

, growth factors and drugs such as antibiotics

.
Half the people taking part will also have oral azacitidine. The other half will have a dummy drug (a placebo

).
You usually have azacitidine as an injection just under your skin (subcutaneously). Occasionally you have it through a drip, or as an injection into a vein. But in this trial, the researchers are looking at a tablet form of azacitidine.
You take 2 azacitidine tablets (or dummy tablets) once a day for 2 weeks, followed by 2 weeks without any tablets. Each 4 week period is called a cycle of treatment.
As long as you don't have bad side effects, you can carry on taking the tablets for as long as they are helping you, or until the end of the trial
The trial team will ask you to fill out two questionnaires before you start treatment, once a month during treatment and after you finish treatment. The questionnaires will ask about side effects and how you've been feeling.  This is called a quality of life study.
The trial team will also give you a diary to keep at home. In this, you write down
Hospital visits
You see the trial team and have some tests before you start treatment. The tests include
Physical examination
Blood tests
Urine test
Heart trace (ECG )
Chest X-ray
Two pregnancy tests if you are female and could become pregnant
You go to hospital once a week for the first 8 weeks of treatment, then once every 2 weeks after that. You have regular blood tests. You have a bone marrow test every 3 months.
When you finish treatment, you see the trial team again about 4 weeks later. A member of the trial team will then contact you by phone to see how you are and whether you are having any treatment for AML. They will do this once a month for the 1st year and then once every 3 months after that.
Side effects
The most common side effects of azacitidine include
A drop in the number of blood cells causing an increased risk of infection, bleeding problems, tiredness and breathlessness
High temperature (fever)
Inflammation of the lining of your nose or throat
Chest pain
Dizziness
Headache
Rash or bruising
A risk of other cancers
The doctor will talk to you about all the possible side effects before you agree to take part in the trial.
How to join a clinical trial
Please note: In order to join a trial you will need to discuss it with your doctor, unless otherwise specified.
Please note - unless we state otherwise in the summary, you need to talk to your doctor about joining a trial.
Supported by
Celgene
NIHR Clinical Research Network: Cancer
Questions about cancer? Contact our information nurses
CRUK internal database number:
Please note - unless we state otherwise in the summary, you need to talk to your doctor about joining a trial.
Charlie took part in a trial to try new treatments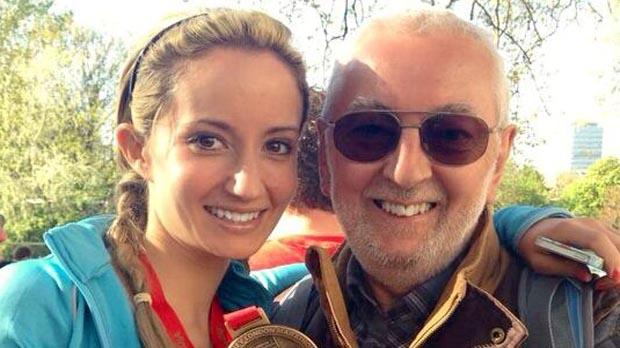 "I think it's really important that people keep signing up to these type of trials to push research forward."