A trial of 2 treatments for advanced neuroendrocrine tumours of the pancreas (SEQTOR)
Please note - this trial is no longer recruiting patients. We hope to add results when they are available.
Cancer type:
Neuroendocrine tumour (NET)
This trial is looking at the order of treatment for people with neuroendocrine tumours of the pancreas (pNETs).  
It is for people who have a NET that has spread elsewhere in the body and that cannot be removed with surgery. This is advanced or metastatic cancer.
More about this trial
There are 2 usual treatments for neuroendocrine tumours (NET) of the pancreas that can't be removed with surgery or  have spread. These are:
You have one treatment after the other. But doctors don't know which order of treatment works best. So researchers are running this trial to find out more.
Streptozotocin and fluorouracil (5FU) are both chemotherapy drugs. Everolimus is a type of targeted drug called a cancer growth blocker. It stops signals that cancer cells use to divide and grow.
In this trial you have 1 of these treatments to begin with. You have the second treatment only if your cancer gets worse. Or you might have the second treatment if you can't tolerate the side effects of the first treatment.
The main aims of the trial are to:
find out which order of treatment works best 
learn more about the side effects
Who can enter
The following bullet points list the entry conditions for this trial. Talk to your doctor or the trial team if you are unsure about any of these. They will be able to advise you.
Who can take part
You may be able to join this trial if all of the following apply.  
You:
Who can't take part
You cannot join this trial if any of these apply. 
Cancer related
You:
Medical conditions
You:
Other
You: 
Trial design
This phase 3 trial is taking place in Europe and the UK. The trial team hope to find 140 people to take part including 4 from the UK.  
The treatments in this trial aren't new. You have them in the same way as if you weren't in the trial. Neither you nor your doctor can decide which treatment you have first. 
You are put into 1 of 2 treatment groups at random by a computer. You have 1 of the following:
streptozotocin and fluorouracil (STZ-5FU) followed by everolimus
everolimus followed by streptozotocin and fluorouracil (STZ-5FU)
The trial team give you a diary to record when you take your tablets. 
You have streptozotocin and 5 fluorouracil as a drip into a vein. You have treatment in cycles

. You have it as a:
6 weeks cycle or
3 week cycle
The trial team decide which is best for you. In the 6 week cycle you have treatment on the first 5 days of each cycle. 
In the 3 week cycle you have treatment for the first 5 days in cycle 1. You then have treatment on the first day of each treatment cycle after that
Each treatment takes about an hour each time. The trial team tell you how long you have treatment for. 
If the first treatment stops working or the side effects get too bad you stop treatment. You might then be able to start the second treatment. You have at least a 4 week break between finishing the first treatment and starting the second. 
 
Quality of life  
The trial team ask you to fill out a questionnaire before starting treatment, at set times during the trial and after finishing treatment. The questionnaire asks about any side effects you have had and about how you have been feeling. This is called a quality of life study

. 
 
Blood and tissue samples for research  
The trial team ask for a sample of cancer you gave when you were first diagnosed with a NET. They use this sample to look for genes

 that might be linked to NETs of the pancreas. 
 
You give some blood samples to measure certain proteins. This might help doctors to work out how treatment is affecting your cancer.  
 
The team also ask you to give 4 extra blood samples. This is to look for genes in your cancer. You don't have to agree to this if you don't want to. You can still take part in the trial.
Hospital visits
Before you join the trial, you see a doctor and have some tests. These include:
physical examination
blood tests
urine sample
heart trace (ECG )
a check of your lungs (lung function tests ) 
You see the trial doctor once a month for a check up if you are having everolimus. In the chemotherapy group you have a regular check ups when you have your treatment at the hospital.  
Everyone has a CT or MRI scan every 3 months. 
When you stop treatment you see the team 1 month later for a check up. After that they phone you every 3 months to see how you are. 
Side effects
The trial team monitor you during treatment and afterwards. Contact your advice line or tell your doctor or nurse if any side effects are bad or not getting better.  
 
The most common side effects of everolimus include:
infections
increased risk of tiredness, breathlessness, dizziness or pale skin (anaemia )
inflammation of the lung
high levels of sugar and fats in the blood
weight loss
swelling of the arms, hands, feet and other parts of the body
nose bleeds
headache
Eating some types of food may affect how everolimus works. Please do not eat or drink grapefruit, oranges, orange juice or take St John's Wort.
The most common side effects of streptozotocin and fluorouracil include:
We have more information about the side effects of:
How to join a clinical trial
Please note: In order to join a trial you will need to discuss it with your doctor, unless otherwise specified.
Please note - unless we state otherwise in the summary, you need to talk to your doctor about joining a trial.
Supported by
Grupo Español de Tumores Neuroendocrinos (GENTE)
Novartis Pharmaceuticals UK
Kantar Health
CRUK internal database number:
Please note - unless we state otherwise in the summary, you need to talk to your doctor about joining a trial.
Charlie took part in a trial to try new treatments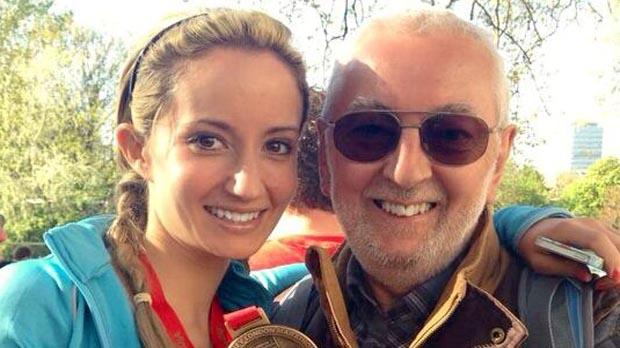 "I think it's really important that people keep signing up to these type of trials to push research forward."